CM Sangma: Meghalaya hopes to become Fruit Wine Capital of India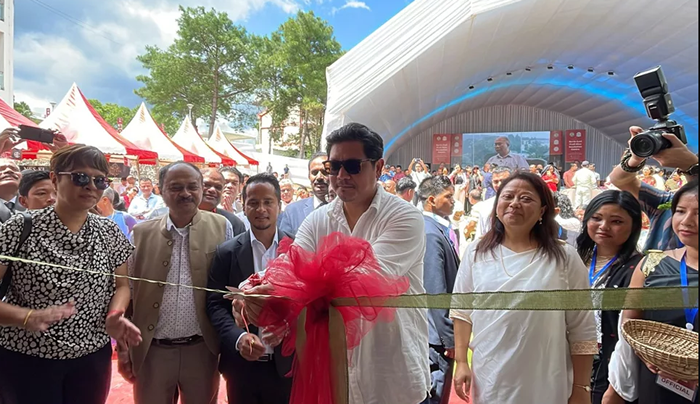 Posted: Saturday, 16 September 2023 10:00
CM Sangma:

Meghalaya hopes to become Fruit Wine Capital of India

September 16: Meghalaya Chief Minister Conrad Sangma launched North East Wine Incubation Centre at Mawdiangdiang in Shillong on Thursday, where he said his Government had put a robust policy in place that would hopefully make Meghalaya as the fruit wine capital of India, writes Subhash Arora who had met him at the North East Food Show in Shillong in May 2022 and was impressed with his passion and vision to harness the variety and quality of local fruits of North East and in particular, Meghalaya to make quality wines.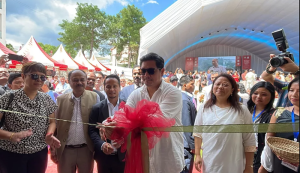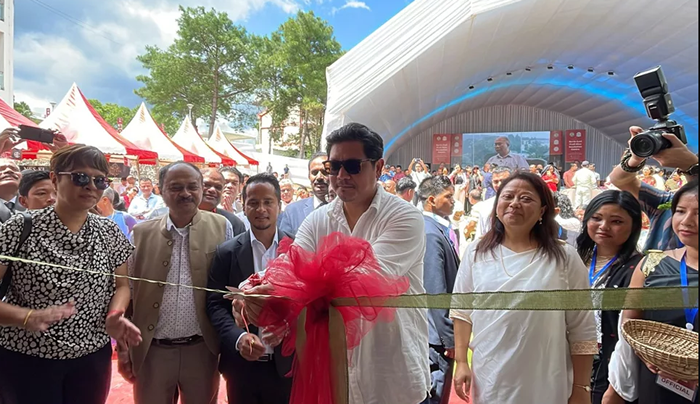 Speaking at the launch of North East Wine Incubation Centre (NEFWIC) at Mawdiangdiang, in the outskirts of Capital Shillong, CM Conrad Sangma said the government had put a robust policy in place to promote a thriving ecosystem that not only linked tourism, agriculture, entrepreneurship, and job creation through the promotion of local fruit winemakers boosting the wine industry but also benefiting farmers, tourists, and entrepreneurs in the state, according to a report by Syllad, a digital news portal from Meghalaya.
"I am in public life to make a positive difference in even a single individual's life. That is my driving force," he reportedly said, while adding, "The activity that we are trying to do here is going to make a huge positive difference in people's lives."
He further envisioned Meghalaya as the fruit wine capital of Inda and expressed confidence in achieving this goal with the collaboration of all stakeholders involved. He hoped that the wine incubation center would provide a platform for aspiring entrepreneurs to test and utilize machinery, encouraging innovation and economic growth through wine making.
Also Read : Priyanka Save of Hill Zill appointed Fruit Wine Ambassador of Meghalaya
After a struggle for over 18 years, the State had finally decided to legalize the production of fruit wines in September 2022 when the ruling Meghalaya Democratic Alliance government introduced the 'Manufacture and Sale of Home Made Fruit Wines Rules, 2020' for issuing licenses to winemakers in the State. Till then Meghalaya was still controlled by the pre- independence Assam Excise Act of 1945 which did not permit production of wine or any alcohol.
"We have now formally created the rules where individuals can sell their homemade wines in the market," said CM, Conrad Sangma after the cabinet meeting. He had said that this strategic move by the state government would go a long way in helping farmers produce a variety of fruits in the state to sell their produce locally which could be sold to the local winemakers.
Also Read : NEFS in Shillong on May 5-7 to host Wine Pavilion supported by Vinexpo India
During a visit to a Fruit Wine Show in 2011 by NAMORAC where Arora had been invited as a Speaker, he was shocked to learn that one could produce fruit wines for own consumption but could not sell. Many 'home' producers had displayed wines in non-descript bottles. While many needed improvements, a majority of wines were quaffable and the variety of fruits tasted as wine had indicated that there was a good scope for these wines to hold center stage with proper support from the government.
Echoing these sentiments, Sangma recalled a moment when he encountered a homemade pineapple wine with a simple, handcrafted label on a beer bottle. This gave him the idea to devise a strategy to promote professional wine making and packaging. "Despite the unimpressive packaging, the wine inside was exceptional. This experience, combined with discussions and observations, led to the realization that there is immense potential in the fruit wine industry in Meghalaya," he said.
Also Read : NEFS Shillong tastes success at Wine Pavilion by Vinexpo
At the second edition of the North East Food Show 2022 NEFS in Shillong on May 5-7 which was supported by Vinexpo India, CM Sangma who was one of the CMs of North East to inaugurate the Show, spent a lot of time at the venue. He even attended a Masterclass on fruit wines presented by Arora and addressed the attendees. At a dinner organized later in the evening in his honour, Sangma spent the entire evening at the event and was even regaled the guests playing his guitar later with the band till past midnight, sharing with delWine that music was in his blood. An alumnus of St. Columba's School Delhi, he had indicated he had plans to make Meghalaya as the fruit wine capital of India, thanks to the abundance of various fruits like grapes, Mandarin orange, mulberry, litchi, banana, pineapple, strawberry, Sohiong and Soh Phoh.
The State has already started the process of empowering winemakers to make wine of national quality standards. The government started training programs for entrepreneurs this year and made Priyanka Save, a successful fruit wine producer of Maharashtra, who was also one of delWine Top Ten WOW (women of wine) in India 2021 a brand Ambassador and invited Hill Zill Wines in Bordi Maharashtra to conduct formal courses. The first batch of Wine Appreciation & Wine Making Certification Courses were organized in June-July 2023 for 68 trainees followed by another batch of 25 in August, with 16 of them currently undergoing internship in her Bordi winery.
Also Read : From Archives (2011): Shimla to Shillong Seeking Fruit Wines
The Wine Appreciation & Wine Making Certification Courses have been organized by the Meghalaya Farmers' Empowerment Commission (MFEC) headed by the dynamic IAS office Mr. N. K. Kumar, and aim to encourage local winemakers to move from the traditional style of winemaking to modern winemaking techniques to ensure that the quality of wine produced in the state matches nationally and internationally recognized wine standards.
Also Read : JAI HO to Meghalaya for Legalising Fruit Wines
Fruit wine industry has taken off in India in the last 5-6 years with every State clamouring to encourage production and complement the nascent wine industry. (Traditionally, wines produced from grapes are referred to as wines and others made from various fruits are nomenclatured as fruit wines).
Subhash Arora