Fratelli debuts at MUNDUS Vini cracking Gold for Sette 2021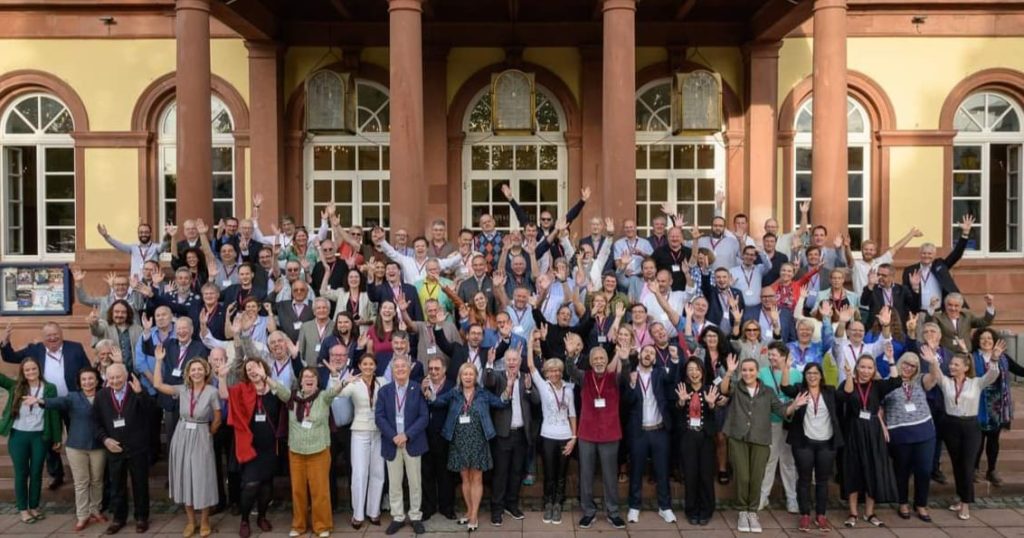 Posted: Friday, 08 September 2023 13:16
Fratelli debuts at MUNDUS Vini cracking Gold for Sette 2021
September 08: Fratelli Wines, the second largest Indian wine producer was the first Indian winery to submit wine samples to Mundus Vini in its 33rd edition, and created history of sorts by winning a Gold Medal for Sette 2021in the first outing and also a Silver Medal each for Gran Cuvee Brut and Master Selection Red 2022, writes Subhash Arora who is a regular judge at the prestigious competition since 2007 and feels it will encourage more producers of quality wines to participate in future
Pics Credit- AD Lumina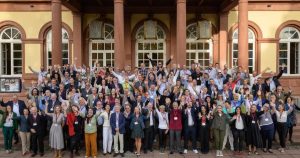 I was surprised to see for the first time since I started visiting Mundus Vini International Awards in 2007 as a judge, India's name in the list of wines submitted. I was pleasantly surprised when a couple of judges from another judging panel congratulated me on some Indian Sangiovese winning a Gold medal. I didn't need to speculate who the winner might be: Sette is a Sangiovese/Cabernet Sauvignon blend from Fratelli that has become a national favourite for Italian-styled red wine since it was crafted by Piero Masi, the late winemaker from Tuscany in 2009 and I had no doubt it must be Sette bagging the cherished Gold medal.
The competition was over on 3 September and I was proved right when I came to know yesterday that the award winning producers had been already informed on Monday, merely a day after the competition about the results which would make any Indian wine lover proud; certainly Team Fratelli- which won not a Gold but 2 Silver medals besides the Gold-winning Sette 2021; Fratelli Gran Cuvee Brut NV sparkling wine and Fratelli Master Selection Red 2022.
Gran Cuvee Brut was the brainchild of Masi who preferred to keep it a zero dosage dry bubbly whereas the Master Selection had been initially crafted by Masi and Steven Spurrier and hence the name M/S Selection. But with both of them passing away a couple of years ago, the blend has been cleverly rechristened as Master Selection – the blend remaining the same, i.e., Cabernet Franc and Shiraz.
When I congratulated the Fratelli partners for this historic achievement, Alessio Secci, the Tuscany based Director who is actively involved in the management of the company said, 'Thanks for your words. We had decided to apply to this competition since I knew that you have been a constant judge at Mundusvini for a long time and it is one of the most prestigious competitions in Europe. We are very happy to have won a gold medal for Sette 2021 and silver with MS red 2022 and Gran Cuvée Brut in our very first attempt.'
Wines from 36 countries around the world were awarded by MUNDUS VINI at this Summer Tasting at the 33rd Grand International Wine Award in Neustadt an der Weinstrasse, Germany. About 140 international judges from about 40 countries took part in the Summer Tasting spread over 4 days, from 31 August to 3 September, 2023.
Started in 2004, the event was initially held in the last week of August, spread over two weekends and crossed 7000 entries in 2014. On adding a Spring edition, ostensibly to encourage entries from the Southern Hemisphere, the number of entries shot up, crossing over 12,000 in 2020 despite Covid-19. The total number of entries has been hovering around this number including a third leg of organic wines.
The 33rd edition had 4238 wines for tasting, including 10 from India. Italy, as always, had the highest number of 1061 entries from Italy, followed by Spain (790) and Germany (744). A total of 1676 (40%) wines were awarded medals. Italy is in first place (3 Grand Gold, 225 Gold, 215 Silver), followed by Spain (5 Grand Gold, 148 Gold, 125 Silver) and Germany (2 Grand Gold, 116 Gold, 118 silver).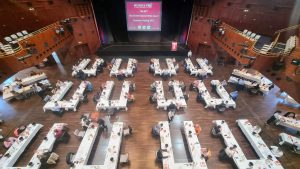 Besides the opportunity of tasting about 50 wines on each day of the competition there are many other opportunities to taste wines. At the Welcome Dinner, one could taste over 60-100 medal winning wines from the previous edition. There are several informal tastings organized by the judges who bring special wines from their home countries. Besides, there is a possibility of visiting several wineries in the neighbourhood and tasting wines served during meals. There was an evening of tasting Soave wines at the Meininger office, the organisers of the Show. Incidentally, the business completed 120 years on 3 September, when the judges presented a momento to Christoph Meininger, CEO of Meininger group.
The penultimate evening was sponsored by ICEX- Wines of Spain agency that showcased the Rias Baixas region, located on the southwestern coast of Galicia, Spain with a guided tasting of 10 wines followed by dinner with 3 more wines.
The competition is run with the well-known German efficiency with the results announced within 2 days of the conclusion of the competition, thanks to the strong IT team supporting the event and a back-end team that is well-oiled, making the competition a joy to participate in. Kudos to the Tasting Director, Christian Wolf for successfully organizing yet another edition of Mundus Vini.
Congratulations to the Fratelli team and all the Award winners. Hopefully, more Indian producers will now have the foresight to participate in the future and win medals that not only will help them increase the reach of their wines but also add to the prestige of Indian wines which have been fast improving their quality offerings.
Subhash Arora