Priyanka Save of Hill Zill appointed Fruit Wine Ambassador of Meghalaya
Posted: Monday, 07 August 2023 05:30
If you Like this article, please click
Priyanka Save of Hill Zill appointed Fruit Wine Ambassador of Meghalaya
August 07: Priyanka Save, Founder Director of Hill Zill Wines in Maharashtra, has been appointed "Fruit Wine Ambassador of Meghalaya" for two years to promote fruit wines and this industry of Meghalaya, taken under its wings by the Meghalaya Farmer's Executive Commission (MFEC) for the national and global platforms and attend meetings and events on its behalf, writes Subhash Arora who feels that it is a feather in her cap and a step in the right direction to promote the nascent industry with a bright future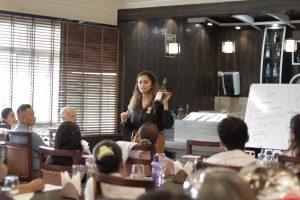 The announcement was made on Saturday at the conclusion of the training programs initiated by MFEC in June 2023 for promotion of Fruit Wines in the state. Priyanka is not only a fruit wine producer but also a Wine Educator who had organised a fruit wine conference pre-Covid at the winery in Bordi (Palghar), attended by Arora who encouraged her to have more such workshops to help make the industry bigger. She was included in the list of Top Ten Women of Wine (WOW) in India in the 2021 Listing, established in 2013 by delWine. She says she will handle the assignment gratis.
Also Read :NEFS Shillong tastes success at Wine Pavilion by Vinexpo
Priyanka tells delWine she was pleasantly surprised when the Announcement was made by Dr. B.K. Sohliya, Executive Director of MFEC at the concluding session of the workshop yesterday in Shillong. Dr. Sohliya had shared details of the program with Arora when he met him a few months ago in Delhi at the India Australia Forum, when Arora had suggested to him that the workshop should be open to everybody but with special, low rates for the professionals in Meghalaya. Dr. Sohliya had also shared that the Training programs would be spearheaded by Priyanka Save who had impressed him at the Masterclass on fruit wines in Delhi last December at Vinexpo India.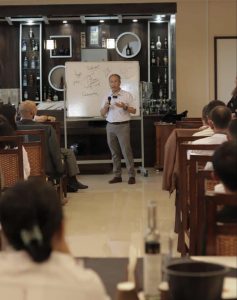 Also Read :From Archives (2011): Shimla to Shillong Seeking Fruit Wines
The ongoing workshop has been facilitating the trainees through a course agenda of theory and practical classes and project work followed by an examination. With a focus on wine making with local fruits, meads and grapes, organised by MFEC headed by a very capable and dynamic Mr. K.N. Kumar IAS, who has taken upon himself to make Meghalaya the fruit wine capital of India through MFEC.
Priyanka insists that she is not a traditional wine maker but has been drawn to it. "For me it's been passion driven, wanting to work with the fruits that we grow in our region. I was lucky to scale it to commercial production," she says. She has collaborated with an entrepreneur in Gujarat and started a production unit in Solan and has also contracted with a wine manufacturer in Karnataka for supplies in Karnataka and the South market and has eyes on exports as well. She plans to soon open a tasting room with her husband and co-founder Nagesh Pai in Meghalaya to showcase their Fruzzante wines and Arka Mead along with fruit wines of local winemakers.
Priyanka sees a high level of motivation among the locals since Meghalaya has a sizable number of winemakers and fruit wine makers who are from non-traditional backgrounds as no grapes are cultivated in Meghalaya. They make wines from their own locally grown fruits. If they get the kind of opportunity I've received, they will be able to scale up as well and that's my objective of training them,' she says.
Talking about the training, Priyanka had designed two different courses – wine appreciation and techniques of winemaking. "The first one is mainly wine appreciation which entails an array of wines. Majority of the courses conducted in India currently pertain to grape wines only because of its history and global demand. I feel this course opens up wider horizons by including Fruit Wines and Mead (a beverage made by fermentation of honey) too as fermented beverages. Giving weightage to a variety, paves the way to innovation,' she tells delWine.
Also Read :JAI HO to Meghalaya for Legalising Fruit Wines
The second course focuses on different techniques of winemaking, focusing on non-traditional winemaking. "That's where we step in by boosting the case of those who are already in the industry but improvising that. We're introducing them to new products of winemaking," she said.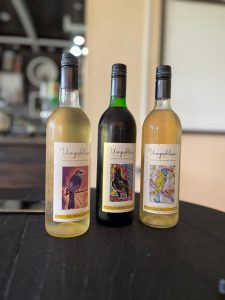 According to her, the effort is to introduce a professional attitude towards winemaking not only complementary to the existing agriculture, but also forming the basis and the backbone of Experiential Tourism. Citing the example of Nasik, she says once upon a time it was a place for pilgrimage but now people go there for wine tourism as well. "I think that potential is very high in Meghalaya," Priyanka feels that the tourist influx to Meghalaya will look for some exotic foods that are native to the state and people are already working on it. She proposes to promote Meghalaya as the "Exotic Fruit Bowl of India". She proposes to help MEFC take an integrated approach to agriculture, tourism, fruit processing, and winemaking.
Also Read :Commendable Fruit Wine Conference in Maharashtra
She also feels that food and wine pairing is fun and they will be looking at how a variety of foods can be paired. "Our ultimate aim would be to pair everyday foods that could be paired with these wines. When the tourists arrive, they will taste the local cuisine with local wines.' According to her, the objective of food pairing is to look at the local ingredients, local fruit wines, putting them all together and serving them on a platter.
Subhash Arora