PATEL Wine at MODI State Dinner at White House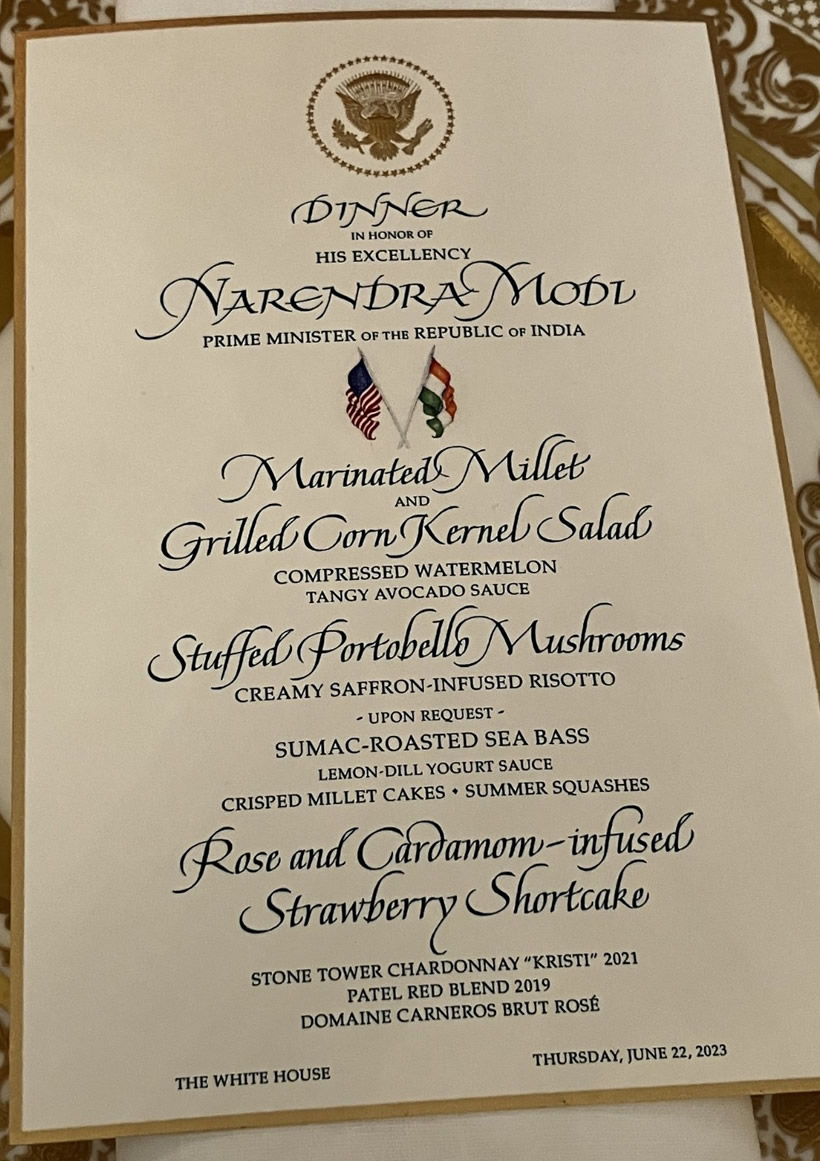 Posted: Thursday, 22 June 2023 23:10
If you Like this article, please click
PATEL Wine at MODI State Dinner at White House
June 22: PM Narendra Modi is a teetotaler, but the State Dinner hosted in his honour at the White House today will serve 3 American wines- the prominent one being a Red Blend of Merlot Cabernet from Patel Winery in Oakville, Napa Valley, even though the PM and perhaps his entourage will raise a Toast holding a glass of water as is now a tradition, prompting Subhash Arora to raise the issue yet again to allow serving Indian wines at the State Dinners for the foreign dignitaries in India, a taboo so far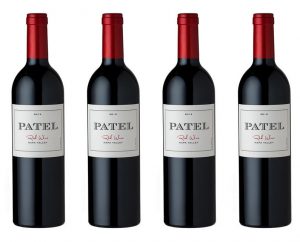 Stone Tower Chardonnay "Kristi" 2021, PATEL Red Blend 2019 and Domaine Carneros Brut Rose will be paired with the Starters, Main Course and the Dessert. Respecting the Indian government's promoting millets as the International Year of the Millet 2023, Marinated millet, corn kernel salad and stuffed mushrooms are on the menu for 400 guests invited to the State dinner being hosted tonight by President Joe Biden at the White House for PM Narendra Modi.
The first course consisting of marinated millet, grilled corn kernel salad, compressed watermelon and a tangy avocado sauce will be paired with Stone Tower Chardonnay Kristi 2021. The main course includes stuffed Portobello mushrooms and creamy saffron-infused risotto, a perfect match for the Napa Valley Red from Patel Winery. The rose and cardamom-infused strawberry shortcake will be paired with Domaine Carneros Brut Rose.
Also Read : From Archives (2010) : Toast with Wine at Banquets, President told
The Indian Connection
There has been a lot of buzz and excitement in the Media about the Dinner because one of the 3 wines has a common Gujarat connection. Patel Winery, a boutique wine producer of Oakville, Napa Valley is all set to take off like a rocket at the dinner because of this connection (though I have tasted another vintage and was duly impressed. The owner Raj M. Patel hails from Gujarat, Modi's home state. He migrated to the US with his family in 1972 and settled in California.
Also Read : Royal Suggestion for Indian State Banquets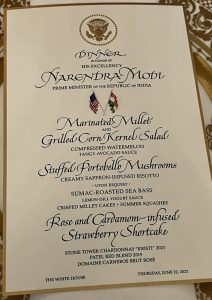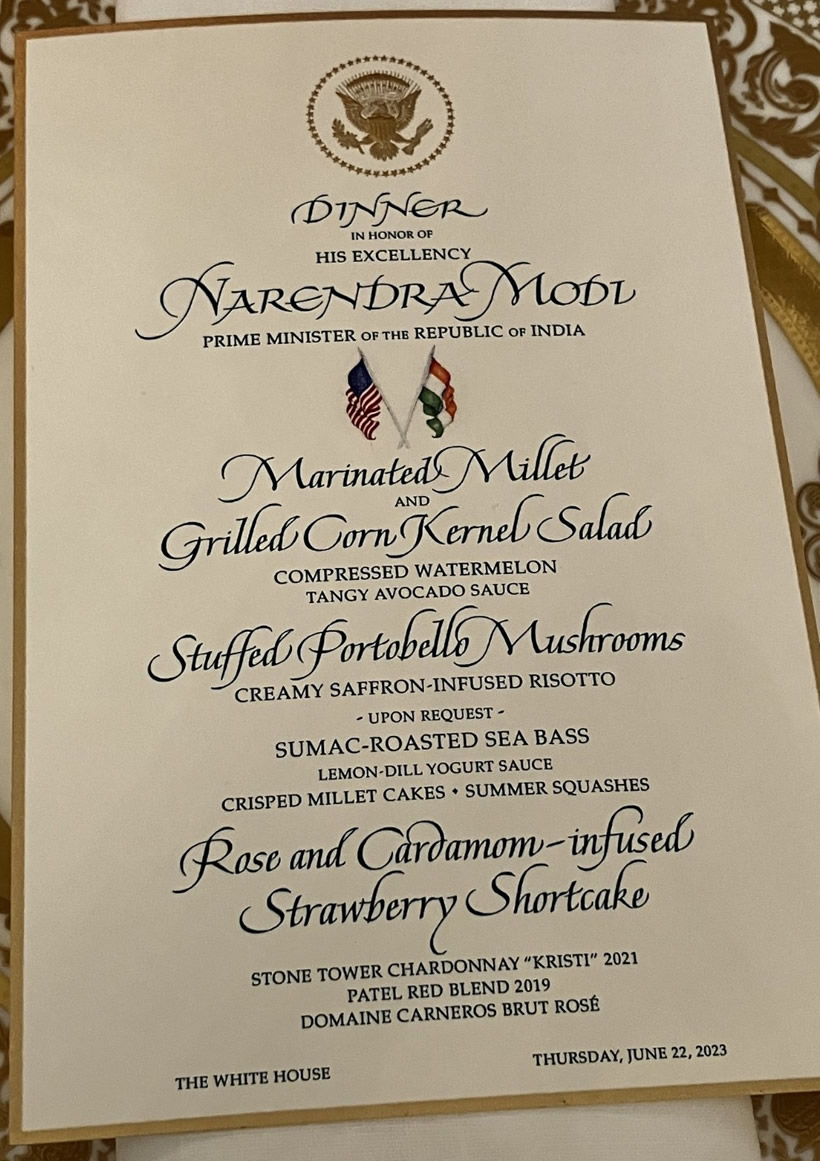 I had met Patel in February 2012 at an Auction organised by Napa Valley Vintners (an Association of the Napa producers promoting Napa Valley wine region and conducting an annual auction to support the activities, where I had been invited. Another person of Indian origin-Dr. M. Ravana, a cardiologist from Houston, was also participating.
'Dr. M Revana, the Indian-American cardiologist from Houston known for his quality Napa wines at Revana Family Vineyards was thrilled that his Premier cuvee 2010, their classic cabernet wine was picked up at $400 a bottle. Another Indian, Raj Patel of Patel Wineries couldn't complain with a decent price of $200 a bottle for his Malbec 2010', is what I had reported at the time.
Patel attended the prestigious University of California Davis, majoring in Finance. He told me he had started with bio-chemistry but realised it was not his cup of tea and changed to Finance. There was an opportunity for him to intern at the lab at Robert Mondavi Winery which changed his course. He started learning about wines and winemaking and also collecting wines that kept his interest in wines alive even when he entered the banking business. He was the vice-president of Bank of America when I met him. He started the Patel Winery in 2007 and produced only 100 cases in the first year2009 that won him 95 points from Robert Parker. The Rest is History as he reaches a landmark with his wine being served at the White House tonight.
Also Read : Serve Indian Wines at State Banquets
The PATEL Red Blend 2019 is a dark ruby-coloured wine with perfumed notes of black cherry and plums that nicely carry into the flavour with red-fruits like plums, cherries and pomegranates and spicy notes with soft and silky tannins balanced by good acidity that makes the wine vivacious. The finish is long and reveals layers of minerality and herbs. It retails for $75-80 ($75 to the Patel Wine Club members). This would translate into a retail price of around Rs. 35,000- Rs. 40,000 a bottle if imported into India.
As a policy to promote the US wines, the White House buys and serves the best representative American wines at the State Dinners and it is exciting to see a Patel wine making the cut. This will undoubtedly bring the 55 year-old Raj Patel a famous producer and exporter in India. To contact Raj Patel, write to info@Patelwinery.com.
Also Read : Why can't the Indian Politicians…be more like Trump
Domaine Carneros Brut Rose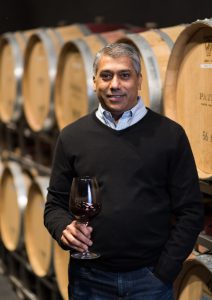 The Rosé bubbly from Domaine Carneros will be served with the dessert. Normally, a bubbly is considered a perfect wine and food match if the wine does not overpower the sweetness of the dessert and vice versa. But French and many other sommeliers feel that a Brut Rose (with sugar level of under 12 gms/liter –Indian sweet spot is around 8-12 gms/liter) is perfect with desserts (incidentally, I don't subscribe to this paradigm either).
Domaine Carneros is owned by the Taittinger family of Champagne (imported into India by the erstwhile Prestige Wines and Spirits) which bought a 138-acre vineyard in the heart of Carneros in 1986. The Carneros Appellation spans the southern tip of both Sonoma and Napa Valleys. The cool climate is ideally suited for cultivating quality Chardonnay and Pinot Noir, the two grapes known for producing an elegant, balanced wine. The company owns about 400 acres now with 125 acres planted with Chardonnay, 225 acres with Pinot Noir, and the remaining surface area being under development.
This wine has a major portion of Pinot Noir with some Chardonnay to give structure. Produced from the fruit from their estate and fermented with Methode Traditionelle, with an aging of over 3 years on lees, it will be an excellent wine for every person that will drink it tonight.
Also Read : Blog: GIFT for Indian Wines at State Banquets
We raise a Toast to PM Modi and Team India and wish them success in their objectives and in improving long term relations with the US. Jai Ho!!
Also Read : Napa Valley Vintners: Coming Together Napa Style
Subhash Arora