Miguel Pinto of Sogrape's Mateus visits India for Brand Promotion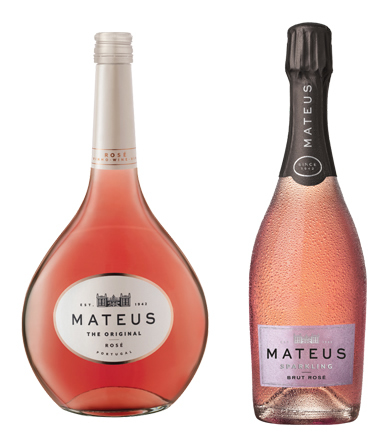 Posted: Saturday, 27 May 2023 08:35
If you Like this article, please click
Passing By:

Miguel Pinto of Sogrape's Mateus visits India for Brand Promotion

May 27: Miguel Pinto, International Director of Sogrape Vinhos that produces the world famous Mateus known for its slightly sweet and fuzzy Rosé wines, was in India recently and visited Mumbai and Bangalore to strengthen the brand image of the two variants, writes Subhash Arora who has always been fascinated by the curvaceous bottle shape which has principally not changed since its Launch in 1942, making it the most selling Rosé in the world.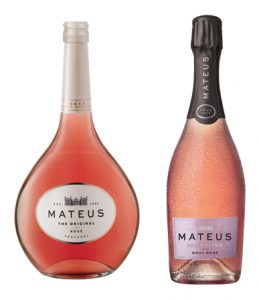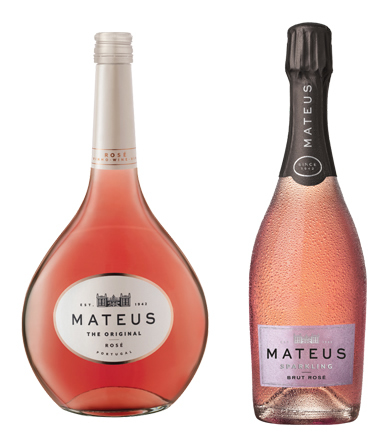 When Arora was a graduate student in the US many moons ago, Mateus Rosé was the go-to wine for college students for every occasion. Dressed in a beautiful, curvaceous bottle, the shape of a hip flask the soldiers used to carry during World War I, the wine was fruity and sweet – and cheap. Then at around $2 a bottle it was the obvious choice for parties for the young students with limited budgets and the new-found love for wines. 'I used to live in a fraternity house where parties were a regular feature in the basement. I was a teetotaler with many wine-loving friends. We did not know then that Mateus was the most exported wine that brought Portugal to the center stage in the US,' says Arora who remembers the Commercials for the wine.
Somewhere in the 1990s Mateus lost some of its sheen because people started preferring drier wines and hundreds of labels joined the bandwagon. Today, it may not be the only popular Rosé in the market but the largest producer Sogrape, owner of Mateus brand since its Launch in1942, re-engineered the wine, reducing sugar level and eventually making the same bottle more chic. Today, the Mateus Rose Original represents the tradition with modern makeover and less sugar at 15 gms/liter and popular pink colour to regain much of its popularity. Focusing on the lost UK and the US market, Sogrape also introduced a Dry Rose version with 4gms/liter and is back on top.
This iconic wine brand from Portugal, has reaffirmed its commitment to India with a three-day visit by the Head of Sales of Mateus, Miguel Pinto a couple of weeks ago when he interacted with the Bangalore and Mumbai markets to strengthen the brand's relationships and expand its business in India.
Aspri Spirits and Wine has been importing Mateus for around 15 years and marketing it successfully, with a 30% annual growth during recent years. With a strong distribution network that Aspri Spirits has developed pan India over the last 15 years and its expertise in marketing premium wines and spirits will give a boost to strengthen the Mateus brand is expected to strengthen its portfolio further by offering its clientele a wider selection of wines. Jackie Matai, co-founder of Aspri Spirits says, 'we believe that Mateus portfolio will cater to the evolving tastes of Indian consumers who are increasingly exploring new and exciting wines from around the world.'
Pinto feels India is a key market for Mateus, and they are committed to building a long-term relationship. "We are thrilled to have as our partner, Aspri Spirits who share our vision for the brand and its potential in the Indian market. We believe that Mateus offers a unique blend of tradition and innovation.' Mateus Rosé Original and Mateus Rose Brut are the two variants sold in India."
Mateus Rose is made using a blend of local grape varieties primarily Baga but also including Refute and Touriga Franca, giving it a smooth mouthful, fruity, zesty aroma and taste. It gets its Provence-like pink color from these red grapes but the skins are left in contact with the pulp for a shorter time.
Mateus became a truly global brand in the 1950s.By the late 1970s, Sogrape was selling in around 120 countries; It is a particular favourite of novices who like Moscato, Zinfandels, or Blush wines from California- slightly high on sweetness level. It recently celebrated its 80th anniversary (1942-2022). The brand is well positioned to cater to the evolving tastes of Indian consumers who are increasingly exploring new, exciting wines from around the world. Thanks to high tariffs, the affordability of this wine plays an important part.
Mateus Rosé Original is a Rosé with a bright hue. The fresh and seductive wine has an intense bouquet and the vivacity of spritely young wines. It is well-balanced, tempting wine, brilliantly complemented by a soft and slightly fizzy finish. The low alcohol level of 11% by volume, is also a welcome feature. Mateus Rosé Original is recommended to be served chilled at 6-8ºC.
It is ideal as a refreshing aperitif and pairs well with light meals, fish and seafood, white meat, grilled dishes and salads. Thanks to its sweetness level, it goes very well with hot and spicy Indian dishes, ideally with vegetarian fare. Miguel feels it goes well with savoury, crispy seafood; Sushi and Sashimi; salads, pizza and filled pitta bread; burgers, sandwiches and wraps; cheese platters; and with grilled, baked or fried vegetables.
According to him, Mateus lends itself to consumption at any time. He points out that the UK, a predominantly beer-drinking nation till the 1950s, switched tracks thanks to the popularity of Mateus Rosé. It has also made deep inroads into the US, now Sogrape's biggest export market.
Mateus Sparkling Rosé
Mateus Sparkling Brut Rosé, the second variant has a beautiful, pale, pink colour, with salmon hues. The bubbles are extremely fine and the resulting persistent mousse. This crisp bubbly with floral notes has pleasant aromas of pears and apples with subtle notes of toasted bread. The fresh and lively acidity provides a crisp and delicate finish. The wine has 11.5% alcohol and lower sugar content of 12 gms/liter. It needs to be served at the same temperature as the Rosé, 6º-8ºC.
Good Potential in India
India presents a big opportunity for Mateus Rose. Miguel ascribes it to four factors-openness to new ideas, stable democracy, sustainable demography and rich gastronomic culture. Wine consumption in India is minuscule but he feels the entry-level Mateus can break into the fancy and palates of wine lovers, especially women and young people-the fastest growing segment, because of its flavour profile.
Mateus Rosé and Sparkling Rosé Brut have been distributed in India by Aspri Spirits for about 15 years. According to Arun Kumar, Director of Aspri, sales have been already growing at an annual growth of 30%. Mateus Original Rosé retails in several states and cities like Mumbai, Delhi, Bangalore and Kolkata in the range of Rs 1,200 to Rs 2,400 in different States, thanks to differing excise duties and VAT in each State. The Sparkling Rosé Brut can cost up to 10% more. It is also available in several bars, nightclubs and casual fine dining restaurants.
Although very popular in the US and US markets, Jackie Matai, Director Aspri feels it might be some time before they decide on introducing the 185 mL format, which can also be drunk using straws, an increasingly popular trend overseas. Experiments are already being made to study the wine-in-can concept and its market but use will be evaluated before deciding to introduce.
Sogrape is Portugal's leading wine company, with exceptional vineyards in Portugal's main wine-growing regions: Vinho Verde, Douro/ Porto, Dão, Bairrada, Bucelas and the Alentejo. It owns 980 hA of vineyards where 61 grape varieties are grown. It exports 72% of its products. Sogrape also owns vineyards and wineries in Argentina, Chile, France, New Zealand and Spain, making a total ownership of 3,500 hA. Mateus Rosé has a huge following in Australia, New Zealand and Japan, thanks to innovative marketing campaigns deployed by Fernando van Zeller Guedes, the founder of Sogrape Vinhos.
Mateus Rosé is an important part of the evolution of the wine world, with its own entry in Jancis Robinson's Oxford Companion to Wine. Pink, sweetish, slightly fizzy, Mateus was created by Fernando van Zeller Guedes in 1942, aimed initially at the Brazilian market, but its export domain soon reached around the world, including especially the U.S. and Great Britain. It still commands a 13% exports of the total Portuguese bottle exports.
So what about the US market that was at its peak in the 1960s and 1970s? Sogrape crafted Mateus Dry Rosé made from Baga and Shiraz grapes. At just 4 gm/liter of residual sugar, it is still fruity on the front attack.
With changing times, the commercials have taken a modern shape too. This commercial would suggest Mateus is targeted at women, but the primary market remains women and younger people who want an easy drinking pleasant wine.
Of course, with Social Media there are several relevant Posts. This Punjabi version is interesting.
For Earlier Articles:
Terroir One: Party with Portuguese Wines n Spice
Wine Club Dinner: Sogrape sets Foot in Mumbai Again
Subhash Arora