Cocchi: Move over Champagne-Alta Langa DOCG is here from Piemonte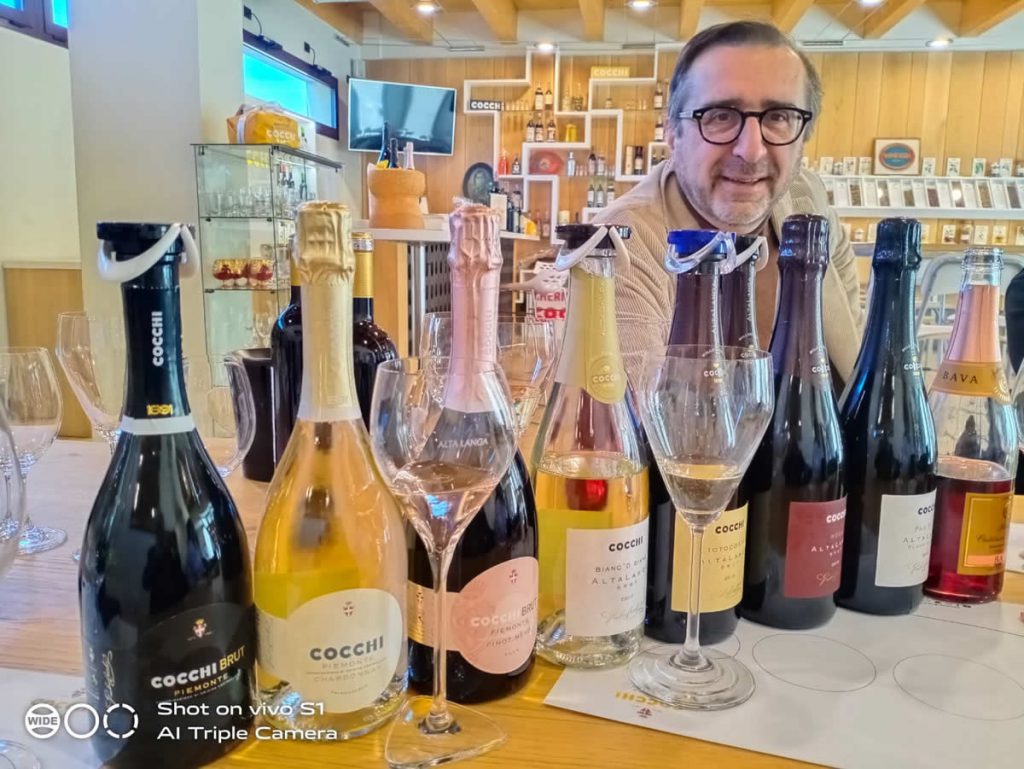 Posted: Sunday, 19 March 2023 23:40
If you Like this article, please click
Cocchi:

Move over Champagne-Alta Langa DOCG is here

March 19: Italy is well-known for Prosecco, Franciacorta, Trento DOC wines and even Moscato d'Asti and Lambrusco bubbles which are generally sweeter but an Appellation that produces amazing sparkling wines due to higher altitudes and lower temperatures is Alta Langa in Piemonte as Subhash Arora discovered on his recent visit to Bava Winery in Cocconato in Asti Piemonte, after attending Grandi Langhe event, when he tasted a range of Cocchi Alta Langa DOCG wines and also Piemonte Brut DOC wines and found them really good and challenging for Champagne and Prosecco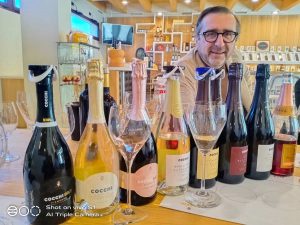 When you think of Champagne in Italy, you first think of Ferrari Trento doc, the first sparkling wine producer in Italy using Method Traditionelle (known as Methode Champenoise in Champagne). The Founder Giulio Ferrari went to Champagne and learnt the Art of making these bubbles and set up the winery using the same grapes and the method. Then there is Franciacorta which became popular in the 1960s, with the same production technique but using a few Italian grapes like Pinot Bianco as well in the blend.
Now comes Alta Langa Metodo Classico DOCG-the newest DOCG appellation in Piemonte (Piedmont). Created only in 2011, this wine region's first to specialize in sparkling white wines made from the prime grapes of Champagne-namely Pinot Nero (Noir) and Chardonnay using Metodo Traditionelle or Metodo Classico known as Methode Champenoise in Champagne.
This small appellation has a long history. It was the first 'traditional method' wine to be made in Italy, during the mid-19th century. It is made with Pinot noir and Chardonnay grapes: in fact one of the grape varieties used must be a principal Champagne grape. It can be white or rosé, brut or pas dosé (zero dosage), and must age on lees for at least 30 months under strict production regulations. Alta Langa DOCG is always a vintage wine and the year of harvest must be indicated on the label.
While sparkling wines of Piemonte, Moscato d'Asti and Asti Spumante have been made traditionally using indigenous grapes and Charmat (Martinotti) method for many years, the character of these wines differs significantly from Champagne, primarily because of the particular aroma of the Muscat grapes and the winemaking techniques used in their production, these wines have bigger bubbles and are lighter.
Giulio Cocchi Spumanti by Bava
I did not know such details before we arrived Bava Winery in Cocconato to meet Roberto Bava whom I have met many times before in Italy and India and who used to sell Bava still wines in India through the now shut Fine Wines and More as the importer and distributor. I had met him and tasted Bava wines showcased at the Grandi Langhe event in Torino. I was amazed at the Enoteca located at a prime corner across the Cocchi winery. The Showroom meant for wine tasting gave a distinct branding of Cocchi Vermouth and Sparkling wines. I did not know then that Giulio Cocchi Spumanti was a historic producer of wine-based aperitifs and Sparkling wines since 1891 and that the Bava family owned Giulio Cocchi Spumanti since 1978 because these wines were not sold in India.
Bubblies of Alta Langa DOCG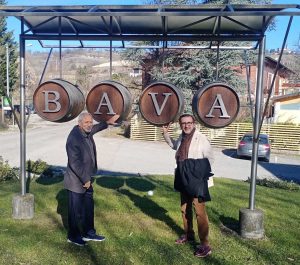 Though one has tasted a complete range of BAVA wines in India when they were being distributed by Mumbai-based Fine Wines and More (now shut down) the wine showroom at Cocconato was full of Cocchi wines and when Arora learnt the background of these sparkling wines-Champagnes with different terroir and cool weather and Italian flavours, he was tempted to taste mainly these wines. He was really impressed by their finesse, flavours and bubbles. They are based primarily on Pinot Noir grapes (even for Brut) and Chardonnay. Apparently the terroir is similar to that of Champagne and at higher altitudes in Alta Langa the quality of grapes is fine with fresh and crisp acidity with enticing flavours and costing 40-50% less than regular champagnes.
Roberto was very generous with opening the bottles and I had to stop him after 10 due to time constraints but not before getting the flavour profiles of all the bubblies from Piemonte. His family has been producing wines since 201. Roberto is also a keen musician and believes each wine goes best with certain music. The Range tasted included four Alta Langa DOCG wines and a few Piemonte DOC wines and a Brachetto d'Acqui. Cocchi Totocordo Brut2016, Pas Dosé 2014 were the top end wines. The staple, basic Champagne-style wines Bianc'd Bianc 2017 Brut and Rösa Brut 2016 wines were both my affordable favourite bubblies.
Cocchi Rösa Brut Alta Langa DOCG 2016
Cocchi Rösa is a sparkling rose, made with 100% Pinot Noir. The well-ripened de-stacked grapes are pressed with the red anthocyanins of the skin gently bringing the pink in the must. After the first fermentation in steel tanks the wine is left to settle on fine lees until it is bottled in spring. Fermentation in the bottles is for about 36 months, bringing the complexity and strong temperament of Alta Langa DOCG. The remuage is done by hand on A-shaped wooden racks, followed by disgorgement in ice after adding 8 gms. dosage.
The dry, well balanced wine has intense fruity flavours, great elegance and a spicy character. An Alta Langa DOCG with a strong temperament, its spicy flavours amplify as the wine ages over time, making it an excellent food wine. Cocchi was ostensibly the first winery to conceive and make a Rosé Alta Langa DOCG.
Alta Langa Bianc'd Bianc Brut DOCG Millésimé 2017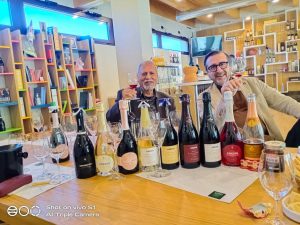 Called Bianc'd Bianc in Piemontese, this special cuvée is made from pure Chardonnay as the label suggests. Cocchi claims to be the only winery producing an Alta Langa DOCG with 100% white low- yielding grapes.
The first fermentation takes place in small steel tanks for nearly three weeks when the wine is left to settle on fine lees. Second fermentation takes place in bottles for aging in a dark and fresh place for five years. Remuage and disgorgement are done in the same ways as Rösa Brut. The Dosage is with 8 grams sugar making it a youthful and seductive wine. A complex, aromatic spectrum of white fruits has hints of apricot. Mouthfeel is a long sensation of on-the-nose aromatic notes with a delicate effervescence bringing out fine white chocolate and notes of sweet fruits. It is pale straw yellow to deep gold colour, with aromas reminiscent of the grapes of origin and citrus fruit, accompanied by aromas of crusty bread and yeast. The mouthfeel is delicately, savoury and harmonious.
Cocchi is one of the well-established and better quality producers of Alta Langa and as the time goes by and more people taste and discover these wines, they will offer and Italian alternative to Champagne and a better choice for Prosecco styled wines- Piemonte DOC of which we will talk in another Article in future.
Meanwhile, you may enjoy these wines at ProWein at Cocci Stand at H15 A 46 on 19-21 March, 2023 or at Vinitaly from April 2-5 at Hall 10 Q3.
Subhash Arora