From Archives (2010) : Sardinian Argiolas Surfaces in India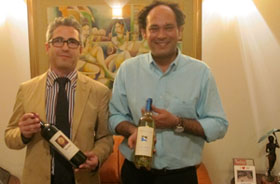 Posted: Monday, 27 March 2023 22:22
If you Like this article, please click
From Archives (2010) :

Sardinian Argiolas Surfaces in India

March 27: Aspri Spirits has launched a range of wines from Sardinia-perhaps a first from this Italian administered island-the second largest in Mediterranean after Sicily, although it produces only 0.1% of all Italian wines. Argiolas wines are for connoisseurs with loose purse strings or for those who are bored with existing wines, writes Subhash Arora who met their export executive Beppe Pinna last week.

Photos By:: Adil Arora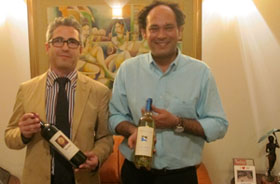 There is no scientific evidence but the Sardinian people live very long- perhaps because of the local wine they drink. Ninety years is a common age in this island and in the small village Serdiana, north of Cagliari where the Argiolas winery is located it appears that out of the total population of 2000, about 10 people are over 100 with a woman aged 112 still alive, says Beppe Pinna, a senior exports executive of the premier wine company; he was in India to introduce a range of their wines. The wines were launched last week at a dinner at The Leela, Gurgaon.
Longevity being almost a given in Sardegna, it is no wonder the Antonio Argiolas, the patriarch of the family who was a strong administrator as the chairman of the company and who died last year lived to be 103 and was active in business till the end. He had earlier taken over from his father Francesco who had founded the winery in 1918.
Antonio had been a proponent of bulk wines but his twin sons Franco and Giuseppe joining him in the early eighties wanted to create a brand image and in 1980 the company started introducing its own wine labels. In less than 10 years it was on its way of becoming a well respected winery of Sardinia (Sardegna- pronounced saar-they-nya in Italian)
Helping the family reach repeated quality highs has been their consultant winemaker Giacomo Tachis, the well known enologist who is credited with being the father of Sassicaia and the creator of Tignanello and Solaia. He worked with the Argiolas family for around twenty years as a consultant till last year,' says Beppe. 'What is more important is that he worked with wines at all quality levels and not only our best wines like Turriga. That's what makes our wines good quality at all levels', he says.
Franco and Giuseppe look after the winery now, with the members of the close-knit family dividing duties and Franco's daughter Valentina looking after the exports market with her husband looking after the domestic market which at 45% of the market is quite important.
USA, Swiss and Germany are the top 3 importers. India has been on their radar for 5 years, says Beppe when they had met Sumedh Singh Mandla in Milan. Four years ago they had started talking to Aspri and started doing business with them a few months ago, quite indicative of the perseverance demanded by the Indian market.
Vermentino, Cannonau and Bovale are typical and expressive grapes of this region. Vermentino is a late ripening Italian variety grown also in Tuscany, Liguria and Piedmont as Favorita. Cannonau is originally a Spanish variety, similar to Grenache, which makes warm textured wines with flavours of plums and blackberries and is slightly spicy making it interesting for Indian palate. Bovale is a local variety and like another one, Monica is used mostly in blends.
Argiolas in India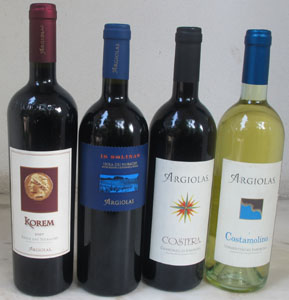 The two varietals introduced by Aspri. 'Costamolino' is a Vermentino de Sardegna doc while the red counterpart is 'Costera'- a Cannonau de Sardegna DOC wine based on Cannonau, with an MRP of Rs.2337 in Maharashtra.
Argiolas 'Is Solinas' is an IGT wine with 95% Carignano (Carignan) and 5% of the traditional grape Bovale (MRP Rs.3350) while the Argiolas Korem, Rosso Barrique- is a blend of Cannonau, Carignano and Bovale with one year in French barrels and another one on the bottle. It's a warm, well balanced, and velvety wine with long after-taste (Rs.3500). The discerning wine connoisseurs will find the wines extremely interesting though they are a tad expensive because of duties and cannot be classified as daily or even a week-end wines.
If you can lay hands on their top-end 'Turriga' , one of the finest wines from Sardegna, don't miss the opportunity. It won Tre-Bicchieri (top ranking) from Gambero Rosso (the most prestigious wine guide in Italy) in 15 out of 16 previous vintages-except 2006, says Beppe. Meanwhile, you may make do with 'Korem.'
Subhash Arora