Sula Tropicale Brut enthralls Delhi Wine Club members as perfect Condiment at Pluck Brunch
Posted: Sunday, 29 January 2023 23:07
If you Like this article, please click
Sula Tropicale Brut enthralls Delhi Wine Club members as perfect Condiment at Pluck Brunch
Jan 29: The New Year celebratory Brunch at Pluck Restaurant at the Pullman Aerocity on 21 January was very successful despite many members unable to attend due to pre-engagements, with the generously poured Sula Brut Tropicale acting more like condiment with most of the 60-plus delicious dishes served to members, writes Subhash Arora.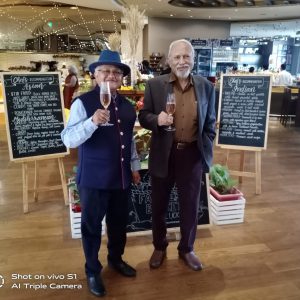 The latest wine event #314 was the innovation of Chairman Emeritus Subhash Arora who had suggested it to the President Parthiban as it has been a friendly hotel from inception and the food has been exceptionally delicious and service equally well matched. Sanjeev Sharma, a regular long-time member was assigned to co-ordinate with the hotel and Sula Vineyards which has always been co-operative and forthcoming to support any event by Delhi Wine Club (DWC). Both Sanjeev and Sula's educator and Marketing star in Northern India, Heena Riat carried out their roles very effectively, as did the F & B team of the hotel.
Arora admits unabashed support of Hotel Pullman, especially before the massive transfer of the staff to other properties. The very first wine dinner of the hotel was organized by DWC. In fact, many food tastings were held here before the hotel was officially launched by the founding General Manager, Tristan Beau de Lomenie who had become a member of DWC shortly after he arrived in India to oversee the final touches being given to the hotel.
We have also had a couple of Champagne brunches as well as New Year Celebratory events. But since those days, the excise policy in Delhi has gone haywire and it is not predictable which wines can come in time for an event. I was keen to stick to the same date partly because Sula had just completed a successful IPO and also since 21st January was the Birthday of Rajeev Samant: a time to raise a toast to his good health and continuous progress for Sula would be a good gesture on part of the DWC. It was a sentimental reason for me as well since I had relinquished my charge as the founder President at the 300th event in 2020 with a Champagne Brunch at this very restaurant.
Gold Medalist Tropicale
Tropicale Brut was awarded a Gold Medal at the prestigious International Wine Challenge last year where it was entered as Sula Tropicale Brut Cremant de Nashik NV (IWC2022) where another Indian bubbly Chandon India Brut Rose had bagged a Bronze as well. It is perhaps the first time that an Indian sparkling won a Gold medal in an international competition, certainly at the IWC.
Traditionally a Sparkling wine can only be called Champagne if it is made in the Champagne wine region. Cremant is sparkling wine made outside of the Champagne region in France but with the same techniques. There are eight different Cremant regions in France including Bourgogne, Alsace, Jura, Limoux and Loire. Luxembourg is also allowed to legally use this nomenclature. Each region uses its local grapes from the region. Cremant also implies the wine has been made using Traditional (Champenoise) method and has undergone a minimum prescribed time as contact with the lees. Therefore, It was a bit perplexing why Sula would classify it as Cremant or IWC could accept the entry with that label.
Tropicale was launched in 2015 during the 15th Anniversary celebrations at St Regis in Mumbai when Sula Brut was already selling but was under threat from the newly introduced (in 2013-14) Chandon from Chandon India. A great visionary that Rajeev Samant, the Founder CEO of Sula is, he had a new label designed with beautiful Indian Motifs on the cover casing that was copied later by Grover and even Chandon India for a limited period. It weathered the competition from Chandon well, especially since Sula shifted to the Charmat method, making the bubbly lighter and easier on the palate, attracting a new category of sparkling wine lovers, which included Prosecco.
Another mystical characteristic of Sula Tropicale Brut has been its colour- distinctly pink in colour and a body that makes it compatible with even many non-vegetarian dishes , it caught the eyes of even the younger generation and started doing very well both in on-trade and off-trade. Rather than colliding with Sula, Chandon India changed the label and increased the price from Rs. 1400/1500 to Rs. 2500 with a chic label. But it has not been able to make a dent in Tropicale sales.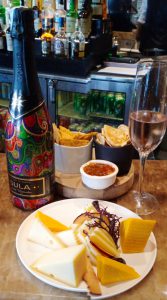 Rupali Bhatnagar, the long-time winemaker at Sula who has been instrumental in evolution of the current Avatar, has her first and foremost criterion to make a wine taste delicious to every consumer. She has been also able to infuse freshness, lightness, Zing and improve the taste of the bubbly. The colour being reminiscent of Provence Rose was always a hit anyway. So Tropicale started ruling the roost (interestingly, though Sula won the Gold in the brut category, Chandon won the Bronze in Rose Category).
Curiously, when the Tropicale was made, it was imperative to almost phase out the Thompson grapes in the Sula Brut and add several red grapes (including Shiraz and a touch of Pinot Noir). In fact, the company claimed around 40-50% of red grapes in the blend including Shiraz at the time. But in the final shape that we drank at Pullman, it has 80% Chenin Blanc and the rest being Shiraz and Riesling that has given the freshness, zing and live acidity, Shiraz has given the body, softer tannins and made it compatible with non-vegetarian dishes.
Great Choice for food-wine Match
I am not known to be very fussy about food and wine matches since different people order different food that needs different wines- an impractical and expensive exercise in India though at times they can be heavenly matches as we found out in many of the 300 events. But because of the limited wine availability, it is not always possible to do the match as one would like to. In such cases, sparkling wines come very handy if you do not have a problem of handling the bubbles or high acidity in your system.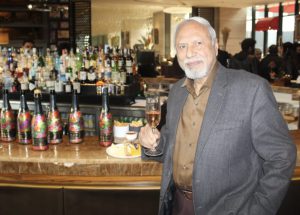 We have been having 4-5 wines generally at our events as there are 5 courses and attempt to match each course except the desserts. But what do you do when there are over 60 dishes in a Brunch. As we found out Sula Tropicale could be one of the highly acceptable solutions as a condiment as it went with most of the dishes as members confirmed vociferously.
So next time you are having a dinner, consider a Sula Tropicale to make the evening more enjoyable just by uncorking one or more bottles of Sula Tropicale Brut-or call it by its newly discovered label Sula Cremant de Nashik NV even if you are not likely to see it printed on the label. The Brunch is under Rs. 2000+ and though we consumed 18 bottles, you can do well to order 1or 2 bottles of Tropicale, depending on the people in the party.
A bit of caution is advised since you will end up drinking more than you think and the presence of a driver or a designated driver would be highly desirable at the wheel when you go back after a relaxed meal.
Also Read: Sula Brut Limited Edition for Holi
Subhash Arora