Blog: Roses are Red and White My Love

Posted: Saturday, 04 March 2023 11:50
If you Like this article, please click
Blog:

Roses are Red and White My Love

March 04: Based on the performance of the Rosé wines in US, UK, Australia and many other countries during the last dozen years, DelWine has been predicting a bigger rate of increase in consumption in India, recommending over two dozen Rose wines in the market but unfortunately the growth lagged my estimates but recent reports suggest the Indian consumer has finally realized the virtues of these wines on their palates, writes Subhash Arora who feels the time of Rosé wines has finally come in India.

According to a report by IWSR Drinks Market Analysis, the sales volume of Rosé wine in India grew by 73% between 2016 and 2020. Furthermore, a survey conducted by Wine Australia in 2020 found that Rosé wine is the second most popular type of wine among Indian wine consumers, with 39% of respondents saying they had purchased Rosé wine in the past year. The survey also noted that rose wine is particularly popular among younger wine drinkers in India.
The popularity of Rosé wine globally can be gauged from statistics. According to a report by Wine Intelligence, their consumption increased by 30% in the United States since 2015, with sales reaching over $2.5 billion in 2020 while in the UK the sale increased by 14% in 2020 alone , despite the challenges presented by the Pandemic.
Also Read : Indians drinking buckets of Rosé says Pioneer Sula
Raining Rosés in Sula
The first time one got the whiff of a smart rise in the sale of Rosé wines in India was when Rajeev Samant, Founder CEO of Sula Vineyards in an exclusive Chat with me in January 2022 disclosed to me,   'sales started galloping during the last 5 years, making it the fastest growing category -even when compared to white wines. The growth is perhaps finally at par now with the global trends as a category'.
Also Read : Le Grand Noir: Numero Uno French Wine Label in India
The figure of the increase in sales volume of Rosé wine in India by 73% between 2016 and 2020, however, may be too optimistic even by generous standards. Sula has been growing at a CAG (compounded annual growth) of around 12% between 2016-2020. Even if one were to assume that this growth was 15% from 2016-2019, wine industry in India suffered a major setback in 2019-2021 due to Covid, bringing down sales to nil for a few months, although it started growing- at perhaps even higher rate than 20% ,due to the boom that followed.
It also appears ludicrous that Wine Australia presumes higher sales and consumption of Rosé in India higher than white wine, with 39% of respondents saying they had purchased Rose wine in the past year! Highly optimistic assumption!
Also Read : Share a Bottle of Rosé on National Rosé Day
The Article by TOI also seems to have erred when it says Rosé is made only from Red grapes, a practice followed mainly in the EU- by law. `We cultivated the grapes for Rosé right from the beginning but were not happy with the concentration from the young vines for red wine although we found it perfect for Rosé – just needed to harvest the grape slightly earlier,' says Rajeev. He adds, 'we also blend with a bit of (white) Chenin Blanc to make it softer and less overwhelming; the latest FSSAI laws allow 75% of the varietal grape as in the US and Australia.'
Also Read : Launch of Rosé by Celebrities Sara Jane Parker, Kylie Minogue and Post Malone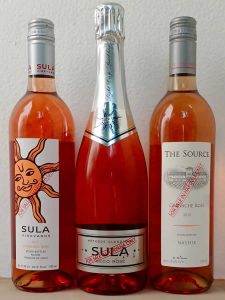 This pink-hued wine is often associated with warm weather and outdoor activities, making it a popular choice for summer drinking. However, Rosé wine is now being enjoyed throughout the year, as wine aficionados discover its versatility and appeal. One reason why Rosé lagged behind earlier was because men pronounced it as a woman's drink not fit for (macho) men. Younger men and women of course cherished the wine, making the increase more visible as their numbers grew.
Also Read : Brangelina Rose-Case for 500 mL size Wine Bottles for India
Pink wine (Rosé) as it is commonly called, uses a diverse range of red grape varieties, such as Grenache, Syrah, Pinot Noir, Sangiovese, Zinfandel and then blending with Chenin Blanc to make it softer. From dry and crisp to sweet and fruity, it can be made in a variety of styles and colour shades. It is typically served chilled and is a popular choice for pairing with a variety of foods, including seafood, salads, vegetarian fare and grilled meats or even Biryanis.
Also Read : We Recommend: Rose Gold from Soma Vine Village
Rosè s'il vous plait has undoubtedly become the buzzword with Provence sales growing by 500% in the last 15 years. It has become a global benchmark for pleasurable Rosés and is making the world fall in love with France's signature pink drink.  Sales have yet to catch up in India which saw a minimal growth in the first decade of this millennium.
Also Read : We Recommend: Il Concerto Rose Brut NV San Simone
An interesting tip
Here is an interesting tip from Rajeev Samant to enjoy a Rosé. While it is acceptable to have a cube or two in the wine glass to cool it, he advises the use of a chilled glass, dropping a cube in it, slowly pouring wine over the cube, and then removing and discarding the cube afterwards so as not to dilute the wine. He recommends serving white wines at 8-10⁰C but Rose at 10-12⁰ C. He cautions against serving it chilled at 6⁰C like bubbly which is fine because of slightly higher acidity but would freeze the flavours of a still Rosé.
Also Read : Beat the Indian Summer With This Bone Dry Rose
Rosè s'il vous plait! Try a glass from several options by Sula. Fratelli, Grover or smaller producers like Big Banyan, Virgin Hills or Somanda Vineyards or any other Indian producer join the growing community of Rosé wine drinkers in India and globally.
Subhash Arora