MundusVini 2023:  The Spring Edition with a Flying Start
Posted: Friday, 03 March 2023 10:40
If you Like this article, please click
MundusVini 2023:

The Spring Edition with a Flying Start

March 03: The 32nd edition of the Grand International Wine Award MundusVini concluded the first leg of the 6 day competition, split into 2 sections of 3 days each with over 7500 entries from 45 countries, including 1 from Afghanistan, writes Subhash Arora who was the loan judge from India, with a field of 242 judges from 46 countries.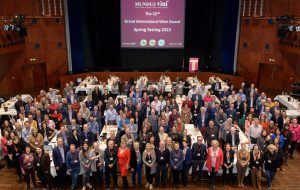 As always, the maximum number of entries are from Italy (1,829) followed closely by Spain (1508) with the host country at a distant 3rd spot with 809 samples. All the major wine producing countries including Australia, New Zealand and the US- even a small country like Afghanistan sent one sample!!
A minimum of 5 judges, at least 2 of whom are Germans form a panel of 5-6 judges who have come from 46 countries, including one from India on the 18th outing since he started visiting the competition in 2007. The year Subhash Arora made a debut, saw less than 5000 entries. Last year there were over 12, 000 entries- in fact, since 2019, there have been over 12,000 entries- even during the worst of the Covid Pandemic, the competition was held though with heavy precautions and not by inviting judges living in far-off lands like India.
Also Read : Mundusvini Summer 2020: And the Wine Competition Beat Goes on
'Together we have developed and implemented an appropriate safety concept. It would have been a pity if we had not been able to give our professional recommendations for the best wines at the 2020 summer tasting,' says Christian Wolf, adding 'both the producers and consumers have been relying on the tasting results of MundusVini for 20 years now. We did not want to disappoint this trust'.
Also Read : Mundusvini2019: 24th edition of Leading Wine Competition begins in Neustadt
A few years ago, the competition was made biannual- Spring edition in February- end and Summer edition in August end. This gave more opportunity to the producers in the Southern Hemisphere to enter the competition and there was a quantum jump in the entries for the year.
Also Read : Mundusvini 2018: An Effective Well-oiled German Machine that spells Success 
Limited Awards
The 3 medals awarded are Silver (85 %+), Gold (90%) and Grand Gold (90%). Judges are requested not to discuss or debate the sample under tasting but are encouraged to discuss if there is a significant variation in the medal being awarded to a wine. Not only are the judges invited from over 40 countries, representing a diversity of palates, the score ratings have to fall within an outer limit of 40%. This means explicitly that even though 45% or 50% of wines may earn a medal by a panel, eventually the cut-off is raised to contain all the awards within 40%.
Also Read : Mundusvini 2018: Tread Indian Wine Industry Carefully
Following the recommendations by OIV, the number of samples is restricted to 50 a day to guard against palate exhaustion and to give all wines an opportunity to win a medal on merit.
Also Read : 21st edition of MUNDUSVINI concludes successfully   
With the first of the two phases being over (the second one will be towards the last week of August, the number of wines entered this year is expected to be well over 12,000, for the 5th consecutive year.
Also Read : Mundusvini Wine Competition completes the record 20th edition
Non-alcoholic Wines
Despite diverse opinions expressed by various consumers, 'non-alcoholic wines' is the latest global phenomenon after the alcohol free beers came to limelight and made their mark. Kylie Minogue, the famous Hollywood star bitten by the wine bug, recently introduced 0 % alcohol Rose sparkling wine which has created a lot of buzz. There have been well over 150 samples of such wines that were tasted by 2 jury panels on 26 February, the last day of the competition. Results of this segment are to be announced along with alcohol wines.
Also Read : MundusVini 2015 International Wine Award attracts Record Entries 
MundusVini is a family
MundusVini is not merely a well-established and well-oiled wine competition showcasing the traditional German efficiency, but it is also a family that includes generally the international judges as well. The concern for each other has been amply shown at various occasions including the competition in 2020 when the competition had been marred by Covid-19 and the tragic war thrust upon Ukraine.
Also Read : 15th edition of MUNDUS vini 2014 concludes Successfully
An example of Mundus Vini being a family came was highlighted when Arora who had attended the Spring edition in 2020 in February but missed the Summer 2020 edition in August 2020 due to the pandemic, sent a message to Christian on a Saturday, one day before the final Tasting requesting him to organize a Zoom session if feasible, inviting the judges who were not present, could 'participate' in the final 'Thank You' speech and rituals next day.
Also Read : MundusVini displays Strong Italian Accent
Wolf put his best foot forward and motivated the overburdened IT team to organize the event on Sunday at 10 AM local time when Christoph Meininger and Christian Wolf made their final speeches. The usual pomp and show was missing but the fine gesture was appreciated by one and all.
Also Read : Countdown begins for 9th Mundusvini Wine Competition
Subhash Arora