The World of Gaja: Sperss in Serralunga turns 30
Posted: Friday, 23 December 2022 09:35
If you Like this article, please click
The World of Gaja:

Sperss in Serralunga turns 30

Dec 23: Angelo Gaja, the President and co-owner of Gaja wines in Barbaresco- Piemonte is known as the King of Barbaresco and Prince of Piemonte, but he was also instrumental in buying the Sperss Vineyard in 1988 without even visiting it or negotiating the price because his father Giovanni Gaja loved only the Serralunga vineyard area in Barolo, writes Subhash Arora translating the emotions of Angelo Gaja whose family is celebrating the 30 years of the vineyards.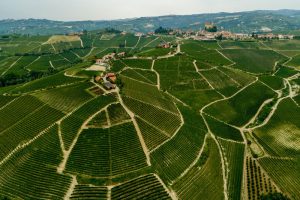 The Gaja family used to buy grapes only from Serralunga for the Gaja Barolo until 1961 but stopped the purchase when they took the decision to produce only from estate-owned vineyards. Gaja bought the Sperss vineyard in 1988.
Before proceeding with this Story, let me first share another story. My wife had casually met or heard me talk about my friend Angelo Gaja, the current President and owner, so many times that when his daughter Gaia Gaja visited Delhi once, I asked her to accompany me to the dinner I was hosting for her as Gaia was a good friend. But 'which Gaja is coming for dinner', she asked? I said 'Gaia'! Slightly irritated, she said but which 'Gaja'?! I said in exasperation, 'Gaia Gaja, of course!!!' She felt sheepish as she had not realized that this Gaja was Gaia-both pronounced exactly the same way!
Angelo and Giovanni Gaja
Those of us who are not familiar with his family history don't know that in the Gaja family- every male member has to choose between Angelo and Giovanni, before you get lost in the names. Gaja wines was founded in 1859 by Giovanni Gaja-, Great Grandfather (GGF) of Angelo Gaja (P-Current President), famous today in the wine world at large. His father was Giovanni Gaja (F) as is his son, the young Giovanni Gaja (S) who works alongside his siblings Gaia and Rossana and has visited India for marketing, a couple of times. Angelo Gaja was his grandfather (GF) and Giovanni (GGF) the great- grandfather who founded Gaja Wines in 1859.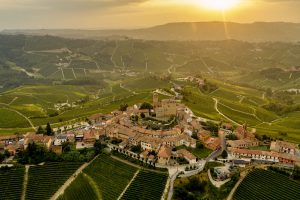 This story, told to delWine by Gaja Wines, is the fulfilment of a childhood dream of Giovanni Gaja (GGF) as a student in the 1920s, when he was sent by his mother Clotilde to harvest grapes. This meant no school for a month, but working every morning in the vineyards: Two weeks in Barbaresco and two weeks in Serralunga (Barolo).
The alarm clock used to ring at 6am in the Gaja household even though work activities began at 8:30, as soon as the morning dew had disappeared from the grapes. Many young boys and girls participated in the harvest which was the best social occasion of the year. When Giovanni turned 18, they would all dine together after returning from the vineyards. Afterwards, all the young people except Giovanni, would go to the main square. His mother Clotilde was very strict and wanted him to be in bed by 9pm. This annoyed Giovanni because the evening sprang alive with laughter and song only at that time.
After the Barbaresco harvest was finished, it would be time to go to Barolo to do the harvest in Serralunga for two weeks (Barbaresco harvested a couple of weeks earlier). There was no mother to control him there and he was free to do as he pleased in the evenings. For Giovanni Gaja (F), Serralunga was the ideal place and he fell in love with the area. It remained etched in his memory as a mythical place.
Giovanni dedicated his life to the challenges of making Barbaresco popular. He never thought of buying a vineyard in the Barolo area, despite the wines being much in demand on the international markets. Whenever an opportunity came around, he would ask the seller if the vineyard was in Serralunga that he experienced in his youth. But the moment they said no, he would reject the proposal.
The turning point came finally in 1988 at Vinitaly in Verona. It was a Sunday afternoon and Angelo (P) who had assumed control of the company some time earlier, was at the Gaja stand. 'I was tired and there was a lot of confusion when a broker came in and told me there was a large vineyard for sale in Serralunga. I told him this was not the time to talk about it, but as he turned to leave, I asked him casually if it was the Marenca and Rivette vineyards: my father had always told me about them wistfully. I was pleasantly surprised when he said in affirmative. I cancelled all my appointments for the day and left immediately to go back to Langhe'.
'I bought the vineyard the very next day without seeing the place or negotiating the price. I knew there was no need', adding, 'we named it "Sperss", which in Piemontese dialect means nostalgia-that my father had felt for this place throughout his life. He had just turned eighty and could not believe it. He was really happy."
Serralunga most coveted by Barolo producers

The Nebbiolo grapes of Serralunga have always been the most coveted vineyards by Barolo producers. They are the most sought after and command the highest price because they give life, authenticity and sumptuousness to the wines, allowing them to age well over time. In the Barolo area it made so much economic sense to sell Nebbiolo grapes that the idea for a grower and wine maker to produce a single varietal wine arrived quite late. Sperss has maintained the same label since it entered the market thirty years ago, and, for our family, this wine represents a different "Langa"- a quieter and wilder Langa. When we think of Sperss we are reminded of the forests of truffle hunters, the scent of Artemisia (an aromatic herb that grows in the vineyards with hints of camphor and balsamic), graphite, fresh mushrooms, bark and musk.
Notes on Sperss
The sensorial images found in the Sperss wine evoke full and powerful notes of black fruit, orange, black cherry and berries at first. It then gives way to more delicate notes of roses, violets, elderberry and liquorice. The compact but ample structure and the thick tannins not only indicate an imposing full-body but also provide a delicate balance and an aristocratic demeanour.
Gaja Sperss 2018 is listed at an average of $381 in Wine-Searcher. Gaja wines are imported in India by Sanjay Menon of Sonarys, Mumbai. Contact Sanjay at sanjay@sansula.com for more details.
Subhash Arora