Antica Bottega del Vino Bags Wine Spectator's Grand Award 19th Time
Posted: Tuesday, 20 September 2022 08:44
If you Like this article, please click
Antica Bottega del Vino Bags Wine Spectator's Grand Award 19th Time
Sep 20: Antica Bottega del Vino in Verona, owned by the 'Twelve Historical Families' of Valpolicella, is an iconic restaurant in Verona specializing in wine and Italian food, and is one of the 6 Restaurants in Italy that has won the prestigious Wine Spectator's Grand Award for the nineteenth year in a row this year, writes Subhash Arora who was privileged to be part of a private wine dinner organised in the basement in 2005 during the Vinitaly Concorso and was bedazzled by the wines and the impressive Wine List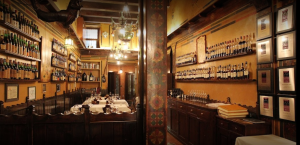 Jiss Italian wine lover ne Antica Bottega del Vino nahin dekhya, au janmaya hee nahin! If you are an Italian wine lover and have not visited Antica Bottega del Vino, you are not yet born!
Your visit to the city of Verona, the seat of Vinitaly, the most fascination wine show in the world for Italian wines, cannot be complete without having a meal and/or a glass of wine at this Bottega which I had visited during my second visit to Verona in 2005 to attend my first visit to Vinitaly, for my first international wine judging event and had enjoyed a private meal at the basement costing 40 Euros with wines sponsored by judges from various wineries participating at Vinitaly.
Antica Bottega del Vino is in the heart of Verona and is one of the top Enoteca- cum-restaurants of Italy. When I visited it in 2010 it was is rated as one of the 80 Grand Awards Restaurants named by the Wine Spectator', according to Severino Barzan, the then owner who had also opened a branch in  New York .The most expensive wine cellar in Verona stored wines valued at over 3 million Euros and included wines from top chateaux from Bordeaux, Burgundy and the rest of the world. An Acinatico 1928 from Bertani was priced at € 9,800 in the Wine List.
Also Read : Wine Feature : Day out with Sabrina Tedeschi of Tedeschi in Valpolicella
The Antica Bottega del Vino has been owned by the Historical Families of Valpolicella since 2010. It has been recognized not only for its depth of vintages and sought-after wine list that includes almost 4700 labels and over 18, 000 bottles, but also the impeccable and renowned professional attitude of the entire Sommelier team.
Luca Nicolis, director of the Antica Bottega del Vino, says, "We are extremely proud of having been able to maintain this legacy for nearly 20 years. The merit of this achievement belongs not only to our entire team but also to the Historic Families, who have solidified this venue's position even more by strengthening the ties it has with our city. Our dining halls have seen countless generations of loyal customers, who have allowed the Antica Bottega del Vino to endure and make it a recognizable name across the globe." This latest award can be added to a long list of recognitions by Wine Spectator, which since 1996 has defined the Antica Bottega del Vino wine list as one of the most complete and extraordinary in the world and has awarded it the Grand Award every year since 2004.
Also Read : Italian Youth Drinking less Wine
Sabrina Tedeschi is the new president of the Antica Bottega del Vino and is a partner in the Tedeschi family-owned and run winery. She says with satisfaction "This award belongs to each person, who works every day to make the restaurant the temple for wine that it is today. At a time when it is difficult for the restaurants to collaborate with qualified staff, our strength remains our own team of 25 individuals who have been with us for years and have made the Antica Bottega del Vino a family. Our team welcomes historic clients and tourists everyday with the same enthusiasm and professionalism that has always been a part of who we are."
I had the pleasure of her company in 2013 when I had spent one whole day visiting the wineries and different vineyards and stopped over for lunch at this historical Bottega. (the picture alongside shows the table where we had an impromptu wine dinner in the basement strewn with bottles all over and I requested Sabrina to pose for me for the spot I had first visited in 2002).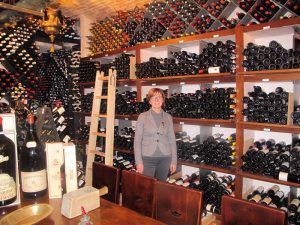 Born in 1500 in the then Republic of Venice, the Antica Bottega del Vino was given its current name in 1890 by the Sterzi brothers, who also gave the venue its charming warm and characteristic style of the 1800s which is still visible today. The restaurant became a landmark for the cultural scene of the late 1800s as well as for wine lovers. It welcomed poets, musicians, literary figures, artists as well as journalists. In 1957 the venue was purchased by the Rizzo-Grigolo family, who ran it primarily as a restaurant until the end of 1987 when Severino Barzan arrived on the scene and with his partner Giovanni Pascucci also brought the Bottega concept to New York.
The Historical Families or Famiglie dell'Amarone d'Arte' (Amarone Families) is a break-away group of 12 Amarone producing families formed in 2010 as a protest against the unchecked depreciating quality standards of Amarone as it had become more and more popular. This group consisting of Allegrini, Begali, Brigaldara, Masi, Musella, Nicolis, Speri, Tedeschi, Tenuta Sant'Antonio, Tommasi, Venturini and Zenato, primarily  for the promotion of Amarone discontinued participating in the annual Amarone Anteprima event organised by the Consorzio. It safeguards the enological tradition of this symbolic venue in Verona and the Bottega del Vino. It continues to be the temple for wine where decades of legacy are carried forward and a place to live life and fully enjoy Veronese, Venetian, and international enogastronomic traditions.
Also Read : Wine Travels: L'amore di Amarone della Valpolicella
You must plan a visit to this iconic restaurant during your next visit to Verona- you would be glad you did!!
Subhash Arora
If you Like this article please click on the Like button