The Men and Wines from La Mancha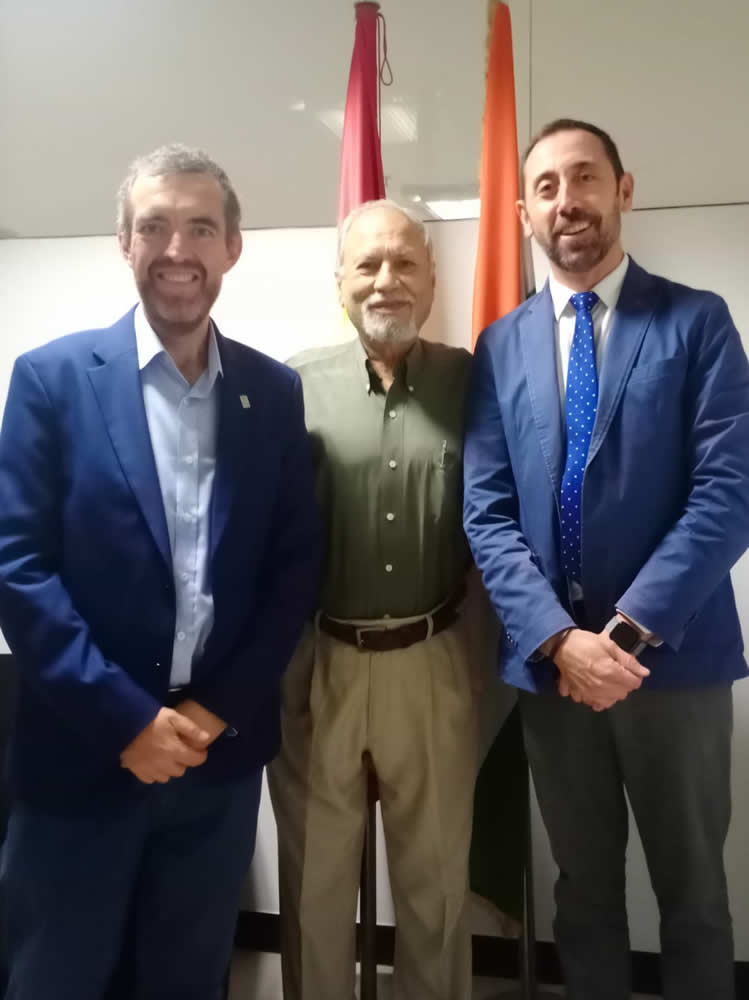 Posted: Monday, 19 September 2022 18:16
If you Like this article, please click
The Men and Wines from La Mancha
Sep 19: The Economic and Commercial Office of the Embassy of Spain, in collaboration with the Foreign Commerce Institute of Castilla-La Mancha (IPEX), hosted an evening of Spanish Wine Tasting from 6 wineries of the region for which Luis Noé Sánchez, Director and L. Quintin Villamayor, Wine Promotion Manager of IPEX had come from Toledo, the Capital of La Mancha. Subhash Arora met them and tasted wines from six wineries showcased and was amazed at the improvements since he first visited the region 15 years ago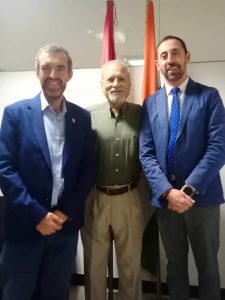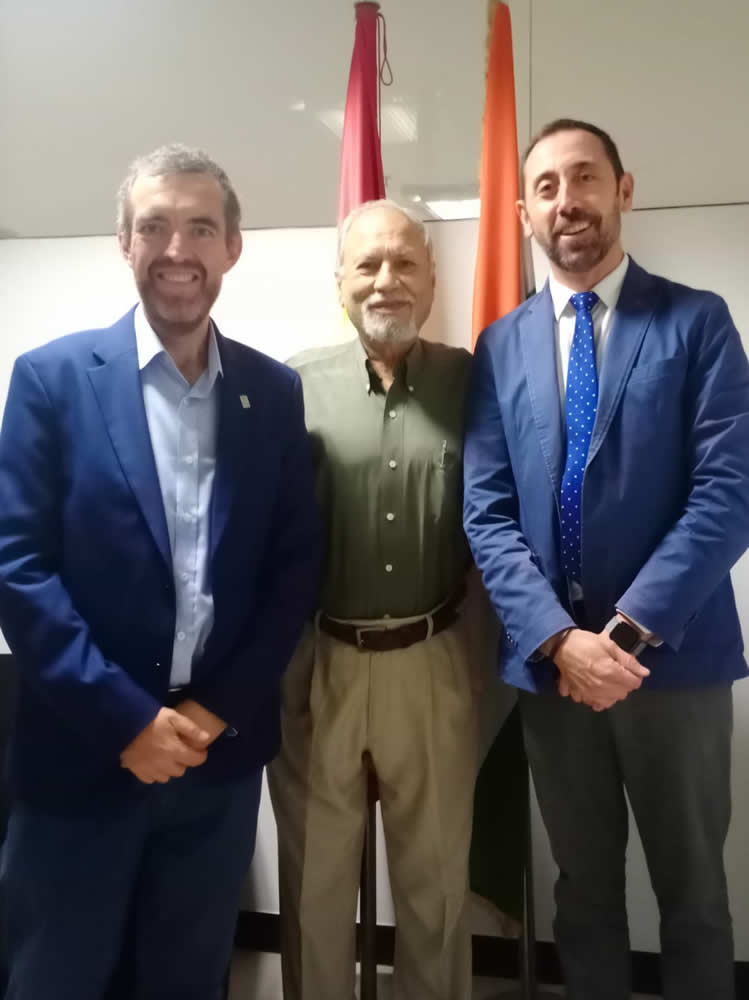 I met Luis Noé Sánchez, Director of Castilla La Mancha (IPEX), on 8-10 May 2007 at FENAVIN, a wine show of Spanish wines in Ciudad Real in Castilla La Mancha, the biggest wine region in Spain. He was then in the Chamber of Commerce, as he told me when I met him at Instituto Cervantes on 15 September.  Luis looked familiar but he recognised me instantly from Fenavin, at the wine tasting from 6 wineries and a Masterclass conducted by Gagan Sharma DipWSET.
I mentioned to him that in 2007, the general impression was that La Mancha produced bulk wines and there was glut at the time, as I had also reported in delWine.
I also shared with the two gents an experience of judging at MundusVini in Germany a few years ago, where I have been an international judge since 2007. The wines are tasted blind and in flights of a cluster without prior knowledge of the region. Our panel was tasting a flight of Spanish Reds which were exceptional. In fact, practically all the wines in our flight received a Gold or Silver Medal. We all speculated incorrectly about the origin and were pleasantly surprised to learn later that they were all from Castilla La Mancha!!
Also Read : Wine Business: The Indian Paradox and Exports to India
So how come this paradox?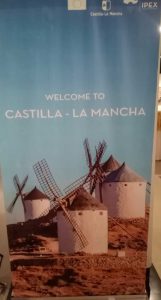 'It's not surprising to me. You are right on both the counts,' he said. 'La Mancha is the biggest region in Spain and is most diversified in terms of grape variety, terroir and the wine styles. We have both sides of the spectrum.' Representing IPEX, the regional government body promoting wines, he said that the region had a huge variety of wines at all price points and 'we are here to promote the region. I know it is tough to promote wines in India but we have taken a conscious decision to be present here and based on our experience we will take further steps to continue our efforts,' he said.
Known as the Land of Don Quixote and windmills, La Mancha is in the heartland of Spain. A high plateau that might appear harsh and hostile to a first time visitor, it has rolling plains and low hills with extreme freezing temperatures in winter and an unbearable 43⁰ temperature in summer. The terrain is not great for high quality wines but developments in the last dozen+ years have made this region help regain its past glory and my personal experience validated it.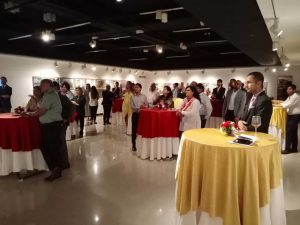 'We offer a lot of diversity with 480,000 hA of surface area making us the biggest wine producing region. We have bulk wines, value for money wines and excellent wines at various price points. Our government has done a lot in terms of giving better technology and winemaking facilities. People have realised that it is the quality that is more important and not quality. Many young, qualified professionals have joined family wineries and co-operatives. Winemaking is much more evolved today.'
'Our exports are growing with a record sale of €378 million, showing a growth of over 4% in 2021. 63 % of our sales are in the EU but we also sell a lot of wine in China and the UK. We are looking now for new markets like India and Africa.'
We have 9 DO wines (La Mancha, Valdepeñas, Manchuela, Almansa, Jumilla, Méntrida, Mondejar, Uclés and Ribera del Jucar). Of course, we do have our Land wines too (Vinos de la Tierra de Castilla- known also as country wines or IGT wines). I feel it is good for Indian wines to increase production. When their sales increase, our share of imported wines will also increase. I understand it is not easy to sell here. We need to know how we approach the market based on our experience this time. General impression people have of our wines is that they are cheap wines but we have a lot more than that. Tempranillo, Bobal, Grenache and Monastrell (also known as Mataro and Mourvèdre in France) make great wines as do Airen (white).'
Also Read : FENAVIN: An enviable successful performance
Wine Tasting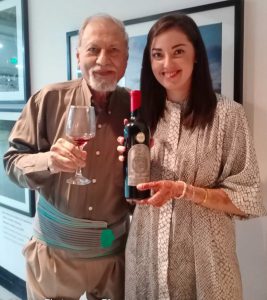 Representatives from the 6 wineries were present to showcase their wines- totalling about 25
Six bodegas- Punctum, Camino Alto, Romero de Avila Salcedo, Familia Fernandez Rivera, Del SAZ and Campos Reales were present with their wares. As Luis had explained, one could find a vast spectrum of wines. Some of the companies like Familia Fernandez Rivera have wineries in other regions as well, for instance, the world famous Tinto Pesquera, as their export manager Carlos Labarga told me. He had only white Airen wines to taste which I did not find particularly enticing. I could also not taste wines from Bodegas Del Saz as their representative said the Tasting would follow the Masterclass which meant an hour of wait and I had to leave early.
Bodegas Camino Alto is a young winery producing wine from organic grapes and at good prices. But I was really impressed by wines from Dominio de Punctum winery and Romero de Avila Salcedo. The former makes only estate wines from their own organic grapes and bio-dynamic style. Each of the wines had its own personality though I found the barrel-aged Tempranillo 2021, a wine to remember. The Punctum Sin Sulfitos. A biodynamic wine made without adding sulphites, is a modern and fruity Tempranillo with notes of sour cherry, red plum and chocolate with a hint of roses. The medium body was fresh and homogenous with great structure and long and fruity finish.
The Star of the evening for me was the family owned Bodegas Romero de Avila Salcedo, with a history of 400 years during which they have kept up the tradition of fermenting wines in Amphoras. Naturally, the wines are not cheap but select affluent connoisseurs would love their Albueco Paco (a Tempranillo blend), Testigo (Tempranillo, Syrah and Cabernet Sauvignon blend) with 20 months in the barrel.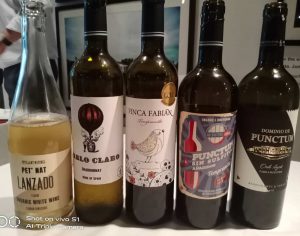 Star of the evening undoubtedly was their signature wine Romero de Avila Salcedo 2011 which 'I could have drank all night and still begged for more'. A powerful but elegant wine with a blend of Tempranillo, Syrah, Petit Verdot, Merlot and Cabernet Sauvignon, was the star attraction of the evening. I am sure this was one of the wines that won the Gold medal at MundusVini and I would have been a part of the panel where it won the Gold though my tasting notes this evening rated it a Grand Gold at 98 points.
Also Read : FENAVIN: India uncorking its Wine Market
The evening was well organised with a warm and congenial atmosphere with a lot of bonhomie. There was one flaw-if one could call it that. There were no spittoons at all though waiters were ever-willing to change the glass when requested (not practical).  After a long time, I felt light headed at a wine tasting since I could not spit and the 14% alcohol wines did me in. I felt it might have been a great idea also to serve some of the world famous Queso Manchego (sometimes considered as the Parmigiana of Spain) that Don Quixote enjoyed during his time, with these wines.
Subhash Arora
If you Like this article please click on the Like button