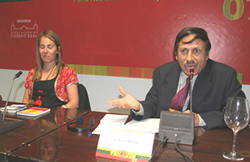 Indian population is 1.1 billion, second only to China. With a huge middle class of 250 million people, we could drink 250 million liters of wine at only 1 liter per person. We consumed only 7 million liters of wine including 1.5 mill liters of foreign wines last year. Less than a million people drink wine. This is Indian Paradox.
Due to the religious reasons or social customs and mores, drinking alcohol can be considered a taboo and a majority do not imbibe alcohol. Yet we drink 120 million cases of whisky, vodka and other hard liquor and 105 mill cases of beer every year. Add 200 million cases of country liquor and a sizeable number that is unaccounted for, 500 milion cases of liquor are annually consumed. This is the Indian Paradox.
There are 1.1 billion people and yet about 40 importers of wine, with an import of only 170,000 cases in 2006-07. Three importers control over 60% of the market. Another 20% import is shared by about seven. In an otherwise absolutely free business environment, this is an Indian paradox.
The customs duties on wine imports continue to be as high as 267%, whereas India is committed to cap it at 150%. So much so that EU has gone to the WTO and the case has been filed, where India is expected to lose. Yet, the hotels are allowed to import free of any import duties, under certain conditions. Perhaps, it happens only in India . This is the Indian Paradox.
The government is aware that the hotels have kept the significant portion of the duty benefits themselves with the mark ups of 500-600% quite common for wines they sell. Yet due to strong lobby it continues to look in the other direction. This is the Indian Paradox.
Anyone can import wine in India under the liberalised laws. But the selling laws are so complex and stringent that one can even be prosecuted for inadvertently violating some of these laws. This discourages new importers to come into the field even though they are passionate about wines and have resources to import and sell wines. Most imports are controlled by those importing liquor since long and are fully conversant with procedures to deal with laws. This is Indian Paradox.
You can vote at the age of 18. The girls can even get married at the age of 18. Yet the legal drinking age is 25. And it is not impossible to find teenager parties where alcohol flows more freely than coke. This is the Indian Paradox.
If you order wine in a restaurant where full duty has been paid, and want to take the leftover wine home rather than wasting the expensive liquid, you may not take it out, by law. And the lawmakers are hardly thinking of preventing drunken driving with this step. This is the Indian Paradox.
Indian Government wants to reduce the duties somewhat. But the states who are independent in their policy making due to our constitution do not tow the line. Under Section 47 of the Constitution, States are encouraged to enforce Prohibition. Wine is considered at par with liquor in most of the policies and many people lump wine with hard liquor. This is the Indian Paradox.
The Minister of Agriculture, is a big grape farmer and has gone on record saying that wine should be treated as food item, like in Italy and Spain . But he had to backtrack due to anti-alcohol lobby and the wine continues to be treated as alcohol and subject to the same VAT at 20% as for liquor. This is the Indian Paradox.
There are thousands of ´Wine Shops´ in India selling only beer and liquor, shops that do not sell wine at all. Wine has been in the Indian psyche as liquor while it is being encouraged by the government in the similar emerging economy, China where the duties have been cut drastically for import of wine because of its halth benefits. This is the Indian Paradox.
India, in fact is a Paradox. Why should then, anyone be interested in the Indian market of only 170,000 cases at the moment? Why did 54 Italian producers come last year just for one day to attend Vinitaly India ? Why did 21 producers come from France last month as a delegation? Why did a group of 11 Spanish producers visited Delhi and Mumbai last month? Why has the wine show IFE-India already booked more than double the wine space it sold last year? Future potential, of course and to get the early bird advantage.
Growing Economy: India turned a trillion dollar economy, no. 12 in the world on April 26. A few days later, a report was released that said that the increasing consumption will outpace Italy in 2015 and Germany in 2025. The middle classes are increasing at an extremely fast pace and will cross 500 million by 2025 (This report assumes current middle class at around 60 million, while most statistics consider it at 250 mill at the current definition). The economy is growing at 9% with the growth for last quarter at 9.2%.
There has been a growth of 40 % in imported wine consumption, from 120,000 cases to 170,000 in 2006-07. The growth of market for Indian wine has been even more, at about 50%, because of their price avantage and improving quality. The earlier estimates of a consumption of 60 mil liters by 2016-2018 might even be crossed earlier.
Better Availability: There has been thawing in the recent times in the state government policies, making wine selling easier and availability better,. Many progressive states have allowed sales of wine and beer through supermarkets. With Indian Retail pitching in to become the biggest growth industry, wines sales through this channel will sky-rocket from the current 10-12% to 50% or even more during the next 4-5 years, depending on the quantum and timing of import duty reduction. The question is now more about when and how much rather than whether. The case for arbitration filed with WTO is expected to speed up the process.
Tips for export of Spanish wines to India
Price: India is a Price sensitive market, especially because of high duties and availability of decent Indian wines at the entry level to low end wines. This does not mean the cheapest table wines have a good potential, necessarily. They may not be able to compete against Indian Wines. Good but expensive brands like Sicilia Vega, Pingus will still have a share in the high price range as a niche market. Louis Vuitton and Dom Perignon are examples of luxury products that have many takers in India beyond any expectations.
Passion for India : India is a long term market. It would be a mistake to expect short term results. Laws and procedures can be frustrating. Importers are the important and mandatory cog in the wheel. Finding the right importer is a major exercise. It may take more than a few trips or meetings to get started with the shipments. If you are passionate about India , you may find the ride less bumpy, even enjoyable at times. If you or your company is looking only at the top or bottom line, the pressure may be too much to handle in the short term.
Partnership in sales: The approach should be that of partnership and working together to capture the market share rather than selling at a good price upfront and leave the importer on his own. Even a business partnership opportunities should be sought . Take the example of Torres, the name that is synonymous with Spanish wines. Not only do they have astute pricing policy and passion for India but also have a partnership in India like in China . This has given them a formidable strength.
Personal appearance: To create a positive brand image personal presence of some representatives of the producers are very helpful. Wine maker dinners are an important part of the marketing strategy as are meeting the hotels and restaurants people. Whenever possible, meeting the consumers directly is not only educational for both sides, it gives you good feedback directly from the clients. It works as a marketing tool to help your importer penetrate the market.
Participate in wine shows: There are wine shows like IFE-India organised by Montgomery International and IFOWS that offer you an opportunity to meet many new potential importers, have your prospective clients taste your wines and develop many new contacts. Fenavin has been attracting many new contacts from international buyers and Spanish distributors. You may team up with other producers to take part jointly.
Arora ended the presentation by cautioning exporting producers to secure their payments . Coincidentally, a couple of months ago, at a similar conference on emerging markets at Prowein in Düsseldorf, all the speakers from China, Russia and India had the same common thread and all three speakers including Arora had warned the delegates to be careful about the terms and conditions, established when dealing with new and unknown importers.