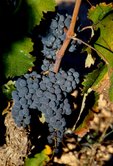 Monastrell grapes

Jumilla-the land of Monastrell: Jumilla, a region whose rich, hefty wines are made from the indigenous Monastrell grape, have historically been used for blending, has now come into its own. No longer the rustic country bumpkin, Jumilla now produces wines that are finding a growing audience of fans of ripe, fruity, full-flavored wines that are reasonably priced and compare favorably to those from warm-country growing areas such as California and Australia.

Beautiful location: Located in an arid mountain valley, some 80 kms. inland from the Mediterranean Coast of Alicante, southwest of Valencia in the province of Murcia, Jumilla's 100,000-plus acres of vineyards are planted at altitudes that range from 400 m- 900m above sea level. Temperatures here can be extreme, soaring to more than 100 degrees on summer days and dropping to well below freezing in winter. Jumilla gets some 3,000 hours of sun per year and only about 16 inches of annual rainfall, but roots of traditional old vines burrow deep in search of moisture and most modern vineyards are fed by drip irrigation.

Altitiude is the key: Don't be fooled by the climatic conditions in Jumilla. Like many other regions in Spain (the second most mountainous country in Europe), the secret behind making successful, balanced wines in areas that would seem to be too warm to make seriously good wines, is altitude. The vineyards' thermostats may be cranked up during the daylight hours in summer, but at night temperatures at these altitudes cool down dramatically. This allows the vines a good night's rest to buttress themselves for the coming day and is the secret behind Jumilla's emergence from near obscurity. The grapes get properly ripe, but still have enough acids because of the cool nights to carry the hefty weight of the wines they produce.

The brownish soil (with underlying chalk) and the arid conditions in Jumilla are inhospitable to the Phylloxera bug that devastated Europe in the late-19th century; so inhospitable that many old Monastrell vineyards in Jumilla are planted on pie franco, or ungrafted French rootstock.

In contrast, the vast majority of vineyards in Europe had to be grafted long ago onto American, phylloxera-resistant rootstock.