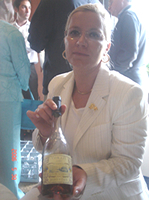 Eniko Kiraly
When you think of Tocai, the image conjured up is that of Tocai Friuliano or Tocai Italico, a white quaffable wine you can find as the house offering in most restaurants in Friuli.
To the French in Alsace it represents Tokay-Pinot Grigio that they have been drinking all their life. Tocai Rosso is produced in central Veneto, around Vicenza. There's also a Tokaji wine from Hungary, which is very sweet, or is it a region they are talking about?
There has been a lot of confusion. But it will be finally cleared on April 1, 2007. After the EU regulating authority issues a much-anticipated order, no wine produced in EU member states will be allowed to use 'Tocai' or any similar word, unless it comes from Tokaj in north-west Hungary, which is famous for its Tokaji wines.
Tocai has been produced for more than 150 years in Friuli and to the east of Venezia. It is made from the varietal called Sauvignasse, the same grape which produced very ordinary wines in Chile till the early '90s and the producers mistook the varietal to be Sauvignon Blanc. With studies conducted with the help of Bordeaux this error was detected, all the old vines uprooted and fresh Sauvignon Blanc replanted, producing some majestic white wines. Tokay in Alsace is made from Pinot Grigio. When I asked Dr Francesco Venier, Director of MBA in Wine Business, Trieste, at a Friuli-Venezia-Giulia Seminar, he agreed , but added that "in these hilly areas of Friuli the grape grows wonderfully and gives us an aromatic wine."
The red Tokai is made from a clone of Grenache. The one I got to taste at a wine dinner organised by Vicenza Qualita in Vicenza during Vinitaly 2006 in April was too light in colour and body compared to the usual Grenache, but Germaine Barreto, GM, Vicenza Chamber of Commerce for Promotion, and the other local producers insisted that DNA analyses shows this grape is indeed a Granache. Nicolin Dott. Giorgio Nicola, owner of Cantina dei Colli Berice, makes red Tocai and is a vice-president of the regional association in Vicenza. He insisted that DNA analyses did show red Tocai to be same as Grenache and Carignan found in the South of France. He's extremely upset about the Italian government for not making a strong case for Tocai.
"I have documents to show that even 150 years ago we made the Tocai, perhaps longer. The French did not protest strongly and instead started buying property in Tokaj," he said. Hungarians have their reasons to fight for exclusivity.
When the communists ruled Hungary, it didn't really matter for the wines were exported mainly to Russia. But after getting freedom from the communists, they faced marketing difficulties due to the prevailing confusion and loss of the Russian market. According to Eniko Kiraly, PR Manager for the Tokaj Rennaissance, an association representing the majority of Tokaj producers: "We tried to reason with Italians but they did not budge from their stand of continuing with Tocai. We even approached OIV (International Organisation of Vine and Wine), where both Italy and Hungary are members."

The Italians did not give in. When we joined the EU in September 2005, says Eniko, "we were able to convince them and the final decision went in our favour." I met Eniko at Vinoble 2006, where she was promoting Disznoko Aszu Tokaji as well as the region's dry wines.
Tokaj has been a region in Hungary where wines have been produced since the 14th-15th centuries. "Written documents dating back to 1630 talk of Pastor Sepsy Laczko Mate, who discovered the famous Aszu wines," Eniko informed me. "Back in 1737, a Royal decree allowed 30 villages to produce Tokaj wines." Folklore has it that a countess from Friuli was married to the prince Furmintine of Tokaj in the 17th century and was given 'Tocai' as dowry. It implied that the right to use the name was transferred legally.
The controversy, though, might be a shot in the arm for Tocai Friuliano because of all the resulting publicity. The producers are already gearing up for change and disseminating information at various industry forums, like Vinitaly 2006.
Come April 1, 2007, and Tocai wines won't be around. Tocai will officially be 'dead'. Sovereign Impex, which imports Tocai from Moletto in India, will have to get restaurants to change the name from Tocai to the newly designated 'Friuliano'. The red Tocai will be renamed 'Barbarano'.
Are the French really investing in Tokaji? Disznoko, one of the top wineries for whom Eniko handles the PR, is owned by AXA-Millesimes, a French insurance group. Tokaj, meanwhile, continues to make dry and sweet Aszu wines, the wines of kings, czars and aristocrats.