DWC Dinner: Austrian Residence Hospitality and Family Winery Vinos charm the Members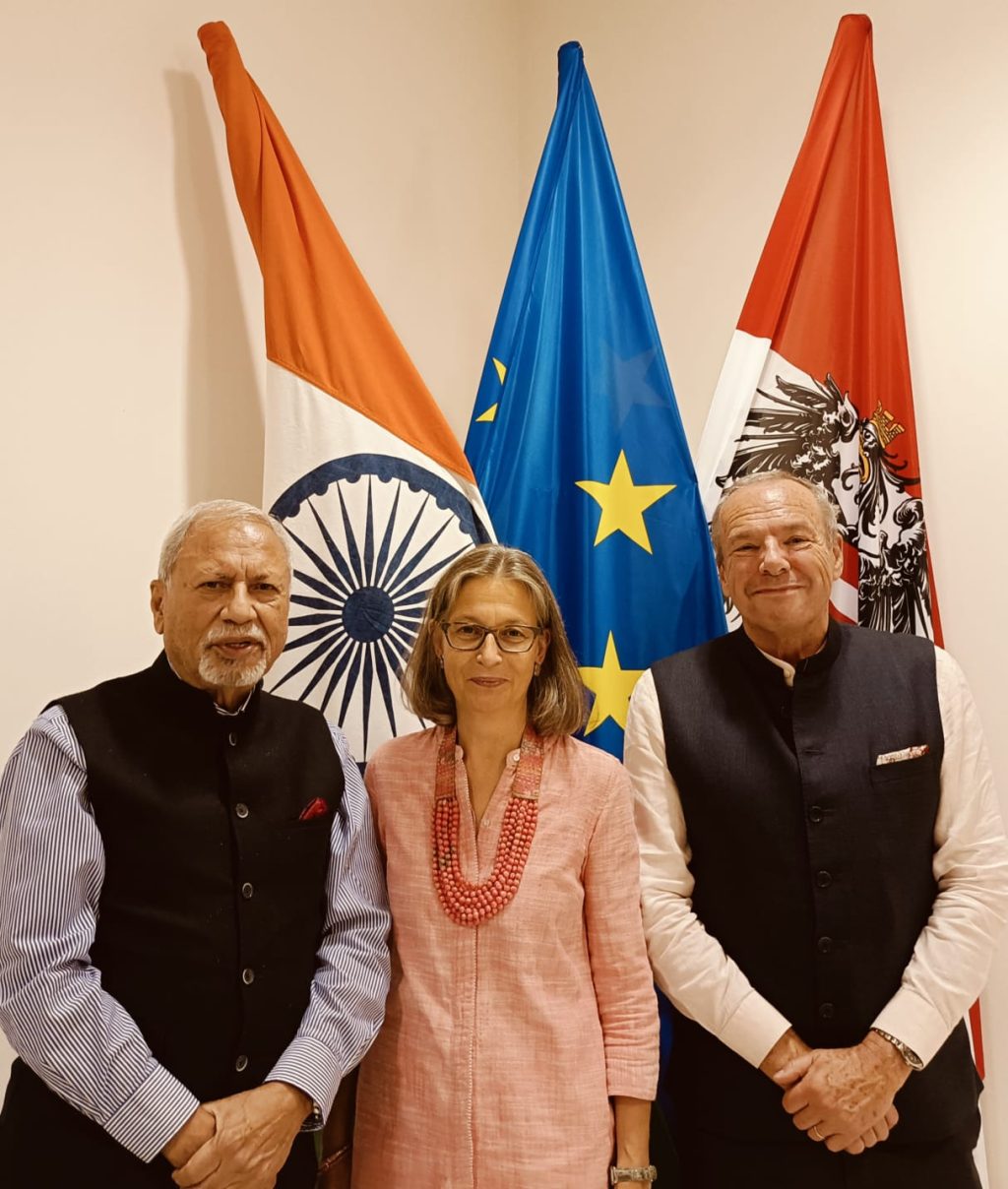 Posted: Monday, 30 October 2023 16:50
DWC Dinner:

Austrian Residence Hospitality and Family Winery Vinos charm the Members

October 30: The Delhi Wine Club members had an enchanted evening hosted by the Austrian Ambassador H.E. Mrs. Katharina Wieser and her husband Prof. Dr. Michael Wieser at her residence where she took out 6 labels from her personal cellar from the family-owned Weingut (Winery) Magerl in Fels am Wagram in Lower Austria and an off dry wine from Kracher in Lake Neusiedl in Burgenland each food-paired at a sit down dinner, writes Subhash Arora who was bowled over by the down-to-earth demeanour of the hosts as much as the food quality, service and ambiance and wines that were a good representation of Austrian wines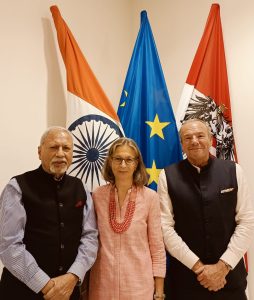 The evening started with the gracious couple- H.E. Mrs. Katharina Wieser and Prof. Dr. Michael Wieser welcomed the members with generous pours of Kugerlwein Rosé. 2022-a pink blend of the Austrian red varieties Zweigelt, St. Laurent and Blauer Portugieser. Fresh, fruity and bubbly Rose had red berry flavours and citrus notes in the background along with some spicy touch. Fresh and vibrant.
H.E. Mrs. Wieser introduced the bubbly along with a brief note on the Weingut (winery) Magerl in Fels am Wagram, a small municipality in Niederösterreich (lower Austria), about 45 minutes north of the Capital Vienna. The Wiesers have known the owners of the small family winery for a long time and have been buying wine for their consumption from Magerl for around 20 years.
Also Read : Austrian Reds also gaining Global Recognition for Excellence
Magerl Grüner Veltliner Duo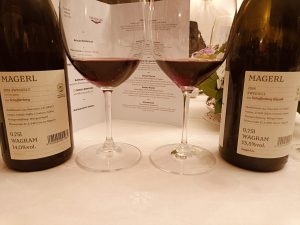 It was gracious and hospitable of the Wiesels to open their heart and the cellar to the 20 members of the Delhi Wine Club who were already touched by the friendliness, warmth, the openness and the hospitable demeanour of the couple, as we sat down for dinner at the table that had the plated Avocado Quinoa Salad neatly laid out. Grüner Veltliner (GRUVee- if you find it too tongue twisting) Klassik 2018 produced from the varietal grapes from Ried Schafflerberg (name of the single vineyard) was a good match with the salad. The medium bodied wine with golden colour had fresh acidity, and hints of spices and citrus zest. With a flavour of white apples, it was an enjoyable pairing.
Also Read : Blog: Sweet Wine Symposium in Australia Slightly Sticky
If the first GV was a bit simple and single dimensional, what followed with the next dish- Vegetable cutlets with mashed potatoes and assorted vegetables was a match made in heaven with the Grüner Veltliner Reserve 2017 which had grapes from a different single vineyard- Ried Brunnthal. The wine seemed to have a balanced touch of oak and had flavour of oak vanilla. Slightly darker in colour, it was fuller on the mouthfeel, with good complexity and balance. The after-taste was also long and persistent. I could not help requesting another pour and the waiting staff obliged with a generous pour with the juicy wine that could have also been excellent with soft cheeses.
Also Read : MUST 2018: Memorable Conference of Fermenting Ideas in Portugal
Zweigelt, the faithful Austrian Red
Now was the turn of the reds. Zweigelt is a signature grape of Austria and the Magerl Ried Schäfflerberg Zweigelt Klassik 2018, did not disappoint with the next dish-Spinach dumplings with mushroom sauce which were so delicious that I unabashedly stole one piece from my neighbor who was on a Fast that day. The medium bodied wine was juicy and full of berry flavours; an example that Austria, known for its white wines, was not far behind the whites in its red genre. One enjoyed listening to the comments by Her Excellency and her husband, making an interesting interlude.
Also Read : Taking off to help Austrian Wines Take Off
When it comes to serious reds, barrel aging does make them fuller and complex and age-worthy. The deep ruby red Magerl Zweigelt Reserve 2017 with purple hue, had blackberry and cherry flavours with shades of minerality. Very persistent on the mid palate till the end which was long and complex. The match with dumplings was even better. This wine has several possibilities even with a variety of Indian non-vegetarian dishes served as the main course. It will age for 5 years or more in the bottle.
Also Read : VDEWS: Grand Prix du Vin Award for Young Wine Professionals
Kracher Spaetlese Cuvée 2017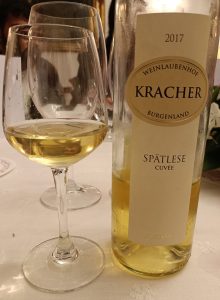 Austrian Apple Strudel is my favourite dessert as is Weingut Kracher whom I consider king of dessert wines of Austria. The wine was a spaetlese wine (Sweet white wine style of Late harvest grapes- lightest style of late harvest wine). By itself, it was a delicious off-dry wine that I would love to devour with spicy hot Indian food. But frankly, I found it to be not as perfect a match with the strudel like the earlier wines with the dishes, it was a bit lean for the perfect apple strudel.
Also Read : Blog: Eiswein and Ice Wine of Austria
It was truly a lovely and lively evening where we could let our hair down. The hospitable hosts made every member feel as if he or she was a long- time personal friend. That is what made the evening different from other wine dinners. More such events would certainly help Austrian wines find a place on the Indian retail shelves and would be a positive for international diplomacy.
Also Read : Palais Coburg: Viennese Wine Cellar with Substance
For details of Magerl, contact office@magerl.cc
Also Read : Austrian Wine : Klinger Scores 100 Points
Also Read : Austrian Wine : New Appellation of Leithaberg DAC
Also Read : Austrian Wine : Vines Full of Knots and Crosses
Subhash Arora