Fishing Cat- In Love with Abruzzo
Posted: Monday, 14 August 2023 18:38
Fishing Cat-

In Love with Abruzzo

August 14: Not many wine labels have been introduced in the last 5 years, that have become so popular in the (On trade business ), as the four variants of the FISHING CAT that have reached the Pole Position, in the affordable category in Delhi, writes Subhash Arora who had liked Merlot and Pinot Grigio but really loves the newly introduced premium version of Pecorino white and Montepulciano d'Abruzzo red, both using a Cork and heavy Burgundy bottle and are sure to catch the eyes and palates of Italian wine lovers.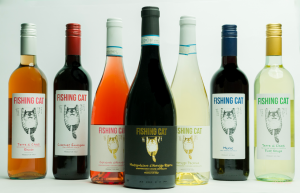 Fishing Cat is the name of the rather new label in the market, which has been around for less than 5 years and is already leading the pack in the affordable segment of imported wines in Delhi in the On- Trade market in Delhi. It has 4 variants- the most popular Pinot Grigio, a rather delicious but simple Merlot and a quaffable Cabernet Sauvignon. The Rose version is rather sweet and nondescript.
All these versions are listed in Delhi at an MRP of Rs. 1340. They are available at much less- for Rs. 1090 in UP whereas Rajasthan will set you back by Rs. 1425. According to Sanjeev Gupta, owner of High Spirits and importer. Haryana has an attractive price of Rs. 1200 and if you buy a case or more, it is available at Rs. 1100 or even less based on the quantity and your bargaining power.
But it clearly impresses you beyond words when you see it listed and sold well at various 5-star hotels like Imperial, Taj Mahal and Taj Palace, Hyatt, ITC Sheraton, Marriott, Radisson, Pullman Roseate and Andaz at Rs. 4200 –Rs. 5500 a bottle (+ 25% VAT +10% Service Charge extra !). All these hotels sell it by the glass for Rs. 900++ to Rs. 1100++.
Even premier restaurants serving Italian/continental cuisine-like Olive, Diva, Smoke House Deli, Perch Town Hall and Fat Lulu are happy stocking it-the prices being around Rs. 3500 ++ in these establishments (Rs. 700+ per glass at Olive).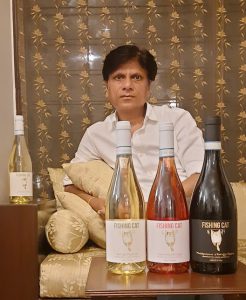 And the wines are selling well. Based on the authentic excise figures of sales for  July, 2023 Fishing Cat sold the maximum number of bottles to restaurants in Delhi in this price category.
What is the reason for the wines selling so well? Is it because of the quirky name, quaffable quality, affordable prices or the marketing capability of the brand? It is a combination of all these factors.
Sanjeev has been in the wine business for around 20 years. Armed with a graduate degree in Economics from Symbiosis and MBA from Pune, he joined the now defunct 'Rhine and Raavi' in 2004 and handled the complete business for a year before starting his own business of distribution and marketing of wine and beer till 2021 when the government policy put an axe in the head of all such small distributors in Delhi and wiped out their distribution business. Not to forget Dr. Rolly Sharma who joined Sanjeev in 2012 and has been a backbone in growing business of High Spirits.
Fishing Cat is born
He introduced The Fishing Cat label in 2017 after registering the label. Tuning and tweaking the wines took a couple of years and it was introduced in seriousness and not only survived Covid, but the marketing efforts yielded fabulous results.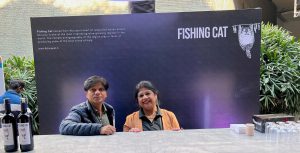 But how could he think of a quirky name like fishing cat, I ask? 'I wanted to introduce a wine that would be delicious and affordable. I was looking for something unique and went to several wine shows including World Bulk Wine Show (WBWE) in my quest for such a wine. Enamoured by Italian wines I wanted to stick to Italian wines. An opportunity came when I was able to taste Abruzzo wines and I did not take much time to decide on the Abruzzo region for these wines.'
But why such a quirky name?? 'I wanted a label that people one could remember and pronounce easily. Italian wines are great but most people are unable to pronounce their names and prefer to order a Merlot or a simple sounding name. Fishing Cat answered both the questions- quirky and simple to pronounce and easy to remember. Interestingly, pet lovers have found the name very attractive and have given a Thumbs up to the label too.
Fishing Cat at Events
Fishing Cat has been presented at several events like the launch of a new Mercedes model at one of their showrooms where a wine tasting afternoon was organized with Fishing Cat. Fishing Cat is a popular Draw at the annual Indo- German Chamber of Commerce Christmas market organized every year.
It is always an extremely popular wine at the Stand taken by him at Vinexpo Delhi in December 2022. Encouraged by the response he is contemplating a Masterclass at Vinexpo Delhi on 7-9 December, 2023
Premier range of Fishing Cat
Three new premier variants of the Fishing Cat are ready to be launched soon. Labels have been registered in Delhi and the process is going on in different states. Sanjeev has added 3 new grapes to his repertoire in the premier category climbing up to Gran Riserva level.
Pecorino is a white Italian wine grape variety that grows in the Marche, Abruzzo, Tuscany, Umbria and Lazio regions of Italy. An indigenous white grape rescued from obscurity, it produces very fresh, nutty-flavored wines. Fishing Cat Pecorino is crisp, fresh with complex aromas and tropical flavours of pineapple and citrus with a pleasing mid palate and a lasting end- already my favourite.
Cerasuolo d'Abruzzo is a rosato style using the same DOC composition rules as the red wines of Montepulciano d'Abruzzo with over 85% of Montepulciano grape and the rest being Sangiovese and other local varieties.
Montepulciano d'Abruzzo is the high-end version of the signature wine of Abruzzo, made by Cantina Tollo, a co-operative of about 900 members in the village of Tollo, due East of Rome.
Love for Abruzzo
After traveling far and wide in Italy including Tuscany, Piemonte and Veneto, Sanjeev believes Abruzzo is an undervalued and underappreciated region and that's why he is focusing on Abruzzo only for the Italian wines.
Located in Central Italy, Abruzzo is considered the green lung not only of Italy but also the entire Europe, thanks to its 3 National Parks, 1 Regional Park and Several Natural Reserves. Fronting the Adriatic Sea with 4 provinces – L'Aquila, Chieti, Pescara and Teramo, most of the region is mountainous or hilly.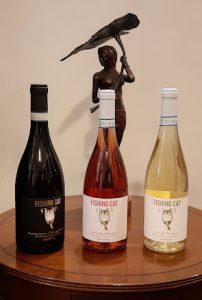 Abruzzo enjoys one of the best geographical conditions that help the fruit retain its qualities at its best. Central coastal location, Perfect soil and land and Perfect sunshine and rainfall balance makes it an ideal location for grape growing, according to Sanjeev.
Which one to pick
Based on a taste of all the 7 variants, delWine considers Pecorino and Pinot Grigio, great value for money white wines and Merlot and Montepulciano d'Abruzzo as the best red wines. Rose variants are both a tad too sweet for a majority of palates but for novices, Cerasuolo Rosato offers a great option with slightly sweet notes that go well with hot and spicy Indian food.
The new variants will be available for around Rs. 2500, 3500 and Rs. 4950 for the Red Riserva Montepulciano. Just to remove any doubt, this is a different grape than Vino Nobilo di Montepulciano which contains more that 70% Sangiovese, whereas the former has at least 85% of Montepulciano grape found in abundance in Abruzzo.
The Fishing Cat provides several choices in terms of price and quality to an Italian wine lover and deserves a Tasting and Sampling –based on your own choice. You might like to join the unofficial Fishing Cat Lovers Fan Club!
Subhash Arora