Ashwin Rodriquez:  Man with a Mission from Rio and Casablanca
Posted: Monday, 31 October 2022 21:13
If you Like this article, please click
Ashwin Rodrigues:

Man with a Mission from Rio and Casablanca

Oct 31: Ashwin Rodrigues, the founder Director of Good Drop Cellars Pvt Ltd is a man with the mission-besides being the Sparkling wine specialist making a full range of wines from Rio to Casablanca, he wants the wine to be democratised and believes in advocacy with the government in various states to make a dent in the supply as well as the demand side and make wine more approachable and affordable for the masses, writes Subhash Arora who chatted with him at length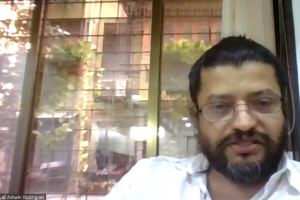 Ashwin Rodrigues is a man in a hurry-and a Mission. You talk to him about the production and sales of his winery at Vinchur Park and he is not excited, talk about bigger things he has on his mind -bigger market for everyone and participation of middle classes in the revolution and there is that sparkle in his eyes. He is savvy enough to have taken part in both the Vinexpo India Wine Shows in Delhi and Mumbai and the Masterclasses and is ready again to participate in Delhi with full gusto and vigour with a Stand and a Masterclass with a difference. He also participated in both the editions of ProWine Mumbai and also in the North-East Food Fest powered by Vinexpo India, earlier this year in Shillong with a Masterclass to boot-truly democratic!
Talk to him about his time during Covid and he opens up. 'I decided to go meet the excise guys during Covid. They were very receptive and helpful in discussions. In fact, I must have been to their office about 50 times from May- October, 2020. The problem I put in front of them was the survival of Good Drop Cellars and the Maharashtra wineries in general. Tanks were full-there were no takers for the liquid. At this rate, it would not be possible to crush in 2021, he told them and they were all ears.
So what was the solution, they asked him in a very positive state of mind. 'Supply side is one thing where the government has helped us all along. It's the demand side which is constricted with a few retail stores demanding their pound of flesh. We want to increase the availability of wine to the consumer.' So he suggested the Shelf-in-shop concept-incidentally, the term was coined by him. 'We want the consumers, especially women to come to the grocery shop and order a bottle or two of wine along with groceries.' The department and excise officials were very receptive and later the AIWPA (All India Wine Producers Association joined hands and made it an Association agenda.' We know what happened to the concept – with Anna Hazare's opposition and the change in government, the concept was kept on the back burner.
'But something interesting happened in the meantime. The retail license for wine at retail shops for a nominal 7.500 for wine only was granted and currently I am encouraging small grocery shops to apply for a license for this 'shop in shop' concept where they can stock wine in a small corner within the grocery store. This FLW2 License is the only retails license at Rs. 7,500 only, that can be used for a standalone shop or a shop- in- shop (like Nature's Basket, for instance), but Tasting is not allowed with this license.' So you might soon see these shops selling wine through these shop-in-shops.' His emphasis is that every bottle of wine sold is money in the pocket of the farmer. There is money in it for farmers even when there is distillation or fermentation of grains but fruit wines have the maximum benefits for the farmers. He says the benefit to the farmer can be 20 times more than the molasses-based spirits!.
Maharashtra also has a E2 license for wine bars. From this year onwards, retail sales will also be permitted through this license. This License can be used for 'Taste and Buy' concept. License Fee is currently Rs. 125,000 only (for the highest population slab), he says.
Full of fire in his guts, Ashwin wants the Association to move pan India and promote not only marketing of wine but also making fruit wines as the fruits are in abundance all across India even if grapes have their limitations. `We must organise seminars all across India and help the States to increase production which will be eventually sold within the state, getting money for the farmers. Incidentally, he was the lead organiser for the UP Fruit Wine Symposium which was co-organised by the AIWPA and the UP government. It has kick-started the UP Wine Industry. Today, 17 wineries are in the pipeline in UP, he says.
Presidential Candidate for AIWPA
Having worked as the Managing committee member of the Association, Ashwin is all charged up for the Association to play a national role and would not mind trying a hand at heading the Association when elections are held next. Due in September, 2022, they have been inexplicably postponed till December but he will be ready when the elections are held. 'We need to tackle each State individually. I have worked with Orissa and Kerala on a couple of issues where we had a winning hand. We have to visit the markets and do advocacy to help the farmers and expand the market.' He does not mind spending money from his pocket. 'I am willing to keep about Rs. 20 Lakhs from my pocket for the Association. After all, when I go to the new states, I am also doing a quasi-market survey for my products there. We do have funds available at Rs. 0.50 per bulk liter sales. So funds cannot be a limitation.'
He is also disappointed that the industry is not utilizing the resources of the Grape research organisation which has focused on the eating grapes instead and has made grape exports a very successful industry.
'I want Indian wine industry to be a leader in social responsibility by taking up initiatives like drink-and drive, Alcoholism and reducing carbon footprints,' he adds.
Ashwin is bubbling with ideas as much as his wines are bubbling in the tanks. Hopefully, given a chance, he might be able to change the Indian wine scene in a big way –or at least start moving things in the right direction.
DelWine wishes him all the best in his passion and commitment to make the wine industry discover the sheen that it has been lacking-despite a helping hand by the Maharashtra government.
Also Read- Rodrigues: Sparkling Man from Rio and Casablanca
Subhash Arora