Tuscan Castello di Querceto visits Mumbai and Delhi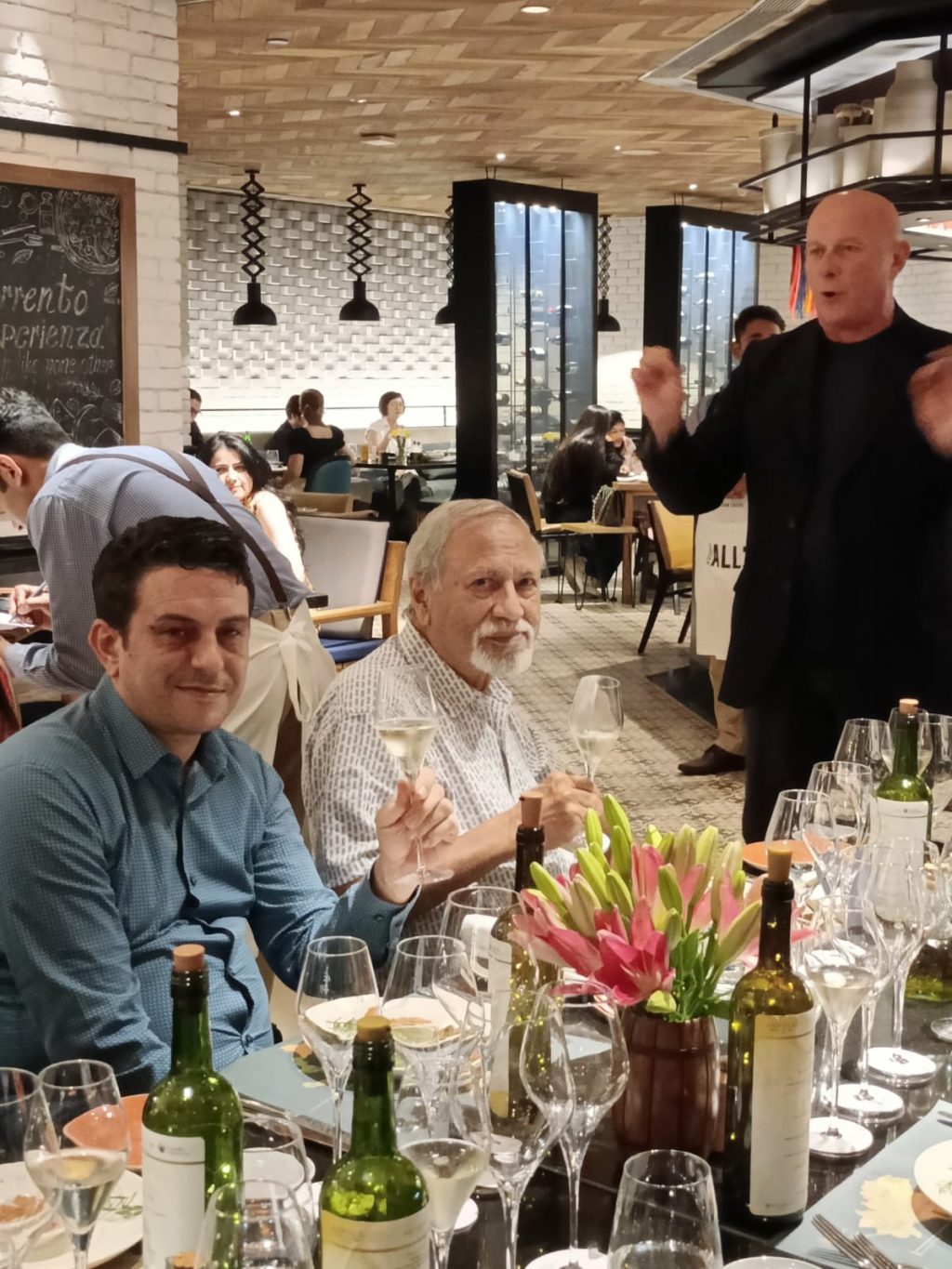 Posted: Tuesday, 16 October 2023 19:26
Tuscan Castello di Querceto visits Mumbai and Delhi
October 16: Marco Fizialetti, Sales Manager of the historical Tuscan Winery Castello di Querceto in Greve in Chianti, was in India recently, when the Indian importers Anggel's Share introduced him to a set of invitees at a dinner hosted at Sorrento Restaurant at the Shangri La Hotel Delhi where three of their Tuscan wines were served, matched with food. Subhash Arora who was invited, reports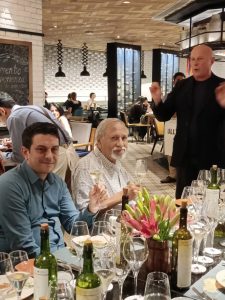 'The Consortium of Chianti Classico (Consorzio Vino Chianti Classico) wines in Tuscany was formed on 14 May 1924 with 33 families of wine producers as the founding members: our winery Castello di Querceto was one of them,' says Marco with a twinkle in his eyes, adding, 'There are 650 wine producers in Chianti Classico region today (that spreads from Florence in the north to Siena in the South); only 20 have the experience of over 100 years; our winery is one of them'.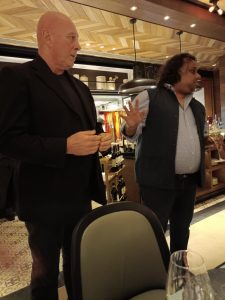 Carlo François' family, the current owners, had in fact bought the property with the landmark Castello di Querceto, earlier in 1897. Marco Fizialetti, the 'Son-in-law of the family' (he is married to Lia François, a descendent of Carlo), the Sales Manager of the winery producing a range of Chianti Classico wines including Reserva, Gran Selezione (and Super Tuscans) was in Mumbai and Delhi to introduce, taste and drink three of his Tuscan wines to the customers and clients of Anggel's Share at wine dinners, showcasing in Delhi:
Also Read : Chianti Classico announces Terroir-based Sub-zoning UGA
1. Castello Di Querceto Chianti Classico Riserva DOCG 2019
2. Castello Di Querceto IL Picchio Chianti Classico Grand Selection DOCG 2018 and
3. Castello Di Querceto Cignale 2016 IGT Colli della Toscana Centrale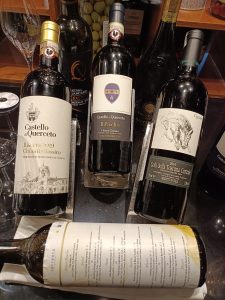 When someone with this kind of pedigree is there to taste his wines is at the Sorrento Restaurant in Eros Shangri-La, he gets your rapt attention. And that's how it was when I met Marco Fizialetti, sharing his background and passion for Tuscan wines while sipping a couple of glasses of Bottega Proseccos with Antipasti (hors d'oeuvres). Unfortunately I had never met him before at the Annual Tuscan Tasting of Chianti Classico wines that I have been attending for the last over 10 years at Stazione Leopolda.
Also Read : Chianti Classico Gran Selezione might find Competitor in Chianti Gran Selezione
Located 30 Kms south of Florence (40 minute drive), Greve in Chianti is the best town to stay in Chianti Classico region for the first time visitors. Besides, Castello di Verrazzano was the first Tuscan winery I had visited in 2002 and it was also in Greve in Chianti- same distance from Florence but 13 Kms due West of Querceto. For that reason, there was an emotional connection right away with the winery and Marco when I met him at the Grappa Bar.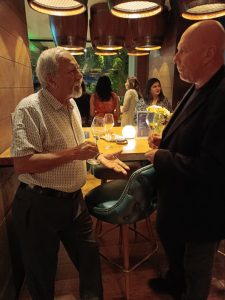 The Dinner that followed, began with a Bordeaux white-Cheval Quancard Reserve 2021 being imported by Anggel's Share before the protagonists of the evening (Teen Devian– Three Dames as I called them) were presented in all their glory (read duly decanted and served professionally by the Sommeliers); Like most Chianti Classico producers Querceto produces only red wines-'the land is so expensive and the soil so suited to red wines that we hardly produce whites in this area', declared Marco.
Also Read : Strange Case of Chianti Classico Gran Selezione vs. Chianti Gran Selezione DOCG
'Our family owns about 200 hAs of land with 7hAs cultivated with wines at higher altitude. We produce 450,000 bottles that include 200,000 of Chianti Classico and 100,000 of Reserva, making us a medium-size producer,' said Marco. 'We are traditional producers and even today try to produce the same style as we did decades ago,' he added.
For the uninitiated, Chianti Classico docg has nothing to do with Chianti docg except the possible confusion caused by similarity in their names. Chianti Classico is in the central part of Italy and offers better quality and diversified wines, with much less production and stricter rules than the Chianti cousins which are naturally cheaper and produced much bigger in numbers and consequently are the darlings of importers and the ill-informed consumers always looking for cheap and cheaper wines. Such events help to enlighten the disillusioned souls and of course showcase the strengths of the participating producer- especially because of the informal interaction with the producers. Thanks to the food and wine pairing, the wines are also showcased in the best of light.
Also Read : Tuscan Tasting 2019: Leopolda comes alive with New Chianti Classico Collection
Tuscan labels of Castello Di Querceto Tasted
1. Chianti Classico Riserva DOCG 2019
Imagine if you will, that this was first produced in 1904 and the style has been the same after 115 years! Produced with over 90% (92%) Sangiovese grapes and the balance being a mix of indigenous permissible grapes, the wine has undergone aging for 24 months in wood and released after resting the bottles for 3 months. This Full-bodied ruby red wine had floral aromas with red fruit and berries compote in its flavour profile. Full on the mid-palate and very well balanced wine with silky tannins, persistent and complex end made it very enticing wine.
It must have been a great match with the mushroom ravioli but I enjoyed it with Tagliolini pasta with crab sauce. It is a perfect match for a Sikandari Raan and of course, the Florentine Steak (Bistecca Fiorentini)
Also Read : Tuscan Tasting 2018: Chianti and Chianti Classico Marathon 2017
2. IL Picchio Chianti Classico Gran Selezione DOCG 2018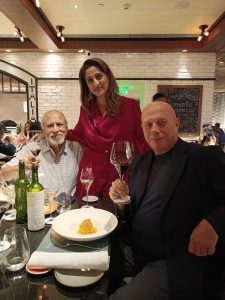 Introduced recently by the Consorzio in 2014, this Gran Selezione competes with the best of Tuscan wines like Montalcino and Vino Nobile di Montepulciano (though unfair to compare) and has distanced itself further from the confusion-creating Chianti docg. A few years ago, Chianti docg had dropped a bombshell by announcing that it would also soon introduce a Chianti Gran Selezione docg.  Thankfully, due to persuasion and cajoling, this has gone to the back burner.
Picchio is Italian for woodpecker and there are plenty in the forest where grapes are grown for the wine and hence the label. It is produced using 95% Sangiovese and 5% Colorino, a common red blending grape in the region. The grapes are cultivated at a vineyard at higher altitude, as high as 450 meters to give cool climate grapes and a fresh wine. It was first produced in 1988 although its status was elevated only in 2014. (Several Gran Selezione were produced as top level wines earlier).
Also Read : Anteprime Toscane 2017: Chianti is Tuscany but Tuscany is not only Chianti
A great match with black truffles but the tiny specs served with Risotto (no extras allowed), failed to make an impact, the 2 spoonfuls that included those specs made it worthwhile to check out the taste-match. The wine had distinctive herbal aromas reaching the flavour as well and an exceptionally long end and should age for over 20 years. Surely a collector's item to lay it up in your cellar.
3. Cignale 2016 IGT Colli della Toscana Centrale
This Super Tuscan wine has only international grapes (and hence an IGT) Cabernet Sauvignon (90%) and Merlot (10%) grown at an even higher altitude of over 500 meters. Very deep ruby red, elegant and well-
Also Read : Chianti Classico Collection '13: Wake Up Call from the Black Rooster
structured wine has aged gracefully in 6+ years though it will mature for another 15-20 years. Wine with elegant finish and aromas of dark red fruits had a shade of balsamic at the end, showing signs of maturing. Very homogenous wine with velvety tannins that need red meat proteins to tame them, the full-bodied wine was very balanced but cried for proper food; it must have been a perfect match for the grilled lamb but eggplant parmigiana was also well-matched for vegetarians.
Also Read : Tuscany Taste 2014: Chianti Classico Gran Selezione launched in Grand Style
Marco had an interesting anecdote to share about the Cingales (wild boar) which are plenty in the area at that height and usually make good hunting targets and a great match with fuller and richer Chianti Classico wines. This was about the first vintage perhaps: the night before the ripe grapes were to be harvested, the wild boars attacked the vineyards and finished off all grapes on the vines. Though extremely upset and frustrated at the crop being wiped out, the team was ready for them the following  night when the hordes came back for more but were shocked to death when they faced angry guns pointed at them by the anticipating winery staff which feasted with wild boar meat later.
Also Read : Feature: Avanti Chianti- and make mine Classico please
Mention must be made of the dessert made with Gianduja (an Italian specialty made with chocolate mousse and ground hazelnuts) and Ganache with several other condiments. A perfect way to end the evening that might even have been enhanced with a cup of Macchiato.
One needs many such events, high costs thanks to unavailable duty-free licenses notwithstanding, to bring the wine culture back to track post-Covid to make it a grand gastronomical event as it used to be before Covid.
For details about the winery, visit:
https://www.castellodiquerceto.it
To check out the Portfolio of Anggel's Share, click:
Subhash Arora