Wine Tastings: Labrusca vs. Lambrusco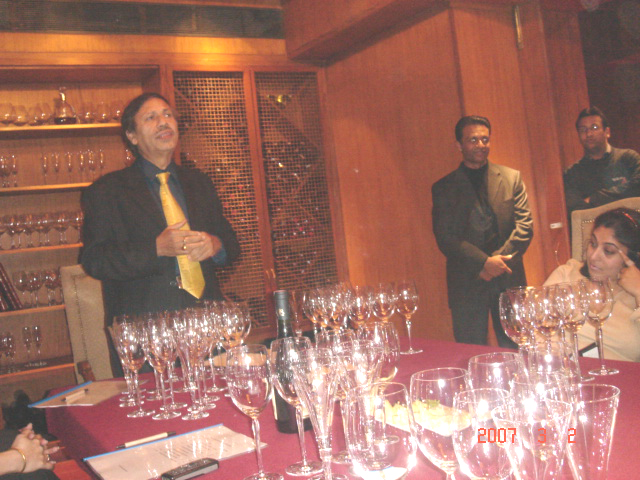 Posted: Friday, 02 June 2023 13:00
If you Like this article, please click
From Archives (2007) :

Wine Tastings – Labrusca vs. Lambrusco

June 02: Labrusca is the American variety of wine grapes ( vitis Labrusca ) found mostly on the East coast of the USA (as compared to the widely used vitis vinifera, a grape variety grown in Europe and now across the world including India,). Wines produced from this variety are foxy in taste (reminding you more of animal fur than fruit- don't fret if you cannot visualise the smells or flavours).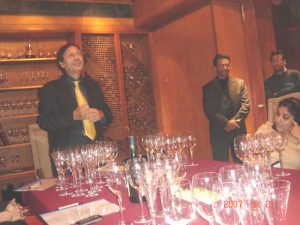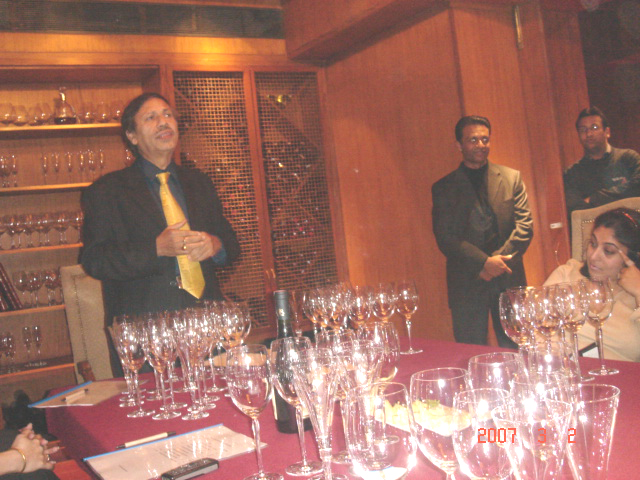 Lambrusco is the grape varietal belonging to the later category, that is grown mostly in the Emilia region of Emilia-Romagna , one of the 20 states of Italy . It makes frothy, purple wine with relatively high acidity and a touch of sweetness that compliments the rich cooking of Emilia, having high fat contents.
•  The wine is light in tannin and body, and zesty, floral and low in alcohol. It can be delightfully refreshing with fruit flavours with pleasant, vinous and floral odours with hints of violets.
•  Lambrusco lends itself well to making sparkling  wines which are at lower key than that of Champagne or spumante. It also makes dry wines as well as sweet wines that compliment several desserts.
•  Lambrusco has over 60 sub varieties including Grasparossa di Castelvetro, Marani, Salamino, Montericco and Maestri.
•  Although known for red sparkling variety, it is also feasible to make Lambrusco Bianco (white) version. It was never known or appreciated outside the region, till it received an immense success in the US in 70s and 80s.
•  It has to be drunk young. A casual quaffable wine, to be served chilled at 8° C,
You either love Lambrusco wines or hate them. But they can be very popular with the young and new wine drinkers and the cold temperature with the faint fizz  (more like a cola than a Prosecco- they are low pressured frizzante and not spumante ) makes them light and refreshing.
This is precisely what Vinner Vineyards Pvt. Ltd. and its associated company plans  while importing Lambrusco and other varietals from Emilia-Romagna . 'We want to target the young and give them a choice of different wines and a unique experience,' says Vikash Gupta, a Director in the company. 'We have a strong tie up with Enoteca Regionale Emilia – Romagna for marketing these wines. We also plan to develop wine tourism in Nashik, for which we have already bought land' adds Vikash who runs an independent business of leather exports.
At a tasting organised by the Indian Wine Academy for Vinner at La Cave at Hotel Grand in Vasant Kunj last week, a select group of invitees tasted a range of wines from the second richest state of Italy, including four Lambrusco wines- two of them being dessert wines with a very low alcohol content, that were consigned to the after dinner slot at Brix.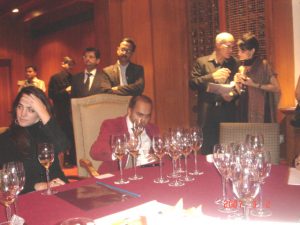 Tasting was conducted at the basement cellar which I still rate the best in Delhi for wine  storage, ambience and style. Sitting around the majestic table were about 20 eminent personalities with palates and pens ready for Pignoletto, Albana di Romagna Lambrusco (local grape varieties), Sangiovese and Cabernet Sauvignon-ten wines in all. Their palates were lubricated earlier in the evening with Orvieto and Chianti.
Pignoletto and Albana are more of local heroes than national figures. Albana di Romagna was the first DOCG white wine of Italy . Yet, interestingly, everyone present indicated a preference for Pignoletto to Albana- perhaps an indication of the Indian palate; Albana does need a bit of acquiring of taste, its 'superior' DOCG Classification notwithstanding. Albana Passito, on the other hand, passed with flying colours as a dessert wine.
While there is not much of a scope for Labrusca wines, Lambrusco does offer a variety as a sparkling wine-dry, or sweet, low alcohol-very low alcohol, still or dry wine and will add to the variety and diversity of availabe quaffing wines.