Star Interview: Alberto Antonini of Poggiotondo Winery in Tuscany
Posted: Monday, 08 May 2023 13:52
If you Like this article, please click
Star Interview:

Alberto Antonini of Poggiotondo Winery in Tuscany

May 08: Alberto Antonini is a well-known winemaker with long, valuable experience in top Tuscan wineries, who is fast gaining popularity globally as a consultant winemaker and who believes in traditional winemaking with modern approach and organic farming and different terroirs of Chianti region and owning Poggiotondo winery in Tuscany and another in Mendoza, bringing in new approach to winemaking, writes Subhash Arora who visited his winery near Florence recently and interacted with him at length.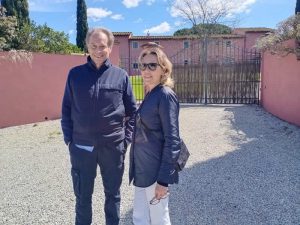 I met Alberto Antonini first in Hong Kong where he was invited by Debra Meiburg MW 12 years ago as the sole non-Asian guest judge at HKIWSC where I had been judging and representing India since its Launch. He impressed me as a well-qualified, sharp, knowledgeable and passionate winemaker but did not know he made excellent, exceptional Chianti wines in Tuscany and was a much sought-after consultant in Italy and several countries.
I met him again a few years later at the Annual Tuscan Tastings in Florence and started interacting with him every year-and promised to visit his winery one day. I had the opportunity in 2018 when I stayed back in Florence for a day after the program. He was away in Argentina but his wife Alessandra offered to pick me up from Florence. A great visit to Cerreto Guidi that was-visiting the vineyards, estate and tasting his complete range of wines and also visiting the neighbouring town of Vinci.
Also Read : Gordon Ramsay launches own Italian Wine Collection
Distinguished background
The 63-year old Alberto is a native of Empoli. With a graduate degree in Agricultural Studies from the University of Florence, an oenology degree in Bordeaux and a stint at the U C Davis in the US gave him the wherewithal to be a well-qualified winemaker.
He started his career with Frescobaldi, followed by an assignment as Technical Director at Col D'Orcia in Montalcino (1988-92). He became the Head Winemaker at the Antinori Winery (1992-96) replacing Late  Giacomo Tachis of Sassicaia fame (all wineries in Tuscany) before starting his own consulting business in 1997 and looking after his small family winery Poggiotondo started by his father in 1968.
Among Top Consultants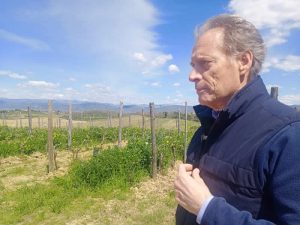 In 2013 'The Drink Business Magazine' ranked him among the Top 5 Wine Consultants in the world. In 2015 he was adjudged as one the top 5 Wine Consultants in the professional category by Decanter magazine. He helped Argentina's Malbec wines gain international reputation and has been encouraging Italian producers to embrace the traditional, indigenous grape varieties and local winemaking techniques and is a strong proponent of authentic, pure, terroir-driven wines. His mission is to give a small contribution towards making the world of wine more diverse and more interesting- away from the 'coca-colanisation' of wines.
Also Read : MUST Fermenting Ideas: Must-Attend Conference near Lisbon in June
He has been practicing organic farming at Poggiotondo, becoming a certified organic winery since 2014 vintage and is celebrating 55th Anniversary this year. Antonini now has 27 hA of vineyards with 7 hA in the Chianti Classico area. The winery exports 95% of its 400,000 bottle (about 35,000 cases) production, mainly to Europe and China.
Art of Blending
Blending is an important part of winemaking and Alberto, like any winemaker, loves it. The final product depends a lot on your expertise, as he explains that usually grapes are fermented earlier and then various wines blended.
But for him what is more important is the connection of winemaking with the terroir and organic farming as the best way of farming. 'For instance, when we work with soil types when they have high vigour, we grow cereals like wheat etc.' he says. 'In a good vineyard volume balance is important. Vines are like human beings and must not be stressed'. He likes wines with plenty of energy but does not like too much power and concentration
Also Read : Tuscany Taste: Anteprima 2016 for Chianti Lovers
Low Yields don't necessarily mean better wines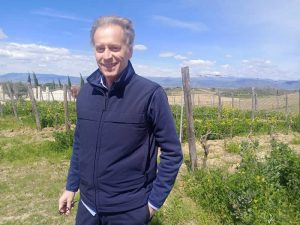 Yield is important and it was believed earlier that lower yields gave more concentrated grapes but that concept has changed. People still emphasize that low yields are important. It is not necessary that lowering yield would improve quality. The quality of fruit depends on many factors including sunlight. There are sites where you have to reduce the yield to 4 tones /hA but there are surfaces where 8 tons/hA can be grown. If you are in a sunny atmosphere the lower yields are not important.
People are using these old messages but they are not really true. If I said to you, it is low yields that always improves quality I would not be telling the entire truth. You have to be careful about the yield per vine though. Earlier, in most Italian wines yield was important and the whole focus was on yield. Now we have better clones and we can grow-perhaps not 15 tons, but 8-10 tons/hA is very common though many companies will not tell this to you. If we increase the crop the sugar is much better balanced. Sugar does not add to the quality-it is the sunlight. Sugar only helps fermentation and in the alcohol levels. The flavour is coming from underground.
Everything in the vine comes from the rocks in the soil. There are 5 soil varieties- 3 are volcanic. 'Limestone, the compressed sand that can make great vines, is my favourite. Champagne, Bordeaux, Burgundy and parts of Rioja have good limestone soils which are good for energy. Volcanic schist is also interesting. Etna soil is Basalt- very black volcanic ash that gives saltiness to grapes. Then there is schist in Douro and Portugal, California Mosel that gives power. Poggiotondo had soil study 13 years ago. Understanding differences in different parts was done. Everything is done based on the understanding of terroir, he emphasizes.
Also Read : Testing Your Palate with Judges at the HKIWSC
Wine with Indian food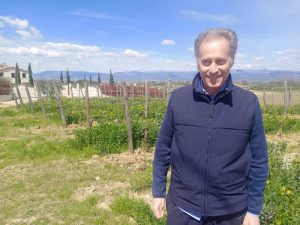 'Indian food has a lot of spices- I think with Indian foods, freshness and fruitiness are more important and not concentrated. In food it is important for good wine to have good acidity and good tannins. I like to make gastronomical wines that go well with food,' he opines.
Non-invasive friendly winemaker
'I don't like to use invasive techniques in winemaking. For example, I never use small barrels (barriques) as they add their own flavours which I don't like,' says Alberto, adding, 'I am into the wine business for two reasons- one is to make money obviously. Secondly, I have learnt a lot from people as wine has made me more humble. It is an ongoing learning experience and big thanks to wine for my personal development,' he says unabashedly.
Talking about the social and cultural experience with wine, he says, 'there have been 3 generations in my family-all with different approaches to wine. My father's generation drank wine at every meal- and generally the same wine. Half of my generation started looking for experience. My kids do not like to drink at each meal but are looking for different experiences every time they drink wine. I am sure in India people don't like to drink at each meal. My aim has to be to gain experience and not tinker too much with soil.'
Certified organic winery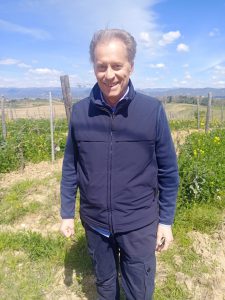 Poggiotondo is a certified organic winery (Bio). 'I am not saying organic wine is very good by definition but there is more transparency to the consumer who needs to be educated. If you are certified you know better as a customer. Organic is welcome even if customers do not pay extra. How you educate customers is also important.'
Differing Tastes
He emphasizes that Taste is a subjective matter 'People sometimes don't know what is good or not in terms of quality and the offering. I always encourage people to taste and decide what they like. In a way I am encouraging people to develop confidence. I don't want to tell them what is good and what is not. At the end of the day you drink for pleasure after all,' he says
Generic Chianti
One of the problems with Chianti is that it is too generic. 'In our project there are 3 different types of Chianti- Terre di Vinci (Vinci is the adjoining town where the famous Leonardo da Vinci was born and grew up) is typical limestone soil. This classification has been approved in principle but has not been made the law but is in the process and will be official in 5-6 months. Chianti Montalbano represents sandstone. And then there is Chianti Classico – in the northern part of Cuneo di Greve. I want to show the world the difference between these Chiantis.' He feels Chianti Montalbano is amazing even as he claims that not all Chianti Classico are great. 'There are 7000 hA of Chianti Classico vineyards but not all produce good quality Chianti,' he says. 'I don't want Chianti to be generic but it should be defined by terroir. Our wines are pure and authentic, with texture as very dynamic,' he says proudly.
Celebrity wines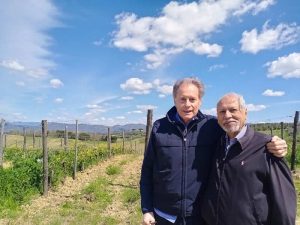 Michelin-starred Chef Gordon Ramsay who launched his own range of Gordon Ramsay Italian Collection in the US and UK in 2021 and is currently visiting Australia to introduce his wines, has the wines crafted by Alberto Antonini who has been working with many producers as a consultant.
Alberto Antonini would like to prove that Chianti is terroir based wine from an under-rated region. Perhaps, the big volumes and low prices of the 1970s depreciated wines from Chianti. He is gradually changing the perception amongst people about the Chianti region in the 1970s- big volume and affordable cheap prices.
If you are a genuine wine connoisseur in love with Italian wine and especially if you love wines from the Chianti region in Tuscany, you are going to hear more and more about Alberto Antonini and his genius as a winemaker in future.
Subhash Arora