Wine Future on November 7-9 in Portugal to support Wines of Ukraine
Posted: Wednesday, 06 September 2023 23:26
Wine Future on November 7-9 in Portugal to support Wines of Ukraine
September 06: Wine Future, taking place on November 7-9 in the historic university town of Coimbra Portugal, will show solidarity with the war-torn Ukraine by including Lukuridze Family Wine H 2014, an iconic Cabernet Sauvignon from Shabo Winery as one of the 12 iconic wines selected in the Masterclass "The Magnificent 12", which will feature wines from some of the most famous wine regions in the world, writes Subhash Arora who is equally excited about another Presentation, one of many, by Robert Joseph, Director of MundusVini International Awards in Germany last week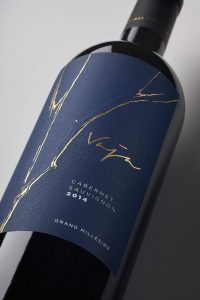 Wine Future was created to analyse the challenges facing the world's wine sector, presenting solutions that can help professionals all over the planet. The wine industry is facing one of the most difficult times in its history and one of those major challenges is the war in Ukraine.
The Masterclass will be one of the three Masterclasses and tastings presented by international experts and will be conducted by Mark Squires of The Wine Advocate. Wine Future plans to show solidarity with the Ukrainian wine industry and its workers. The Lukuridze Family Wine Heritage is an exclusive collection of the founders of Shabo Winery. Under the supervision of the Lukuridze family, only the best vintages from the best years are selected. The Shabo region is one of the oldest Ukrainian terroirs and its history goes back more than 2,000 years. For more details about the winery, click here:
The other two masterclasses include Richard Mayson, who will lead a tasting of the great wines of Madeira and Porto, and Dirceu Vianna Jr. MW, who will examine the premium wines of Portugal.
Also Read : Wine Future 2023 in Portugal on 7-9 Nov to explore current Threats to the Industry
Wine Future will be attended by more than 60 experts and personalities from the international wine sector, who will analyse the delicate situation the sector is facing, through eight panels and six talks. These talks will be led by speakers such as Bruce Dickinson, lead singer of Iron Maiden, pilot, fencer and entrepreneur, the Nobel Prize for Economics, Sir Christopher Pissarides, Max Trejo, Secretary General of the International Youth Organization and Dr Laura Catena.
Key themes to be addressed at this November's conference include:
Engaging new consumers – particularly Generation Z and Millennials.
The impact of global economic uncertainty, especially inflation.
The opportunities of greater diversity, equity and inclusion in the wine industry.
How we can reach new audiences and better engage with existing wine drinkers through celebrity endorsements, influencers, and working with major international music and sporting events.
The use of digital marketing and social media to gain new consumers.
Using new technologies to improve sales.
What can we learn from the competition from alternative beverages?
The human impact of sustainability.
Robert Joseph on Alternative Drinks
Robert Joseph, the vociferous Speaker sought out at such Conferences, controversial journalist (delWine calls him Enfant Terrible* of the wine industry) will be moderating a session at Wine Future on November 8 at 10am on "The Competition is Winning – learning from and embracing new ideas from alternative drinks.
* Webster Dictionary defines Enfant Terrible as a usually young and successful person who is strikingly unorthodox, innovative, or avant-garde.
'The Competition is Winning – learning from and embracing Ideas from Alternative Drinks' and I'm delighted to be involved in it because traditional wine – in common with beer and spirits – has clearly lost its default role. Today, people are increasingly happy to drink flavored cider, hard seltzer, kombucha, zero-alcohol wine or beer, or even wine matured in bourbon barrels. And we need to get our minds around that change', Robert Joseph tells The Buyer.
'I honestly believe that the wine industry is at an inflection point. I've lived through the revolution that brought varietal wines and 'New World' thinking (including by people in the Old World), the broadening of what is considered 'fine wine'. Now I'm fascinated to see what happens next,' he says.
Also Read : Breaking Down Barriers- Theme for Wine Future 2023 on November 7-9 in Portugal
These are but a couple of glimpses into the action packed Wine Future that will keep you glued to your seats and will add a fresh perspective about the wine industry, the problems it is facing and the future direction it might be taking.
Wine Future will take place in the historic and beautiful university town of Coimbra, Portugal, from 7 to 9 November at the spectacular Convento de São Francisco and will feature panels, keynote speeches, tastings, a trade fair area and numerous hospitality events. Tickets for the 4th Edition of Wine Future can now be purchased on their website www.winefuture.org.
Subhash Arora