MUNDUS Vini: Guided Tasting of Albariño Wines from Rias Baixas by ICEX – Copy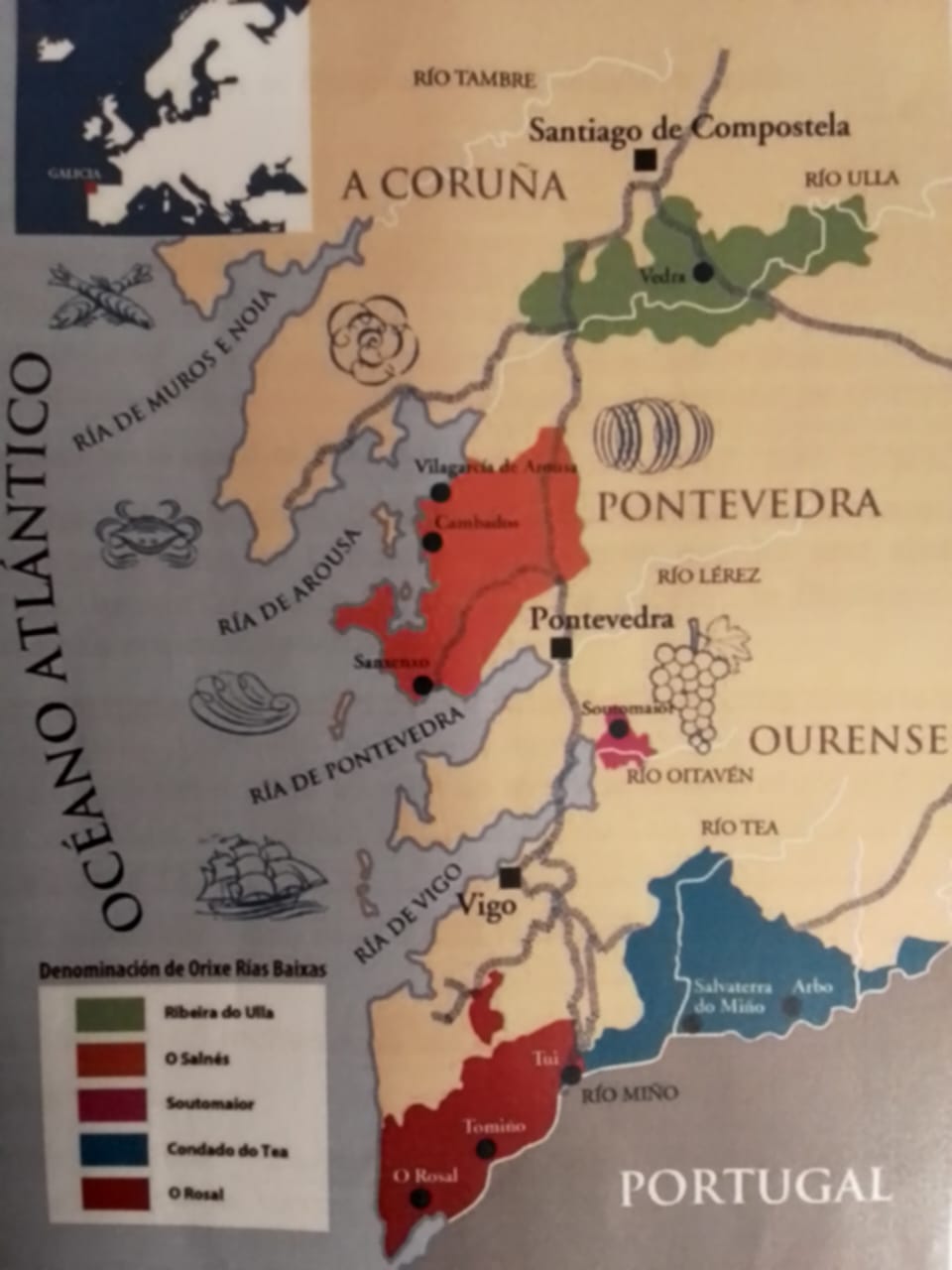 Posted: Sunday, 10 September 2023 15:53
MUNDUS Vini:

Guided Tasting of Albariño Wines from Rias Baixas by ICEX

September 11: One of the benefits offered by MUNDUS Vini International Wine Competition is several Tastings in the evenings offered to the judges and a visit to BASF Gesellschaftshaus in the nearby Ludwigshafen was just what the doctor ordered for the evening on 2 September, where a dozen Albariño wines had been lined up for tasting in collaboration with ICEX- Wines of Spain, writes Subhash Arora who is quite enamoured with these Galician beauties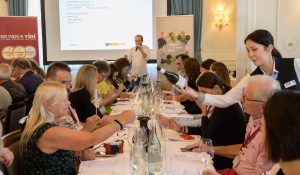 Albariño has been my most favourite Spanish white grape variety for over two decades and I do not miss an opportunity to taste these wines overseas since the wines being slightly expensive- though fantastic value for money, are not in the radar of Indian importers who find them difficult perhaps to sell unless they can entice sophisticated and affluent palates who are knowledgeable about these wines, made in small quantities by 181 small producers and 5017 registered growers.
Rías Baixas makes some of the world's most elegant white wines and is home to this native grape variety. The wine region occupies a lush green corridor of northwest Spain on the cool, Atlantic coast, in the autonomous region of Galicia, similar more to the topography of Ireland than the nearby Castilian plains. The crisp whites have pronounced citrus, floral, and stone fruit notes with balanced minerality, resulting in food-friendly wines that are not only accessible but interesting and mouthwatering.
They are perfect pairing for the fresh, local seafood. Because of their high natural acidity they would pair very well with Indian foods like stuffed parathas and I reckon, with dosas and samosas alike as it would cut through the fat of these and other fried snacky vegetarian foods, as also fish tikkas and grilled fish.
Rías Baixas is Galician for "Lower Rias," and refers to four estuaries (small rivers)– Ría de Muros y Noia, Ría de Arousa, Ría de Pontevedra, and Ría de Vigo – located on the southwestern coast of Galicia, Spain. These estuaries are home to a rich diversity of marine life. They shape the landscape and are a major part of what make Albariño from Rías Baixas vineyards unique.
Modern History of Rias Baixas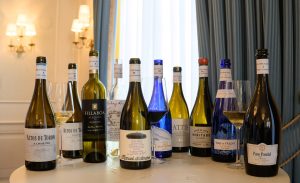 Winemaking in Rías Baixas is known to have been existing since thousands of years, but only during the past 4 decades has the region established a global reputation as a producer of top quality wines from its signature grape, Albariño. An official denomination was created in 1980 specifically for the Albariño grape variety but when Spain joined EU in 1988 it was changed to Denominación de Origen (DO) Rías Baixas, as EU wine laws did not recognize a DO named for a single grape variety (think Prosecco!).
Five Sub-regions of Rias Baixas
The coastal landscape of Rías Baixas is similar more to Ireland with a series of jagged inlets and shallow fjords known as Rias, There are five distinct sub-regions that make up Rías Baixas with topography differing with its distance from the rivers and the sea: Val do Salnés, O Rosal, Condado do Tea (con-dah-doh d-oh tay-ah), Soutomaior (S-oh-toh-my-or), and Ribeira do Ulla (Ree-bay-ra do Oo-ya); the last two added only in 1996 and 2000 resp.
Val do Salnés, situated in the northern half of the region, is near the coastline and is the coolest and dampest. Equally cool but drier, Ribeira do Ulla is the northernmost sub-region, fully landlocked but dissected by the Ulla River. Bordering Portugal are Condado de Tea and O Rosal, the two southernmost sub-regions. Condado de Tea is inland and warmer. O Rosal is coastal and cooler. Running beside the Miño River it features an array of hillside and terraced vineyards. Soutomaior is the smallest sub-region, on the coast in the center of the region and tucked in the hills. (See map).
Dominated by the cold Atlantic Ocean, the climate is generally Maritime, but with abundant sunshine of over 2000 hours during the growing season. Annual rainfall is around 108-155 cms during the growing season.
Whites only please
Rias Baixas is a white wine growing area with over 99% of all wine produced being white and it was not surprising that 9 wines tasted were white. Differences in microclimates, terroir and grape varieties in the five sub-zones, as well as different winemaking techniques, make for excellent diversity. Styles range from a crisp, aromatic character in Val do Salnés, to a peachier, softer style in O Rosal, and a less fruity and earthier style in Condado do Tea though I found most of the wines tasted as sharp and dry but delicious.
While the different sub-zones express subtle differences, the wines share a number of common characteristics. Pale golden lemon in colour, they were all crisp, elegant and fresh. They were generally bone-dry but aromatic, packed with flavors of white peach, apricot, melon, pineapple and even mango. They shared good natural acidity, having mineral overtones, and were light to medium bodied with moderate alcohol (12-13%).
Eight different types of wines are allowed to be produced as DO Rias Baixas:
Rías Baixas
Rías Baixas Albariño –100% Albariño sourced from any sub-zone
Rías Baixas Salnés
Rías Baixas Condado
Rías Baixas Rosal
Rías Baixas Barrica – wines aged in oak-both white or red
Rías Baixas Tinto – red wine, less than 1% of all production
Rías Baixas Espumoso – sparkling wine with limited production
Grape Varieties of Rias Baixas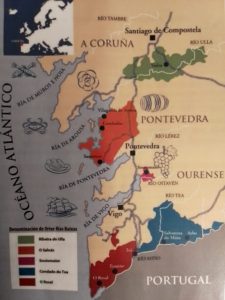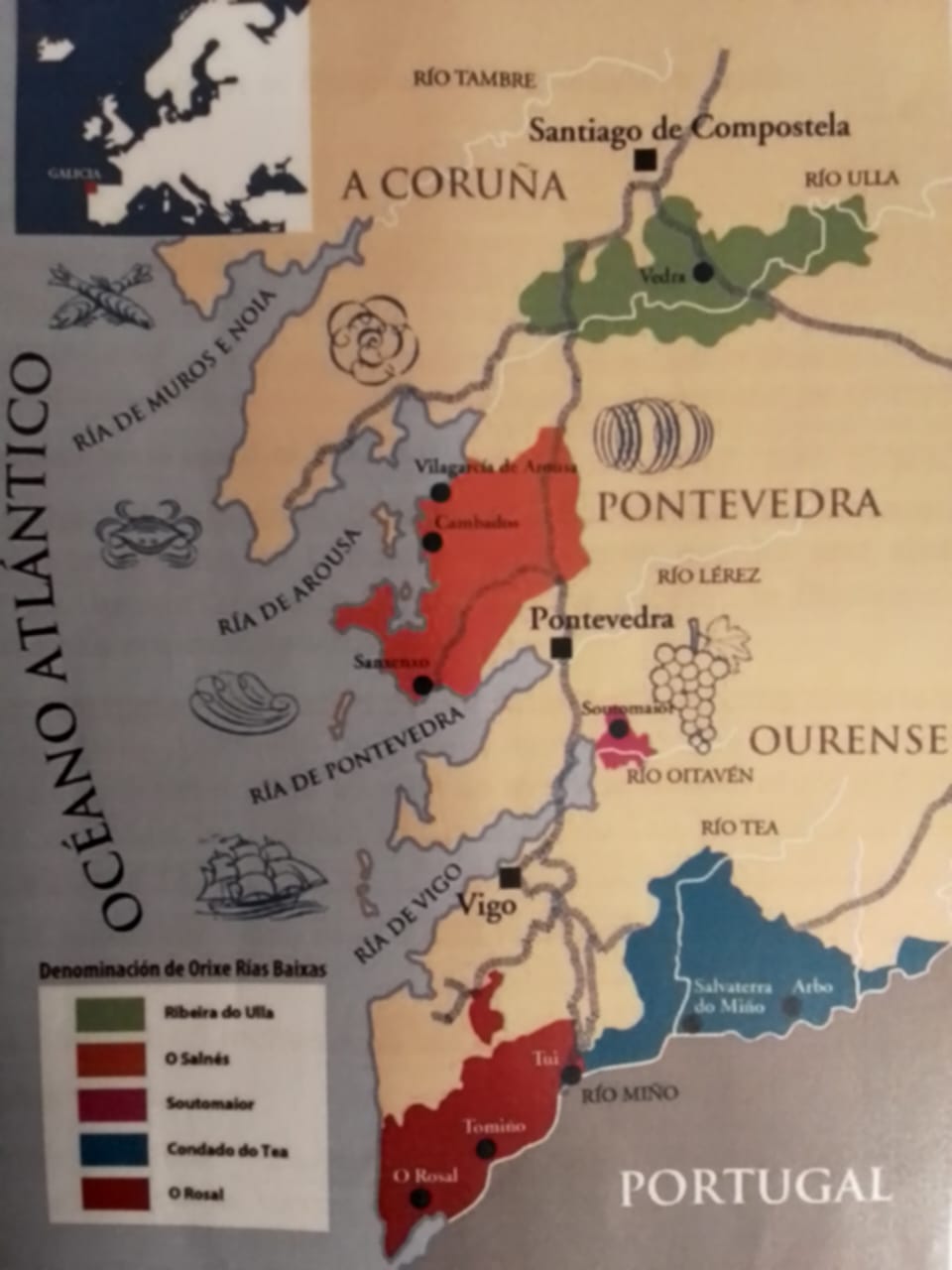 While only 14 grape varieties are permitted in the DO, Albariño grape represents 95-96% of the grapes planted and is the undisputed king of grapes. Other important permitted grapes include Treixadura, traditionally blended with Albariño; and Loureiro, a high-quality local variety particularly associated with O Rosal. Caiño Blanco, Torrontes and Godello are also planted to a lesser extent throughout the region and form minor part of the blends.
Caiño, Espedeiro, Loureira Souson, Mencia, Brancellao, Pedral and Castañal are the small quantities of red grapes used in red wine production, being around 1% of the total crops.
Making wines of Rias Baixas
After harvest, the Albariño grapes are lightly pressed. The juice, pulp and skins are left to macerate at low temperature to increase the aromatic complexity and structure of the wine. Many Rías Baixas winemakers now favor fermenting their grapes with the native yeasts found in the vineyards. Though not common, barrel fermentation is used sometimes to impart additional texture and increase the aging potential and add complexity, flavors and structure. These techniques are often used in a year of extraordinary ripeness, when the wines are robust enough to benefit from oak treatment.
With high natural acidity, Rias Baixas wines are characterized by their crisp personality. Malolactic fermentation, which mutes the sensation of a type of acid, is generally avoided by the winemakers to maintain freshness. Partial or complete malolactic fermentation is used sometimes to produce a rounder, softer wine that ages gracefully. A minimum alcohol level of 11% for white blends. 11.3% for Albariño wines and 11.5% for wines aged in oak is prescribed by the Consejo Regulador (local governing authority).
Normally, the sediment after fermentation is removed but it is a common practice to leave the wine on lees to enhance flavors and aromas, and a rounder texture. This also helps to preserve freshness of the wine till it is bottled.
Quality Control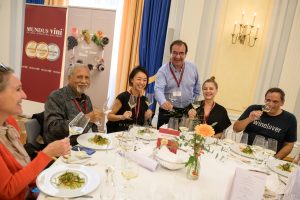 All wines from Rías Baixas must clear the inspection by the Consejo. Following harvest, cellars are inspected to make certain that the grapes harvested correspond with the volumes produced. Prior to bottling, a tasting committee from the Consejo samples each vat of wine for quality and performs a sensory evaluation. Only wines that pass all of the quality control checks can carry the official Rίas Baixas label.
Wines Tasted:
Ten wines were opened for the tasting and were served as follows:
1. Mar de Frades Brut Nature from Mar de Frades winery. A 100% Albariño bubbly with 12% alc was from Val do Salnés. A bit too dry and sharp for me. 22,500 liters produced.
2. Espumoso Pazo Pondal 2018 with 100% Albariño with 13% alc from Pazo Pondal winery in Condado do Tea sub-zone; would be great with oysters.
3. Santiago Ruiz 2022 was a Blend of Albariño (74%), Loureira, Godello, Treixadura and Caño Blanco and had 13% alc was from O Rosal sub-zone. Super fresh and spicy wine from women-run Bodegas Santiago Ruiz in O Rosal sub zone had crisp acidity, very dry. A bit too young to drink now.
4. Altos de Torona Albariño from Altos de Torona in O Rosal was the cheapest in price ex-works at €5.95. Alc 13%; it was light on the palate but had concentrated flavours and was complex wine.
5. Attis Lias Finas 2022 from Attis Bodega y Viñedos was a 100% Albariño from Val do Salnés. My favourite wine-on lees. It was spicy, fresh and not very tart.
6. Altos de Torona Caiño was an exception with no Albariño; made by Altos de Torona in O Rosal from 100% Caiño Blanco, it had slightly higher alcohol at 13.5%, it would be ideal with oysters or Langoustines.
7. Fillaboa Albariño from Bodegas Fillaboa from Condado de Tea was another lovely wine with moderate alcohol of 12.5%. Good Structure. A bit lighter in aromas profile.
8. Paco & Lola Heritage 2018 from Paco & Lola, a co-operative from Val do Salnés was an older vintage with 13% alc and a touch of oak; was delicious though also the most expensive.
9. Mar de Frades Finca Monteveiga 2018 was a 100% Albariño from Mar de Frades from the sub-zone of Ribera del Ulla, with alc of 13%; fresh and versatile wine that would be delicious with meals.
10. Manuel d'Amaro Brancello 2018 was a red wine from Señorio de Rubios from Condado do Tea. It was the only red wine made by vinifying red Brancellao grape, the wine has gone through malolactic fermentation and cold stabilization. It was a low alcohol wine with 12% alcohol only.
The wines were all my favourite though a bit too dry and sharp. With proper food, they would make exciting matches. One hopes that one day soon, there would be some importers bringing in the white Albariño wines which can compete with some of the top white wines from any country; certainly they are ahead of most Spanish white wines today.
One hopes that some evolved importer would give these wines a chance in the Indian market for the affluent connoisseurs; it has great potential for the evolved palates.
And it was yet another great idea from MUNDUS Vini to engage with the judges and showcase different wines for them.
Subhash Arora