Valiano 6.38 Chianti Classico Gran Selezione DOCG 2016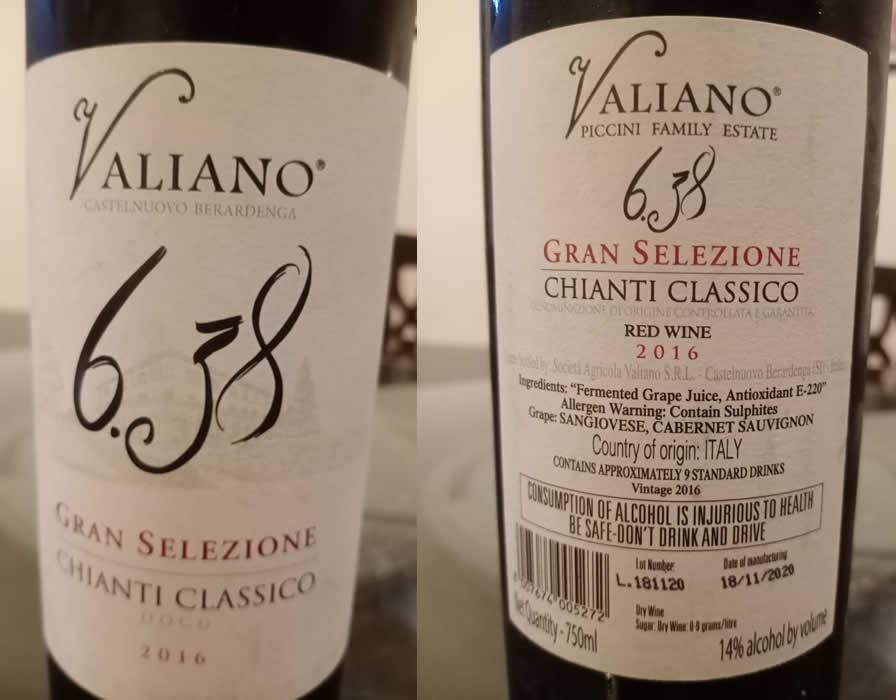 Posted: Tuesday, 20 June 2023 14:20
If you Like this article, please click
We Recommend:

Valiano 6.38 Chianti Classico Gran Selezione DOCG 2016

June 20: In a country like India where only the low-end, ubiquitous Chianti docg rules the roost and at times perhaps Chianti Riserva, we are fortunate to find not only a few better quality and more expensive Chianti Classico labels but Valiano 6.38 Chianti Classico Gran Selezione docg 2016, the highest denomination in the whole of Chianti region since vintage 2014, offers a good opportunity to drink at affordable price for the discerning Italian wine connoisseurs, writes Subhash Arora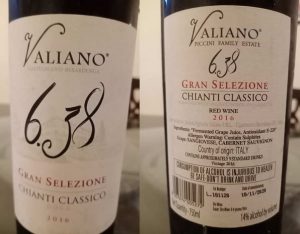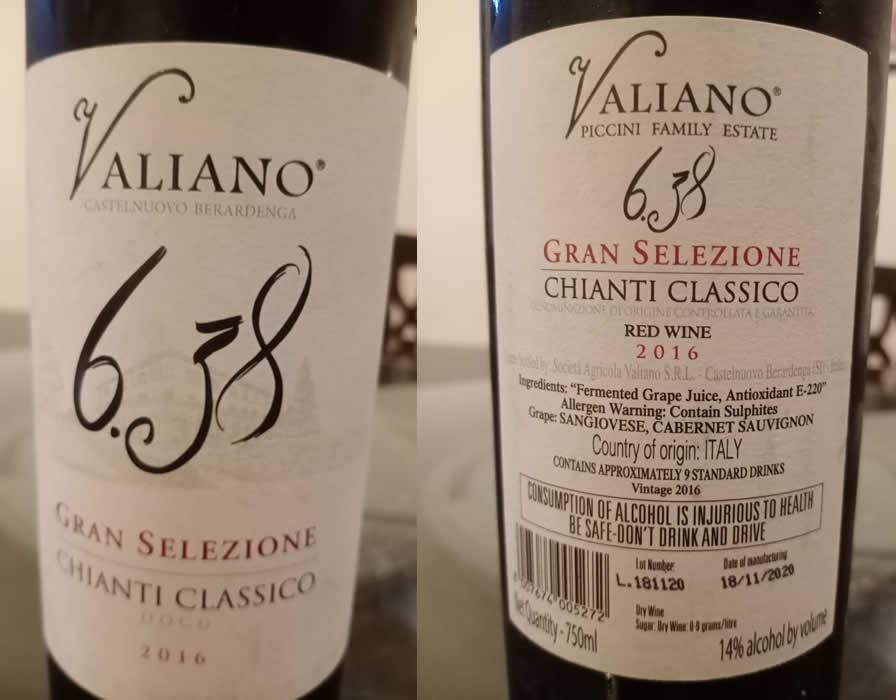 You talk of a popular Tuscan wine and Chianti docg comes to mind instantly- partly because it is the easiest and simplest to remember name (pronounced as Kee-yan-ti and not Chi-yan-ti please) and generally the cheapest and ubiquitous too. I must include a rider though that a few higher quality versions of Chianti docg are also available, produced by respectable producers- like Poggiotondo, Nipozzano, Ruffino and Marchesi Gondi.
Generally, Chianti Classico docg wines are more expensive than Chianti, partially because they are made from the central part of Tuscany, where the area was demarcated for Chianti wines in 1716. However, in the early 20th century, when Chianti wines became increasingly popular every year, the territory defined in 1716 was no longer able to meet the growing domestic demand and export requirements, wine began to be made outside the delimited zone. This was called Chianti or Chianti-style wine.
Valiano 6.38 belongs to the highest in Chianti Hierarchy
The quality spectrum of Chianti wines is wide with a clear demarcation of Chianti and Chianti Classico wines though both are docg. The top quality in the hierarchy is Chianti Classico Gran Selezione with up to 100% Sangiovese grapes that could, unofficially and in a manner of speaking, even match the quality of some Brunello di Montalcino (which by appellation rules must have 100% Sangiovese grapes known as Brunello).
Valiano 6.38 Chianti Classico Gran Selezione is a Tuscan wine belonging to the Chianti family-but in the highest order. 6.38 refers to the extension of the vineyards where the grapes are grown for this premier wine.
To put things in perspective a Brunello could set you back by an average of € 40-60 (in Tuscany), Chianti Classico by €15-25 whereas you can buy a cheap Chianti even for €3-4 a bottle in a supermarket- and they are all DOCG wines! Top of the range Chianti Classico Gran Selezione could set you back by €25-40.
Surprisingly, the only importer that has been selling a Chianti Classico Gran Selezione in India- definitely the first one, is Aristol Wines and the producer is Valiano, owned by Piccini, a family-owned big producer in Tuscany, who uses organic grapes – Sangiovese, Cabernet Sauvignon and Merlot in the blend.
Tasting Notes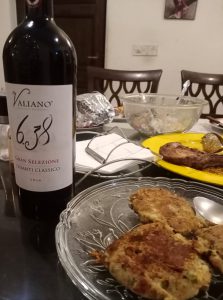 This bright ruby red wine has a purple hue. Spicy notes such as orange zest, anise and a hint of vanilla are well integrated in a wealth of black berries. Elegant, fresh and juicy palate was dominated by dark cherries and rounded tannins. I tasted the wine recently with a home –cooked vegetarian meal while the family was having simple, grilled pork chops. The finish of this perfumed wine with spicy notes and full mouthfeel, was long and persistent with hints of black pepper and black fruit flavours. I served it at 16°.C. An excellent match for the vegetarian dish made with Parmigiana though the non- vegetarian family members really relished it with the pork chops. Rich, flavorful dishes based on red sauce and red meat would be the ideal choice for this complex wine.
Valiano Chianti Classico Gran Selezione 2016 is available in Delhi, Gurgaon, Mumbai and Pune for around Rs. 3950, according to the importer Sumit Sehgal of Aristol. Gurgaon is perhaps the cheapest place to buy since you can negotiate the price and if you pool your purchase with a couple of friends and order 6 bottles, you can get an excellent deal. An excellent wine to taste from this newest top category in Chianti/ Chianti Classico wines.
Also Read: Chianti Classico announces Terroir-based Sub-zoning UGA
Subhash Arora