Valdivieso to Launch Caballo Loco Blanco No. 1 in October 2023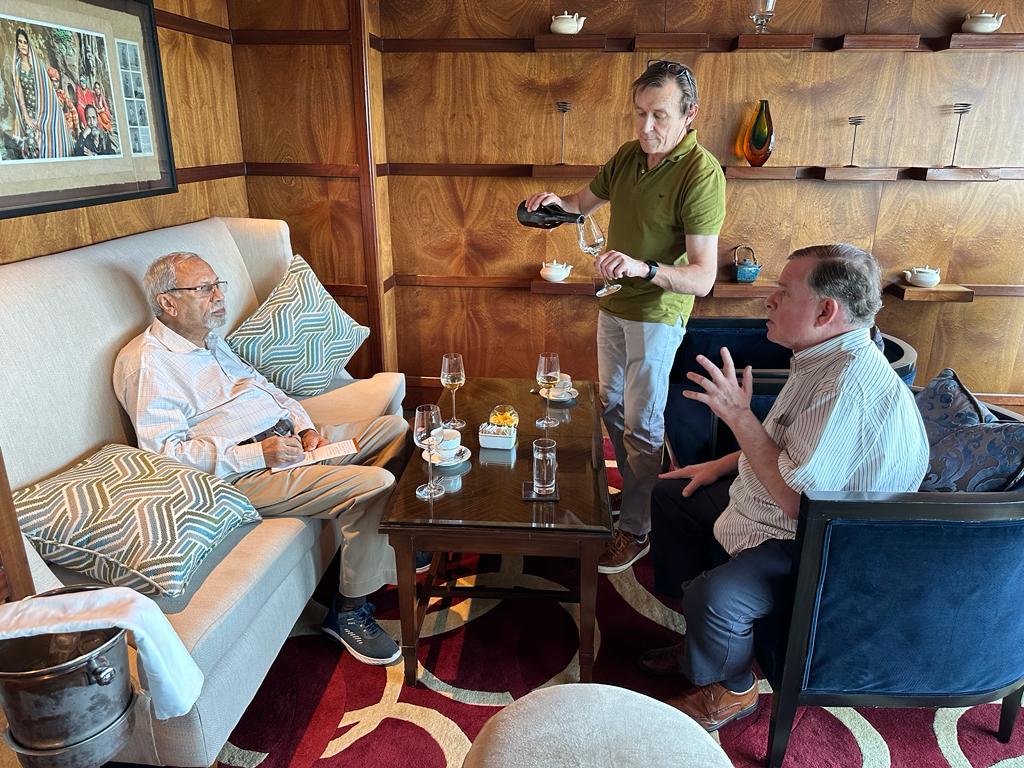 Posted: Saturday, 03 June 2023 16:06
If you Like this article, please click
Valdivieso to Launch Caballo Loco Blanco No. 1 in October 2023
June 03: After taking a decision to launch a white equivalent of the Iconic Caballo Loco wines using Solera System, the project that started in 2017 is coming to fruition with the wine bottled and resting, ready to be released in October this year, according to Christian Sotomayor, Import and Export Director of Valdivieso and Brett Jackson Senior Winemaker who were in Delhi earlier this week to meet the hotel F & B managers and brought an unlabeled bottle of Caballo Loco Blanco No. 1 to taste with Subhash Arora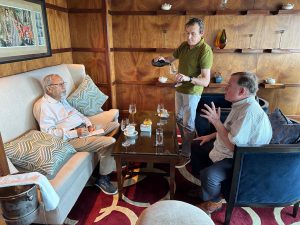 It is a rare privilege to be the first and only Indian to taste a white wine from Chile that in all likelihood would become their No. 1 white wine. Caballo Loco Blanco No.1 has been recently bottled and the Chilean duo hand carried a bottle for Arora to taste with them at Hotel Leela Ambience.
Genesis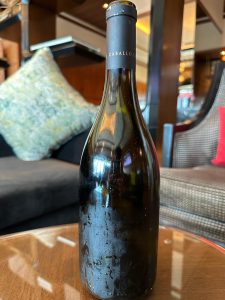 Caballo Loco red was introduced in 1994 as a Solera wine, christened as Caballo Loco No. 1. Releasing a new wine by taking half from the Solera (having multiple vintages in decreasing order) and the other half of fresh wine, the new wine always contains a decreasing amount of wine from the previous collections. (Sherry making involves this Solera). Thus their latest Release, No. 20 has half the wine from Vintage 2018 and the other half taken from the previous Solera from 1992 (vintage wine for No. 1) and the following vintages.
Conceptualisation of Caballo White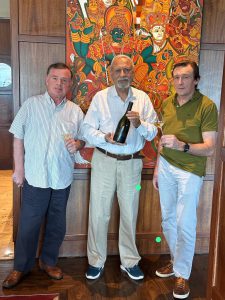 After working with Caballo Loco red since 1992, the company decided to also introduce the white equivalent. The project started in earnest in 2017. Finally, this year the blending was carried out and Caballo Loco Blanco was born with the liquid from 2017-2020 vintages blended. Bottles are resting as the labels are being designed for the wine to be launched formally in October2023.
Only a limited edition of 2000 bottles will be released in the first year out of which 1000 will be for the domestic market and the balance will be exported to important markets like the US, UK and China. Affluent Indian consumers might be able to buy and sample a few bottles of the wine which is likely to capture the top spot in Chile, says Sotomayor. Although he did not confirm, he was quite amenable to a Master Class for special invitees after the Launch, where Blanco would be the star.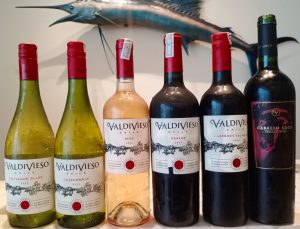 The wine is handiwork of Brett Jackson, the New Zealander winemaker who came to Chile about 30 years ago and has been working with Valdivieso for around 20 years. For perspective, Caballo Loco no 6 was in the market when he joined the company and he has been blending and making the subsequent editions.
He says blending is the pinnacle of winemaking and the crux of crafting Caballo Loco. Of course, he admits that winemaking took a 360 degree-turn for him when he came to Chile because New Zealand is a cool climate country whereas Chile is hot weather soil despite high mountains on one side and the ocean on the other in its 300 kms width. But he adopted well making wines delicious with the white being a superlative wine as I discovered during the Tasting.
Blanco with Brag Factor
Caballo Loco Blanco captures the spirit and essence of the well-established iconic Chilean red wine brand with high reputation and BF (Brag Factor) in India where it is imported by Agnetta International, Gurgaon. The initial tastings even have already garnered accolades. Tim Atkins MW, an authority on Chilean wines, called it 'white wine discovery of the year' and gave it 97 points.
Crafted carefully, wine exemplifies and embraces the diverse climates and soils of Chile and counts on selected grapes from a mosaic of vineyard, each contributing its unique potential. At the core of this exceptional white blend lies Chardonnay as the backbone. The grapes have been sourced from the prestigious Limari region in the north, providing a solid foundation for a kaleidoscope of aromas and flavours, embracing a long oxidative ageing regime.
Pricey Wine
Unless you get lucky with some complimentary tastings, this will not be a wine for everyone in India, to start with. As Sotomayor tells me, 'we plan to keep the price at the same level as the red because it is in no way less than the red in any aspect. We do not propose to make much money on it but we want to give out the best we can, with no costs spared. The price would be similar to about $80 it retails for in Europe. In India Caballo Loco retails for around Rs. 12,000. In no way would it be available for less than Rs. 10, 000,' he surmised. Puneet Ralhan, Director of Agnetta would rather wait and see the final costing before any comments.
Bottled 3 weeks ago. Tim Atkins MW tasted this wine blind as a barrel sample.
Chardonnay (45%) is the main protagonist, with Muscatel (25%), Semillon, Pinot Gris, Pinot Noir and Viognier playing as side characters to give the unique blend. Chardonnay underwent 4-5 years of aging as did Muscatel- though in amphoras; Muscatel grapes travelled from ITATA valley in the south. Semillon (5%) was aged in 200 liter steel barrels to add acidity and hence freshness and a bit of richness and tension, says Jack. Pinot Gris, Pinot Noir and Viognier also added their characteristics with presence of 5% each.
Tasting notes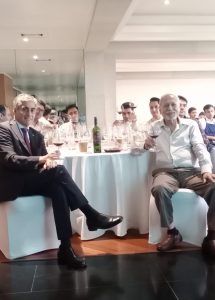 The wine is golden yellow in colour, with floral aromas. It has a full and pleasant first attack on the palate with a taste of orange rind bitterness in the background and some earthiness from amphoras. It is expected to age for at least 10 years.
Valdivieso started in 1879 as a sparkling wine producer and became the biggest producer in Chile and still makes 6 million bottles of sparkling wine. Since one has to make still wines before making, it started putting more effort in red wines and today has a strong portfolio of red, white, rose and sparkling wines.
Also Read: DWC 10th Anniversary: The Mother of all Wine Dinners
Masterclasses by Sotomayor and Jackson
Christian Sotomayor and Brett Jackson were passing by India, not only to taste the much anticipated Caballo Loco Blanco N1 with Arora, but they met several customers and Presented their wines already in India with Caballo Loco Red N18 being the protagonist both at the Oberoi Gurgaon and the Hyatt Regency– both attended by Arora.
The Highlight of the Tasting on June 1 at the Hyatt was the presence of H.E. Juan Angulo, Ambassador of Chile in India who also said a few inspiring words. His presence showed the passion and dedication he has for the promotion of Chilean wines. He reminded me of Ambassador Jorge Heine who was a keen promoter of Chile and used to sit through a whole session of wine tasting and inspire the audience to dig into Chilean wines. He would often attend any Chilean wine tasting at a very short notice, often cutting into his personal time with his family.
Caballo loco is for the affluent aficionados but the other wines tasted, are also very pleasing wines from Valdivieso- Caballo being their top. The same winemaking prowess of Brett shows in the varietals that I tasted. Hopefully, next time the duo will come soon after they launch their top white wine- which will possibly be the Best White Wine from Chile.
Subhash Arora