OIV: World saw Wine Prices increase in 2022 with slight reduction in Consumption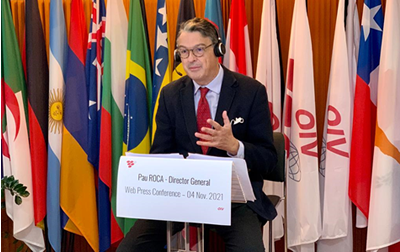 Posted: Sunday, 30 April 2023 13:34
If you Like this article, please click
OIV:

World saw Wine Prices increase in 2022 with slight reduction in Consumption

April 29: The year 2022 was marked by high inflation, the energy crisis caused by the conflict in Ukraine, and global supply chain disruptions, which saw significant increase in price in many markets, leading to slight decrease in consumption worldwide though the overall value of global wine exports was the highest ever recorded, said Pau Roca, Director General of the Organization of Vines and Wines (OIV) at a Web Press Conference on 20 April 2023 from the OIV Headquarters in Dijon. Subhash Arora shares the highlights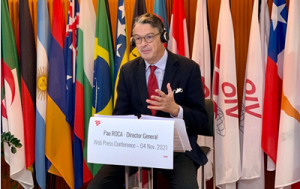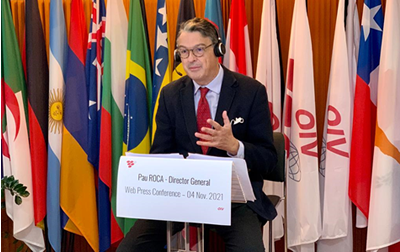 The world vineyard surface area is estimated to be 7.3 million hA in 2022, only marginally lower by 0.4% compared to 2021. The surface area of the world's vineyards seems to have stabilized since 2017. The current stabilization, however, hides heterogeneous evolutions in the main vine growing countries.
India retains the no.11 spot in terms of the surface area- though it increased from 149 khA in 2018 to 170 khA in 2022, recording a significant increase of over 14% in 4 years. There was an increase of 2% in 2022 over 2021, recording 2.3% of world's total production. The abundance of juicy eating grapes for the Indian consumer is because the numbers refer to the total vineyard surface area including eating grapes and not only the wine grapes which are but a very small percentage of the total surface area; a vast majority are the eating varieties which are also exported in container loads across the world, especially Europe. France, Russia and Brazil are the other countries that have shown an increase in the Surface area which has otherwise shown a global decline of around 5% since 2000.
Also Read : OIV: Historical Fall in wine production expected in 2021
World wine production in 2022 is estimated at 258 million hL marking a slight decrease of 1% compared to 2021. This is due to higher‑than‑expected harvest volume in Europe, despite the
drought and heat waves during spring and summer, and average production level recorded in the Southern Hemisphere.
World wine consumption in 2022 is estimated at 232 million hL, marking a decrease of 2 million hL compared to 2021. The war in Ukraine and the associated energy crisis, together with the global supply chain disruptions, lead to a spike in costs in production and distribution. This resulted in significant increases in wine prices for the consumers. In such a context, wine consumption behaviour at country level has been quite heterogeneous across geographical regions.
Also Read : Former Director General shares Importance of OIV for India
Wine exports in 2022 were severely impacted by high inflation and global supply chain disruptions that led to significant slowdown of sea freight. This combination of events resulted in an overall lower volume of wine exported at a much higher average price (+15% compared to 2021), with the global wine exports value estimated at €37.6 billion- the highest figure ever recorded.
Also Read : Feature : India Must Join OIV for Vine and Wine
Italy, France and Spain continue to be the leading producing countries with 49.8, 45.6 and 35.7 million hL with the US a distant 4th with 22.4 million hL. The US continues to be the biggest consumer though, with 34 million hL consumed, followed by France 25.3 and Italy 23.0 million hL. Portugal recorded the highest per capita consumption with 67.5 liters per capita, followed by France 47.4 and Italy at 44.4 liters per capita consumption.
Also Read : India Accepted Unanimously as 45th Member State of OIV
OIV is an international body with technical and scientific references within the viniviticultural segment, with 48 member states as members. India had been voted unanimously as the 45th member in 2011. The General Body had voted to shift the organizational headquarters from Paris to Dijon in 2022, where it has been operating since September 2022.
Also Read : Subhash Arora Awarded Medal of Merit by OIV
For detailed report, please visit
Mention for this: URL State of the World Vine and Wine Sector
Subhash Arora