Indian Wine Day 2022 Celebrated in Chennai and Pondicherry in Style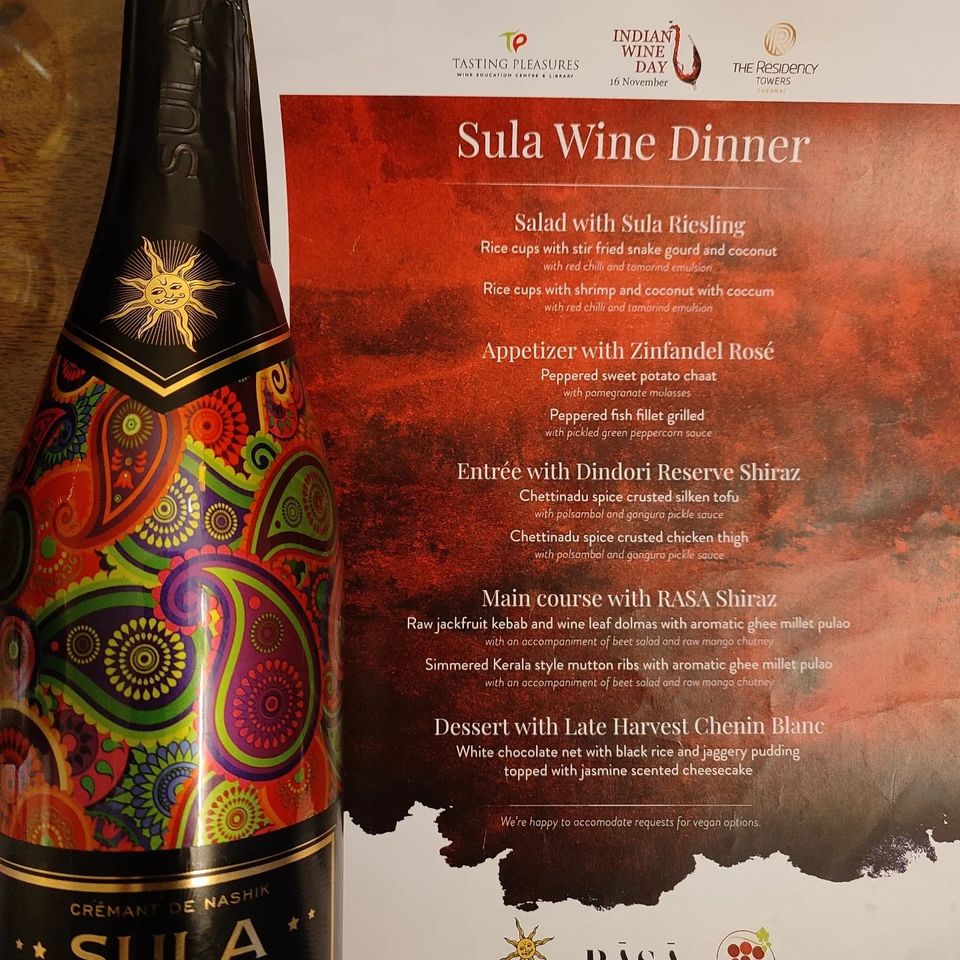 Posted: Monday, 28 November 2022 22:30
If you Like this article, please click
Indian Wine Day 2022 Celebrated in Chennai and Pondicherry in Style
Nov 28: The Indian Wine Day falls on 16 November and it was celebrated in many parts of India including Gurgaon, Durgapur and Bangalore, but a total of seven events were organised in Chennai and Pondicherry by the wine enthusiast, educator and Indian wine lover Chinmaya Arjun Raja, three of them being wine dinners with different Indian wines. Subhash Arora attended two of these events, as shared by Chinmaya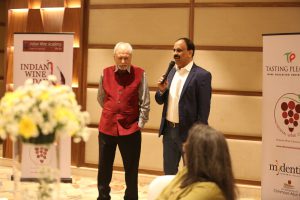 Dinner with SULA Wines at Chennai on 17 November
Indian Wine Day 2022 event in Chennai was celebrated with a grand Wine Dinner with Sula wines on the 17 Nov 2022 in the presence of Mr Subhash Arora who came all the way from New Delhi at The Residency Towers Hotel, Chennai. Cheryl Nirmal represented SULA vineyards at the event.   The team at the Residency Towers Hotel represented by its General Manager Mr Rakesh Parameswaran and Mr Sujith, the F&B Manager did a fantastic job. Chef Ajeeth Janardhanan created a wonderfully paired dinner with Sula Wines and creatively included some local vegetables and millets into the Menu which even had a vegan option.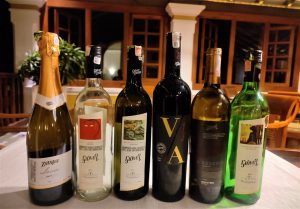 Mr Subhash Arora spoke about the relevance of the "Indian Wine day" and why it needs to be celebrated. There were six wines from Sula – the award winning Sula Brut Tropicale, Sula Riesling, Sula Zinfandel Rose, Sula Dindori Shiraz, Sula Rasa Shiraz and the Sula Late Harvest Chenin Blanc. There were around 40 people for the dinner including the members and students of Tasting Pleasures – Wine Education Centre & Library and Chennai Wine Club, celebrity chefs, some expats including the Deputy Consul General of France and other guests.
We thank the entire Sula team and especially Cheryl Nirmal and Mr Palaniappan for their support.
Regular events with Indian Wines are planned in Chennai for Indian Wine Day 2023.
First ever IWD celebrated  in Pondy at Hotel Palais de Mahe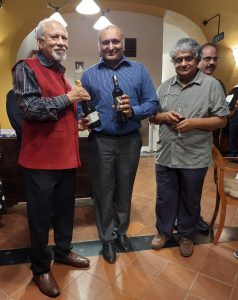 Celebrations for the IWD 2022 were held in Pondicherry/Puducherry for the first time.  The events were flamboyant with the presence of Mr Ravi Viswanathan – Chairman of Grover Zampa Vineyards, (who flew all the way from Singapore specially for the event), Mme Lise Talbot Barré , the French Consule Generale of Pondicherry & Chennai and of course Mr Subhash Arora of Indian Wine Academy – New Delhi.
The event started with a discussion on "Indian Wines – Present & Future".  Mr Ravi Viswanathan spoke about the improving quality of Indian wines and the technological advancements in the making of Grover Zampa wines.  Mr Ravi Viswanathan shared his journey of being born in Pondy and his family shifting to France and how he got into wines and the Grover Zampa story.
Mr Ravi also shared a very interesting historical fact with an accompanying proof of a painting from a Dutch library that vines were grown during the colonial times in Pondy and wine was made and the varietal mentioned in Latin in the image was called Chasselas de Pondicherry. A lot of Roman wine Amphoras have also been discovered by the Archaeological Survey of India during the excavations near Pondy, indicating that wine was produced over 200 years ago here.
Mme Lise Talbot Barré spoke about the wine culture in France and the Indo – French cooperation. Mr Subhash Arora spoke about the reasons which made him initiate the IWD celebrations and how moderation is important enough for wine drinkers. Dr Satish Nallam, the President of Alliance Française of Pondicherry also participated and was a great help for the organisation of the event. Wines were sponsored by Grover Zampa vineyards and the Food was sponsored by Viva Constructions of Pondy represented by Mr Sravan Reddy.  Many well-known people and wine lovers of Pondy participated.
Le Cercle du Vin de Pondicherry / Puducherry Wine Circle, a wine interest group/collective/club was launched during the function. It was initiated by Mr Chinmaya Arjun Raja and many of the participants of the IWD event are the first set of members with Mr Ravi Viswanathan and Mr Subhash Arora as Honorary members. Mr Chinmaya Arjun Raja plans to organise regular events with the members in Pondy and the next event is planned in Jan 2023.
Wine Dinner with Grover Zampa Wines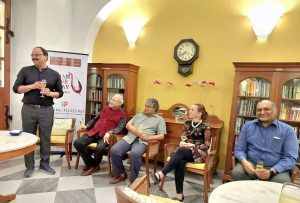 Grover Zampa vineyards sponsored the wines for the Wine dinner at Hotel Palais de Mahe on 19 Nov 2022. A menu based on vegetarian food and sea food was paired with six different types of wines from Grover Zampa. Grover Zampa Soiree Brut, Grover Zampa Art Collection Rose, Grover Zampa Art Collection Sauvignon Blanc, Grover Zampa Art Collection Shiraz, GZ Vijay Amritraj Red and Grover Zampa La Reserve.  Mr Ravi Viswanathan and the Grover team of Mr Ravindranath (In charge of TN & Pondy) and Lourdes Felix ( GZ – Pondy) gifted some bottles of Grover Zampa wines to the dignitaries and guests of the evening. It was a very memorable event in Pondicherry city. All the participants introduced themselves and there were a lot of conversations around wines and the wine culture in Pondy.
Exclusive private tasting of SIGNET wines in Chennai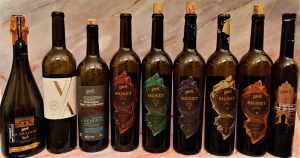 An exclusive private tasting of the premium SIGNET wines from Grover Zampa vineyards was organised by Mr Chinmaya Arjun Raja and none other than Mr Ravi Viswanathan – Chairman of Grover Zampa vineyards took the invited participants on the journey with SIGNET wine tasting. Some of Chennai's top wine connoisseurs and wine collectors participated. It was held on the 21 Nov 2022 at The Residency Towers Hotel, Chennai. The Food was tastefully paired by Chef Ajeeth Janardhanan.
Apart from the five SIGNET wines, there were also Grover Zampa La Reserve Brut Royale, Grover Zampa VA white, Grover Zampa La Reserve Fumé Blanc and Grover Zampa Vendanges tardive dessert wine.
Mr Ravi Viswanathan shared his experiences with wine and the Grover Zampa story. It was a great evening with wine conversations and the quality of Grover Zampa wines were evident. It was a great eye opener tasting the SIGNET wine range with Mr Ravi Viswanathan who patiently explained the differences in the storage of the SIGNET wines and answered all the questions of the invited wine connoisseurs.
Launch of Vin/Vingt – Wine conversations: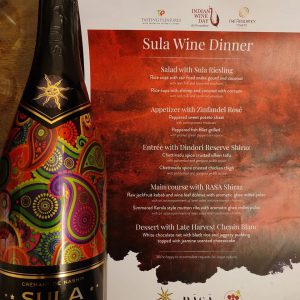 Vin/Vingt – Wine conversations, curated by him, was also unveiled by Chinmaya who announced that he will organise wine events in Chennai or Pondy starting from Dec 2022, Every 20th of the month. It was launched during the week-long IWD 2022 celebrations in Chennai.
A private tasting of many Indian wines – Sula, Grover Zampa, Fratelli, Krsma, Reveilo, Oakwood and Arkä Dessert Mead was organised by Chinmaya Arjun raja for students and friends of Tasting Pleasures – Wine Education centre & Library and Chennai Wine Club on 16 Nov 2022
We thank Mr Subhash Arora for initiating the IWD and inspiring others to organise such events.
Chinmaya Arjun Raja