Gerard Blanloeil of Clarendelle Wines Bordeaux visits India again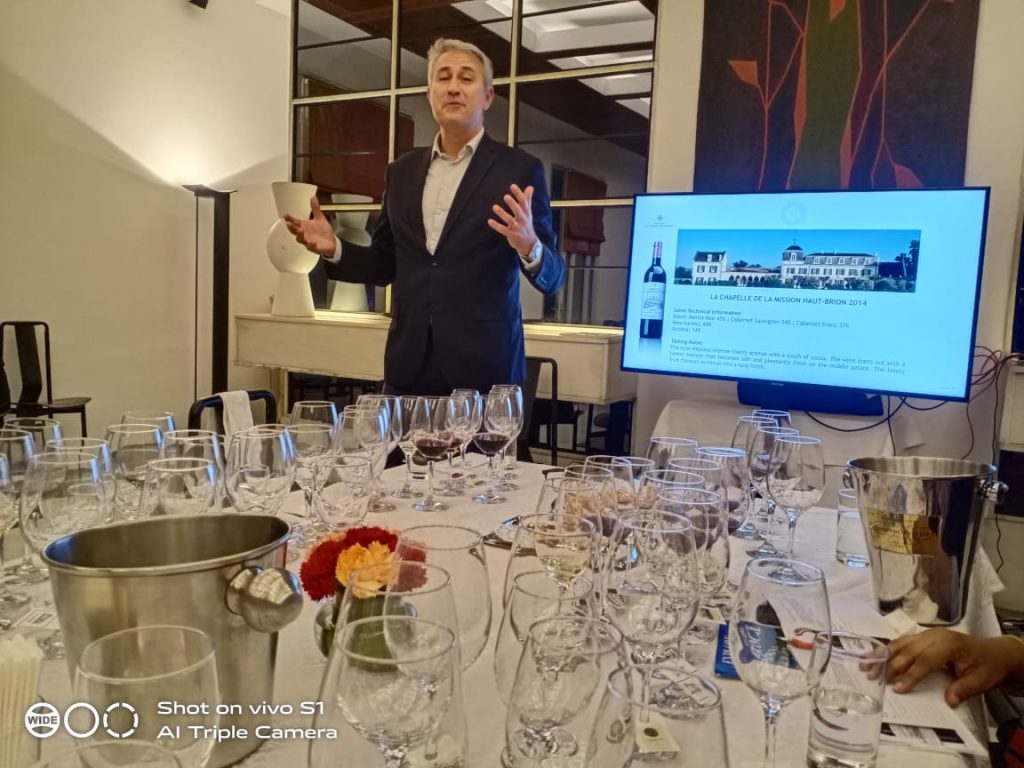 Posted: Wednesday, 21 December 2022 12:52
If you Like this article, please click
Passing by:

Gerard Blanloeil of Clarendelle Wines Bordeaux visits India again

Dec 21: Gérard Blanloeil, Managing Director of 'Clarendelle Wines inspired by Haut Brion', a fine wine Bordeaux Négociant producing Clarendelle labels since 2005 was in Delhi on 14 December to conduct a Masterclass and a guided tasting of 10 wines from the 4 chateaux owned by the family of Prince Robert de Luxembourg, writes Subhash Arora who found the wines distributed by Sonarys extremely complex, palate friendly and surprisingly, ready to enjoy now though a majority would mature further.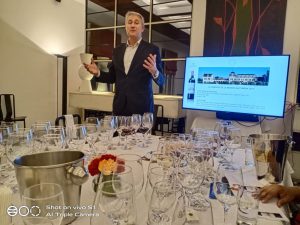 Gérard Blanloeil, Managing Director of Clarendelle Wines inspired by Haut Brion was at the French Embassy Residence on 14 December after his previous visit in October 2018, to conduct a Masterclass and a Guided Tasting of 10 wines from the Clarence Dillon Wines (CDW) group, including the two top wines- Chateau Haut Brion 2014 (around $500-Source: Wine-Searcher) and Chateau La Mission Haut Brion 2014 (around $220).
CDW is the holding company owned by the descendent of New York banker Clarence Dillon- currently headed by Prince Robert de Luxembourg, who visited India 10 years ago in February 2023. Dillon had bought the oldest Bordeaux producer and the First Growth, Chateau Haut Brion in 1935, followed by acquiring its neighbour in Pessac- Léognan, Chateau Mission Haut Brion in 1983. The company is owned by the family of the late Dillon. His great-grandson, Prince Robert de Luxembourg is credited with adding Clarendelle inspired by Haut Brion in 2005 (though the work started in 2002).
Chateau Quintus was the latest acquisition in 2011 on the Right Bank where the family bought 3 smaller estates and as Gerard explained in a video where Prince Robert said that the three estates that formed Château Quintus, figure among the oldest and most reputed growths of Saint-Emilion. All three were historically mentioned as Premier Cru de Saint-Emilion in the Féret Wine Guide, published between 1908 and 1949. It has become one of the largest producers in St. Emilion with 43 acres of surface under vines, with the purchase of the third estate last year.
Also Read : Passing By: Gérard Blanloeil of Clarendelle Wines of Haut- Brion Bordeaux
Gérard Blanloeil focused on the philosophy and the Art of Blending that went in the production of Clarendelle wines which followed Champagne styled method to get wines from different parts of Bordeaux and assemble with the help of enologists from the other 3 estates as well, when he conducted a Masterclass at the French Embassy Residence.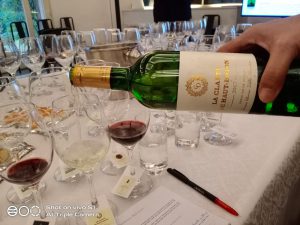 This agriculture engineer from Northwest France, who also did a course in oenology runs the company that is also a Négociant working with around 150 producers, especially with En Primeur wines including Haut Brion and Mission Haut Brion. He has been involved with the operations almost from the beginning. Since it was Prince Robert's brainchild, the project also has his full attention', he says.
You won't find these wines in supermarkets but only restaurants, some Michelin starred, including La Clarence, in Hotel Dillon Paris, owned by Domain Clarence Dillon. Gerard also stressed that the wines are released only when ready to devour- with balance, elegance and harmony. They are aged for a minimum of 5 years to make them more palatable.  'Tannins must be softer to make them more enjoyable. 'Our growers have been working with us for a long time and know the style we want', he adds.
Clarendelle is gradually taking the label to bigger heights by producing top class Bordeaux wines. As a philosophy, CDW does not want to restrict wines to the Left bank, Right bank or even the grape varieties and proportion. 'We buy the best possible grapes from our reliable vendors with whom we have been dealing for years. We pay higher than the market price and even in bad vintages support them. 'If a vintage is poor on the Left Bank and better on the Right Bank, we focus more on the Right bank wines', he tells delWine. 'We even change the grape mix somewhat in every vintage to give the most delicious end result and keep consistency as much as possible,' he adds.
Also Read : Prince Robert of Two Haut-Brions
Art of Blending
Blending is extremely important for Clarendelle wines, says Gerard. 'Our team of winemakers from Haut Brion, Mission Haut Brion and our winemaker start with, say, 100 samples from different vendors. After tasting and blending we reduce the number to 30 wines. Giving a gap of a couple of days, we re-taste these wines and finally select the final product, making blending an important part of the process. The experience of the blenders is very important to get the best out of the grape and the soil.
Wines Tasted:
The Tasting started with Clarendelle Bordeaux White 2018-a blend of 43% Semillon, 40% Sauvignon Blanc and a balance of Muscadelle. A well- structured wine that would make you go for the second glass thanks to the presence of Muscadelle. No bitterness,a  taste of almonds, juicy wine with good acidity and floral notes.  Clarendelle Bordeaux Rosé 2021 with slightly darker colour than a usual Provence had subtle aromas, nice body, well-rounded with cherry flavour that exploded in the mouth and nice acidity. The wine was a food wine with a long end. Clarendelle Bordeaux Red 2016 had more balance than power. A well-balanced wine made from skilful blending of the standard Bordeaux grapes- 84% Merlot, 10% Cabernet Sauvignon and the balance 6% Cabernet Franc.
Next up was Château La Clarté de Haut Brion 2017- an interesting white wine- the second wine made from the grapes of both the Chateau Brion- rather unusual in Bordeaux. Pale green colour with elegant and fruity notes and shades of fresh soft bread, this wine tasted slightly sweet due to the grapes. Charming wine with a bit more power.
Then we moved to the 2 red beauties from Chateau Quintus. Dragon de Quintus 2018, the second Chateau wine had a nice structure and medium body and was quite an elegant wine with three fourth Cabernet Sauvignon and a quarter of Cabernet Franc (the staple grapes of St. Emilion). Using only a third of the wine in new oak barrels had made the wine well balanced.  Surprisingly, one could not taste the high alcohol level of 15%.
The deep ruby-coloured 2016 Château Quintus 2016 was a fine wine with strong notes of blackberries, and tobacco with shades of spices. The long –ended wine was full on the mouthfeel and had excellent balance and harmony. This full-bodied wine seemed still too young and will keep on maturing for another 15-20 years.
Chapelle La Mission Haut Brion 2014, the Second label of Chateau La Mission Haut-Brion was well perfumed with dark, juicy tannins and a taste of red fruits. Well-structured wine with slightly higher acidity that will help it mature for many years yet. Underlining sweet spices, make this fresh and harmonious wine a treat for the palate. Persistent and long end.
Chateau Le Clarence de Haut Brion 2014 This second wine labelled earlier as Château Bahans Haut-Brion was renamed as Le Clarence de Haut-Brion to make the family connection more visible. It was a well- structured wine with dark colour and strong tannins. The fruit was well concentrated with perfect extraction. The black fruits were in abundance in the wine which was drinking very well. Will age for over a decade.
Chateau La Mission Haut Brion 2014, a blend of 54% Merlot, 45% Cabernet Sauvignon, 1% Cabernet Franc, this typical La Mission medium-to full bodied wine had notes of orange peel in its bouquet.
Very elegant and pretty wine compared to the richer, slightly more masculine Haut Brion. With medium to full-bodied richness, impeccable balance, fine tannins, and a great and long finish, expect it to age for a couple of decades or more with mellowed tannins.
Also Read : Le Cirque: A Meal for a Prince-with the Prince
Château Haut Brion 2014
The Chateau wine is full of ripe and concentrated fruit. Plush and opulent impressive wine that leaves its mark on your palate with beautiful acidity. Perfectly balanced and harmonious. Oak is subtle keeping the balance intact with only shades of toast and smokiness. Will easily age for over 20-30 years though it was drinking beautifully after keeping the bottle open for a couple of hours.  
A truly superb Tasting, ably assisted by Sanjay Menon of Sonarys, the distributors for India of the CWD portfolio. For more details about the individual wineries, please click:
www.domaineclarencedillon.com
www.hautbrion.com
www.missionhautbrion.com
www.clarendelle.com
Subhash Arora