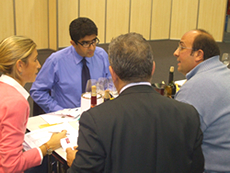 One of the B2B Sessions with the Indian delegate

There was plenty of tasting in a relaxed atmosphere at these B2B meetings as also at the evening dinners where an array of producers from the nearby regions presented their wines to unsuspecting and captive audience. One had the opportunity of tasting a wide spectrum, ranging from the worst to some top end- top end wines.

As promised to the participants, the learning opportunity from the programme was enormous and the people concurred. Said Naresh Uttamchandani of Sovereign Impex, 'Any programme organised by Subhash Arora is a hit and this one was no exception. Please count me out for such extended dinners but definitely count me in for the next such programme.' 'I have had Arneis coming out of my ears at the meetings with the producers though,' he added in a lighter vein.

Arneis is a popular grape of the Piemonte region and one cannot walk away without tasting Arneis or Favorita whites from this region. A docg from the Roero hills (as opposed to the Langhe hills which ensconce Barbaresco, Barolo and many other prestigious villages known for their reds, it makes a delicious, crisp aperitif wine. Indian Wine Academy had a supporting role to play in the introduction of this grape by giving a supportive hand to Casetta, a producer from Alba, whose Mumplin label (Arneis grapes) was an instant hit when he had introduced it at various forums.

One of the most enthusiastic participants was Ashwani Gupta who has been studying the wine market for over the last two years and feels he is ready with imports-Italy and France being his first choices. He short-listed a few producers and was in the final stages of negotiations when he told delWine, 'I am really glad I came to this programme. It has helped me learning a lot about Italian wines and in finding some interesting vendors.'

Abhay Kewadkar was on an even stronger wicket. Knowing the potential of UB Wines and Spirits and the mega plan they have for imports, there were many vendors who already have marketing arrangements in India but are not too happy with the current performance. UB would be a safer and bigger bet for them and as such they were seen even wooing him for channel partnerships. Ladubay from Loire Valley has been already bought by the group and after a successful launch in Maharashtra (the excise hurdle notwithstanding) it is ready to be launched in Delhi next week.

As he explained to delWine and many of the participating producers, 'UB does not plan to be just another importer. We would like to work with various brands and producers on a long term basis. We hope to expand the market rather than taking a slice of the existing market.'

Tasting of Autochthonous grape varieties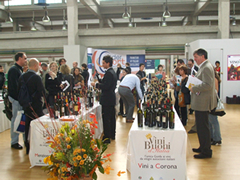 ViniBuoni d'Italia - Unguided Tasting of wines from Autochthonous grapes o
Tasting of wines crafted from Italy's indigenous grapes is always a fascinating experience. A few of them are undrinkable for the Indian palate but a vast number of them go very well with Indian palate. There were two opportunities for tasting hundreds of such varieties at a common platform, besides at the individual regions offering a guided tasting.
Go Wines and ViniBuoni d'Italia in conjunction with FedExports, Piedmont had over 800 such gems on offer. It was a once-in- a while opportunity for wine connoisseurs and the big queues of people did indicate many people taking advantage of the opportunity.
The 'Salone' and the B2B encounter at Torino should take the Italian wines a notch higher in the Indian market in the not-so-distant future.

Page 1 2