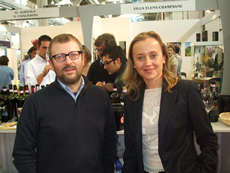 At a Tasting of Consorzio of Chianti Classico

Salone del Vino is an annual wine fair organised in Lungotto Fair grounds of Torino, in the old industrial township that used to churn out Fiat cars before the factory was moved out. Held between 26-29 October it had the presence of about 1000 wineries participating directly or through their Consortiums.

The fair was too small for the likes of Gaja, Paolo Scavino, Michele Chiarlo, Pio Cesare of Piemonte and many other big names to participate but the Barolo producer Roberto Bava was present. Similarly the Consortiums from areas like Chianti Classico, San Gimignano, Brunello do Montalcino were present too, though individual companies like Rocca delle Macie (from Chianti Classico) were proudly tasting their latest arrivals in the market too.

IWA takes a delegation of Buyers

As a part of its service to the wine importing community, the Indian Wine Academy had taken a delegation of ten buyers- the second largest contingent exceeded in size only by Japan. Each buyer had the privilege of meeting and tasting wines from up to 30 producers of his choice- pre-designated and pre-matched.

The list included UB whose commitment to make it big as an importer too, was disclosed by its Vice President- Abhay Kewadkar who attended personally and went beyond meeting the 30 producers. Sovereign Impex, FineWinesNMore, High Spirits etc are already importing wines. There were some new hopeful additions too. Pearls Wines imports Australian Wines and was a participant in last year's IFE-India as well as this year at Pragati Maidan, on 6-8 December. Italian wine import is on top of their list of expansion.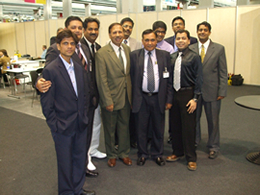 Indian Delegation to Salone del Vino
Big Banyan Wines has recently entered the Indian market. But they too declared their intention of serious import buying with an emphasis on Italian imports as they are tied up with an Italian winemaker. With the Olive Restaurant and Bar opening up not one but two restaurants shortly, it was perhaps an indication that they might soon go for direct wine imports, as the presence of their senior person, Mohit Balachandran indicated.
The participation of Aman Sharma from the Central Purchase of Taj Hotels in Mumbai showed how seriously they take their imported wine portfolio. The enthusiasm with which he met the producers indicated they may be focussing on the Italian wines in an even bigger way.
The next expected step of Italian wine producers re-inforcing the existing importers was evident with a few of them seen discussing with the new prospects even though the existing network seems to be in place. Some of them felt that the sales performance could perhaps be better by breaking up the territories like in the USA since the existing ones might be concentrating their efforts in their areas only.
Page 1 2