AN INTERVIEW WITH DR JORGE HEINE, AMBASSADOR OF CHILE IN INDIA
Chilean wines have made quite an impact in India. Be it in Delhi, Mumbai, Bangalore or Goa,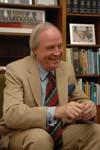 they are the rage and are the wines of choice of consumers and critics alike. Delhi Wine Club President Subhash Arora interviewed him extensively over many sessions to learn more about Chilean wines and the industry. Mr Heine has lived in California for three years and in South Africa for five years and knows his wines, not only from his own country, but also from elsewhere. We are presenting first part of the two-part interview.
Chile has been producing wine for over 450 years. Yet it is considered New World. Why? Doesn't it upset your wine producers?
Old World wines are those found in European countries like France, Italy, Spain and Portugal, where wine dates back to the Roman Empire. New World wines are from countries whose wine production came into effect after European colonization. They are characterized by productions that are more extensive and climatically more homogeneous, giving them greater uniformity. As a rule, they tend to apply technology to a greater degree than Old World producers do; they are also more likely to be varietals. There is nothing wrong in the term 'New World wines', and as far as Chile is concerned, we feel we produce excellent wines and are very proud of them.
Chile was lucky to escape phylloxera when the European vineyards were practically wiped out in the 19th century. How was it saved from the catastrophe?
Today, Chile is considered one of the countries with the best zoo-sanitary and phyto-sanitary conditions. This is not just the result of the strict policies applied to safeguard them, but also of geography. Chile is somewhat like an island: the arid Tarapacá Desert is in the North while the South has large glaciers adjoining the icy Antarctic. The world's biggest ocean, the Pacific, lies to the West and to the East are the Andes, the second highest mountain ranges. This makes it improbable for agricultural diseases to reach Chile .
What was the net result of that for the Chilean wine industry?
Chile was not only lucky; it had also showed foresight. In 1830 it had established the Quinta Normal, a botanical garden to preserve all varieties of plant species, including many of the best French vines. Chile was thus able to safeguard them from the onslaught of phylloxera a few decades later.
According to some experts, the original taste and aroma of French wines, coming from vines in Armenia and Georgia, by way of Lebanon, Greece and through the expansion of the Roman Empire, has been preserved only in Chile. The original vines can be planted here directly into the soil and not grafted, as in most other places, affecting the wine quality.
After phylloxera rendered many winemakers in France jobless, a number of them settled in Chile. One would think their expertise would have helped Chile improve quality and also motivate them to produce French-style wine. Neither seemed to have happened. Why?
This is not quite true. Vitis vinifera, the vines suitable for wine making, were brought to Chile in the 1540s by the Spanish (mostly Muscatel and Uva País). In the seventeenth and eighteenth centuries Chile became the leading wine producer in the Americas -- so much so that Spain repeatedly but unsuccessfully tried to ban the planting of further vines in Chile as it felt this was threatening its own wines.
Chilean wine industry benefited considerably from the expertise of French specialists, like Joseph Bachelet and Rene Le Feuvre, after independence in 1810. Many of them identified Chile's great potential due to its climatic conditions and soil quality. New vineyards were established. Some of them, like Concha y Toro, Errázuriz Panquehue, Valdivieso and Undurraga, are there even today. Owned mostly by families of Basque origin, they started to produce some excellent wines.
By 1900 Chile had 40,000 hectares of planted vineyards and the most vigorous wine industry in the world, exporting to countries like France and winning many awards.
How has the Chilean wine industry evolved over time?
The history of wine in Chile has had three significant moments:
1) Arrival of the first vine stock of Hispanic origin in around 1544. This was way ahead of other leading New World producers like South Africa, where the first vines were planted much later in 1655, Australia (1788), California (1779), or New Zealand (1819).
2) The second moment was the introduction of much finer vine stocks, brought from France in the middle of the 19th century, like Cabernet Sauvignon, Merlot, Pinot Noir, Riesling, Sauvignon Blanc, etc. and their successful adaptation.
3) Finally, in the beginning of the eighties, came the renaissance of the Chilean wine industry with the introduction of new plantations and new technology.
How critical is vintage for Chilean wines?
The conventional view in Chile is that the vintages of odd years like 1999 and 2001 are better than those of even years. But there is really no empirical or scientific evidence to sustain this view. Obviously, the amount of rain and its timing in any given year can affect grape quality and as a result that of wine. One of the distinctive features of Chilean wine is that it is largely produced in the Central Valley, a region which is protected by the Andes on one hand and the coastal mountain range on the other. This area is largely devoid of extreme temperature variations or other drastic climatic phenomena whose quality tends to be very homogeneous. In Chile, therefore, the vintage year is less significant than elsewhere.
What about location? Are there significant variations between varietals produced in different parts of Chile?
The heart of Chile's wine country has traditionally been in the very middle of our Central Valley. This comprises the Maipo Valley, which is the only region in the world where wine is grown next to a big metropolis like Santiago; Cachapoal; Colchagua and Curicó. It is ideal to grow Cabernet Sauvignon and Merlot, the industry stalwarts. However, vineyards have been planted hundreds of km North, in Elqui, Limarí and Aconcagua valleys .
In Elqui with its clear skies, Syrah and Sangiovese have been doing well, whereas in Limarí, Chardonnay and Carmenere have made inroads. The making of fine wines has also advanced further South, in the Itata, and Bío Bío and Malleco Valleys where the older grape varieties like Moscatel are gradually being replaced by Chardonnay, Pinot Noir and Riesling.
A big breakthrough took place in the early eighties when one winemaker, Pablo Morandé, discovered that the Casablanca Valley near our main port town Valparaíso was also suitable for making wines. It was traditionally considered too cold as it is not protected from the cold winds of the Pacific by the coastal mountain range. Today, some of Chile's best white wines are produced here.
We still have several hundreds of thousands of hectares that could be convrted into vineyards.