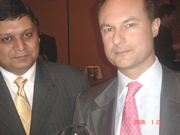 He's a graduate of France 's premier management institute and a former executive of the Boston Consulting Group, yet Frederic Engerer (seen in the picture with Thomas Abraham of Taj Palace) hardly talks like a man who's grown up with P&L statements and company balance sheets. Chateau Latour's President cannot afford to be a bean counter and number cruncher. For, it is passion, as Engerer tells us with understated vehemence, that drives quality at Chateau Latour.
"We are fortunate to have an owner (French tycoon Francois Pinault) and shareholders who don't grudge any expense as long as it is an investment in quality," says Engerer, who in 2001 completed the chateau's most ambitious upgrade yet. A striking feature of this exercise was the renovation of the chateau's fermentation room, which now has 66 water-cooled, temperature-controlled stainless steel tanks, so that the grape must from each plot can be vinified separately.
"If you start making commercial compromises with this terroir , you cannot produce great wine," says the Frenchman who took charge of Chateau Latour 11 years ago after Pinault, who owns the luxury labels Gucci and YSL and the auction house Christie's, acquired the First Growth gem from Pearson plc, the media conglomerate that owns Financial Times and the publishing house, Dorling Kindersley. Engerer was on his second visit to India and he was speaking to www.indianwineacademy.com on the eve of a vertical tasting organised by Brindco's Aman Dhall, Latour's Indian importer.
At Chateau Latour, Engerer's team goes to lengths to ensure top quality, which, in turn, drives prices. In the last five years, Chateau Latour has commanded prices that are 45% higher than the average of the other four First Growths. Quality pays and Engerer knows this too well. "Each parcel has its own story," says Engerer, explaining why all of them aren't harvested together at Chateau Latour. "We settle on an optimal harvest date for each plot, which means we have grape pickers working much longer than they should. It's an additional expense because we cannot compromise on quality. At the time of harvest, you must be extremely reactive to the conditions on the ground."
Engerer replaced the entire Chateau Latour team in 1998-99 because he wanted people who took "a fresh look at their work every day," and not did something just because their fathers or grandfathers had trod the same path. He had a vision for Chateau Latour and it's being translated in myriad ways. "In our permanent search for excellence, I'm very fortunate for being under no obligation to produce a specified number of bottles," says Engerer. "Depending on the vintage, we produce 10,000 to 15,000 cases."
Even the manure is special at Chateau Latour. "In a room as big as this," Engerer says, pointing to the Club Bar at The Oberoi, New Delhi , "we treat 20% of cow dung together with oak chips, grape stems, rotting leaves and stems, and water released when the vats are cleaned at a constant 70 degrees C. The process continues for two years till we get perfect natural manure. We must give back to earth what the earth has given to us." A farmer's sentiments expressed by a man in a business suit.
Engerer, like all great wine-makers, believes the best wines are made in the vineyards. Not surprisingly, of the chateau's 65 employees, 38 are permanently employed in the vineyards. Engerer's philosophy, though, is to "intervene as little as possible when you have a great raw material." All that he's prepared to do is insulate the product from the quality zig-zag. As a result, certain traditions are followed rigorously: the grapes are picked in batches of 8 kilos so that they don't get crushed under their own weight; as many as 12 people are employed just to remove undesirable stems because they can interfere with tannin levels.
The only big change Engerer has okayed is reducing the percentage of merlot plantings. At present, the ratio in the vineyard is 80% cabernet sauvignon and 20% merlot. "You will taste less and less of merlot in the grand vin in the years to come because cabernet sauvignon is always more interesting," says Engerer. Another big departure Engerer has made is to do away with the filtration in the interest of "greater aromas." In yet another significant move, he has greenlighted the use of an alternative to Davis 522, the yeast generally employed by the wine industry. Engerer says Latour has opted for a strain of yeast developed in a laboratory in Denmark in the interests of yeast efficiency. "In the perfect world," explains Engerer, "the berries should have the natural yeast to convert sugar into alcohol, but that does not happen in all cases."
Engerer react sharply at any talk about technology. Stainless steel tanks, which Latour had introduced in 1964 (it was the first First Growth to do so) and upgraded in 2001, do not equal technology. It's not technology, but an obsession with quality, that drives the grand vin forward. When Latour renovated its aging room, with its picture postcard looks, the chateau's guardians took care to ensure that the wood wasn't treated at all. They were translating research into practice, because they'd realised that in the past wooden fixtures used to be treated aggressively to guard against termites.
On humid days, the chlorine in the chemicals used for the treatment of wood would get released when it came in contact with the water vapour in the air. And chlorine is wine's big enemy. Chlorine contamination from corks is also another challenge for the industry. At Latour, six women are employed to check each cork manually, one by one. It is like finding a needle in a haystack - the process takes a month, but Latour's quality control team randomly selects 2% of the corks and subjects them to a chemical test to detect any trace of residual chlorine. If a sample flunks the test, the entire lot is sent back to the cork supplier.
The effort is good for the wine and for the chateau's balance-sheet, because it spends over 500,000 euros each year on cork from Portugal . "The best cork will have chlorine, for the best trees grow closest to the sea, which exposes them to a lot of salt in the air," says Engerer. "But it is in the interests of our cork suppliers to adhere to our quality control specifications at their end."
At Latour, they are equally fanatical about the quality of their oak barrels. It's mandatory for barrel suppliers to use wood from one oak tree for each barrel. That way, it is easy to trace back any contamination to a negligent supplier, or a defective patch of forest land. "I don't like this word technology," Engerer says. "All we have done is experimentation, which is what every generation does." At Latour, Engerer's team has gone beyond their generational responsibility to set new quality benchmarks.