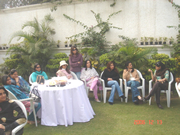 When Ankur, an NGO of Delhi comprising mostly married women, all affluent young mothers under the age of 40 requested Indian Wine Academy to conduct a guided tasting of wines for its members one morning, Subhash Arora, President of the Academy could not pass up the opportunity of converting a few vodka drinkers to the healthier and more exciting option and learning the drinking habits of the upper middle class women.
A show of hands indicated that 11 out of about 58 do not to take any alcohol. All others said they take wine occasionally but admitted to not much knowledge or active interest in wines. Interestingly, about 30% of the group were vegetarians, significantly lower number than the 40% national average for vegetarians. None of the non-drinkers admitted to religious factors or family pressures but claimed to have made a conscientious choice .
In a very informal atmosphere, they were told the difference between the Cabernet Sauvignon and Sauvignon Blanc and such interesting and basic facts of wine drinking and why it was such an exciting beverage. The women are better at nosing the wines but unfortunately, the safe level for drinking for them is a glass or two a day compared to 2-3 for the male kind, a fact they had to grin and bear .
Sula Brut, the starter was a hit with one and all. The Chenin was less charming, though. Majority found it a bit too sweet though it had quite a few takers due to nice balance with the acidity. Surprisingly, the crisp Chardonnay from Jacobs Creek found many favourites. Grover's La Reserve did not impress many, unfortunately. The nice and warm sunshine had nothing to do with it. Somehow, this award winning wine does not travel well and proper storage is very critical for this wine. Just a couple of weeks ago, about 200 international lawyers had gone gaga over it. The only difference was that most of these lawyers had been frequent drinkers of wine-especially red, and we had organised the wine to come directly from Bangalore.
Historically, women have propelled drinking wine in Australia, UK and the USA . If this tasting were indicative of the future consumption pattern, the picture is rosy, if not Rosè.