PFV , Primum Familiae Vini, latin for Leading Wine Families, is an association with a Charter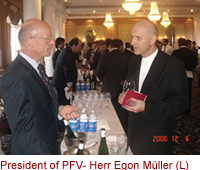 of maximum of 12 members from wine companies run by families and believing in quality of wines and the tradition of family values as wine makers and sharing problems and helping each other in any way possible. Officially created in 1993, membership is by invitation only and all decisions have to be approved unanimously.
It elects a President by rotation every year during the AGM in July, hosted by a member at his estate where at least one member of the family must be present. Moreover, the group undertakes visits to different parts of the world which must be attended by each member. The group was on its way from Singapore . Herr Egon Müller of Scharzof Estate is the current President.
Eleven member wineries are: Chateau Mouton Rothschild, Joseph Drouhin, Pol Roger, Hugel e Fils, Château de Beaucastel-France; Miguel Torres, Vega Sicilia- Spain ; Marchesi Antinori, Tenuta San Guido-Italy; Symington Ports - Portugal and Egon Müller-Germany.
To an outsider it appears to be the Old World charm with an obvious bias towards France with five from there (one each from Bordeaux, Burgundy, Champagne, Alsace and Rhone), 2 each from Spain (Pènedes and Ribera del Duero and Italy (Tuscany and Umbria and Tuscany Maremma) one from Portugal and one from Germany. But that is only coincidental, as I was told by President Müller. "Robet Mondavi was very much a part of our Family but had to leave after he sold out to Constellation'. Again, though the charter says that there will be only one company from one region to avoid any conflicts, there seems to be a happy overlap in Italy . Of course, there cannot be any conflict between Sassicaia and Solaia or Tignanello (Antinori).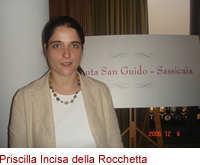 Coming back to the tastings, though Sassicaia was available for tasting, Solaia and Tignanello were absent. Their absence was quite offset by the presence of La Braccesca, Pian Delle Vigne and of course, Alessia Antinori, Piero Antinori's charming daughter. One hopes to see more of Priscilla Incisa della Rocchetta in future with decanters full of the legendry Sassicaia and more affordable but still loveable Guidalberto.
Vega Sicilia Unico was Sassicaia's equivalent -a legendry example of how to transform the Tempranillo into the mould of a great California Cab or a Bordeaux Chateau blend.
Every time one tastes Miguel Torres's Gran Muralles and Mas de Plana one is reminded about the business savvy Torres Sr. who made his millions out of Viña del Sol but also brought Pènedes to the Spanish center stage and he knows how to give the best value-for-money wines. The perennial smile on the face of Miguel Torres Jr. seemed to confirm that the family is aware of it.
My friend Frederic Drouhin was present with many of his jewels including Clos de Vougeot and Beaune Clos de Mouches making his otherwise delicious Gevrey Chambertin taste ordinary and the Beaune Villages really pedestrian. The Chablis 2005 was fresh, crisp, vivacious and fruity but I found the Puligny Montrachet a bit too oaky-I guess I have been spoilt by the dryness and purity of Chardonnay in the Chablis. But the medium bodied Montrachet would make and excellent food match especially with chicken and even with lean pork, if you love light red meat with whites.
Chateau Mouton Rothschild was a disappointment in more than one way. I guess I was looking forward to meeting Baroness Philippine who came, who ate and who vanished before the event took place. I am not saying that Mouton'89, 90 or a '95 would have been the right substitute but even the recently released 2004 would have been a consolation. The 2004 label made from the painting by Prince Charles might have been worth the visit to Mumbai despite the hectic schedule due to IFE-India 2006 about to open on the 7 th . Instead, I almost got convinced by my old friend Thierry based in Japan , who looks after their South Asia office under which India falls, that Mouton Cadet was the next best thing. Maybe. But this strong brand is already so very commonly available everywhere due to the aggressive selling by Aman Dhall of Brindco.
I was glad to meet again Pierre Perrin of Perrin & Fils and Chateau di Beaucastel, from the Rhone valley. They make some excellent Rhone wines-incidentally the only winery to my knowledge that uses all 13 varietals allowed in Chateau Neuf du Pape. I loved his '95 CNP. I still won't open my solitary possession of '95 for the next couple of years though-I feel it is still maturing elegantly in my cellar. Pierre has been trying to enter Indian market for 3 years since I firs met him and I am glad to see he has found a worthy partner in Sonarys. I wonder, if his entry into the PFV Family early this year was of help. Despite the statements by many members to the contrary, I cannot but believe that such alliances bring some additional business too, and why not?
Egon Muller's wine were spectacular.OK, the Kabinett was not outstanding. But his wines are a perfect example of how the low yielding, low volume but high priced elegant Rieslings can make Germany proud.
Another table where you would have found the love of your life, if you were a white wine lover was Etienne Hugel's table, for Alsace and especially Hugel produce an excellent variety of quality whites ( Alsace is honest about its colour bias and sticks mostly to white).
If you wanted to know why Churchill loved Pol Roger and why they love him (he added so much to their topline that they have even named one of their labels tasted as Winston Churchill. But their Cuveé Prestige and Blanc de Blanc (light bodied) . are so elegant and food friendly that one can have a complete meal with their range (I wont want the butter chicken to insult them though) with careful food paring.
It was good to see the top three importers (Brindco, Sonarys, and Global). controlling 60% of the market, smiling under one roof. Sanjeev Singh of TT (one of the Ts signifies Torres - the JV between Torres and Thapar imports only Torres wines into India unlike in China where Torres imports many international wines) was also there helping the ever smiling Miguel Torres Jr. who I meet more often in Spain and Vinexpo.
It is also interesting to see that 9 out of the 11 members are working with the top two importers.

It appears that, like the big ticket rock music bands, fine wine makers also skip Delhi and prefer Mumbai. Maybe, the lure of a trip to the real Taj near Delhi will attract them to Delhi next year. Nes Pas?
For details on the PFV Family, visit www.pfv.org