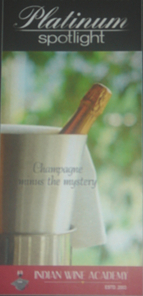 Platinum card holders were treated to five different bubblies, including India and France, Laurent Perrier and Moet Chandon were the two champagnes presented. The talk by Subhash Arora, President of the Academy glided through the intricacies and uniqueness of these wines and was interspersed with a guided tasting of the five bubblies. This was followed by a multi course continental spread with a Placido Pinot Grigio and Louis Jadot Bourgogne red, selected to match the food.
Sula Brut was the Indian entry selected whereas Henckel Trocken was the German Sekt. Veuve du Volnay (VV) represented the Rest of France.
As anticipated, LP and MC walked away with the most appreciated sparklers due to their crisp acidity, rounded edges and rich, yet elegant texture on the palate. Sula Brut did hold its own, when alone, as a welcome drink. It was even invited for an encore by the guests waiting impatiently for the late comers to arrive. But it could not match the elegance and complexity of the real McCoy. Henckel, though rated dry tilted towards the sweet side. But the mousse (froth) impressed. VV made a decent entry but failed on the mid palate with no impression, whatsoever; something even Sula had achieved earlier.
Park Kolkata provided a champagne service; truly international class with the additional garnish of personal touch and unforced smiles all around. Their staff seems to have been specially trained for fire-fighting and not to say no to any problem.
The event was a follow up of the similar event that was earlier organised by the Bank in Delhi 's Park Hotel. It appears Delhi has a strong competitor if there were an intra-Park competition for food quality and service.
The keen interest the participants took in the highly interactive session is indicative of the imminent surge in wine popularity in Kolkata. If we think Delhi is a problematic with complex excise laws, a visit to Kolkata would sober you down. It is very brave of the Park to have formed Roxy Wine Club (named after their bar-lounge) where they hold regular wine events.
A toast to Stanchart, Park and Kolkata with a glass of Champagne for helping imbibe the healthy lifestyle with wine!