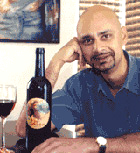 When a speculative story about global alcohol industry market leader Diageo pitching for a 26% stake in Sula Wines appeared in The Economic Times, it seemed unlikely on one ground. Diageo, incidentally, was also said to be attempting to take over the Chinese winery Sichuan Quanxing.
The honeymoon has just started for the domestic wine industry, so why would Rajeev Samant, Sula's young, energetic and marketing savvy founder-CEO, want to abdicate control of a company currently valued, according to the pink paper, at Rs 800-900 million. Wouldn't he like to ride the popularity wave, increase the valuation of his company and float an IPO before offloading his control?
Did the story have substance? Was it an example of journalistic kite flying with the tacit support of Diageo. The alcoholic beverage behemoth stoked the fires of speculation with its crptic 'No comment' response to www.just-drinks.com.
Diageo, which had exited the Indian market in 2001 and has been trailing its global rival Pernod Ricard in India and China, has staged a comeback after having signed a JV with Radico Khaitan, the spirits company that also imports E&J Gallo and Ecco Domani. It inducted former McKinsey partner Asif Adil on it board earlier this year and is now looking at all segments of the alcoholic beverage business in India .
On his return from a long tour of the United States, the first number that Samant dialled was that of Indian Wine Academy President Subhash Arora. He said he'd visited many placed in the US , but Diageo was certainly not on his itinerary
"Seriously, I don't know who is spreading this story," Samant told Arora. "I had received a call from Diaggeo that they wanted to meet me and have a chat." Samant, who's a man never to say 'no' to anyone, "felt flattered that a liquour giant wanted to enter the wine space and had approached Sula." But it was a one-off meeting, he clarified.
"Let us face it. Sula is a name to reckon with in the industry and anyone who wants to do something in the wine business has to look at us with interest. We are doing so well. I wouldn't dream of parting with 26% of the equity," Samant said. On being quizzed by Subhash he affirmed that he and his family had a bare majority in the company and he had no plan for any further dilution that would endanger the Samant family's majority shareholding.
The Indian arm of the Singapore-based private equity fund, Global Emerging Markets (GEM), holds a minority stake in Sula, which is ranked at No. 2 behind publicly listed market leader Champagne Indage.
"Look, we are growing at 35-40% rate annually. In today's market scenario it is difficult to plan far ahead as the situation is very fluid. We do foresee that we will maintain this growth and I can confirm that we are not looking for any strategic alliances," he said.
Diageo said it was looking at India's wine sector but there was no specific development at the moment to comment on, reported The Economic Times.
Multiple sources, however, confirmed that at least two rounds of negotiations had taken place between the two players, with a Diageo team visiting Sula's wineries in the recent weeks. Sources informed ET Sula could look at an enterprise valuation of Rs 800-900 million. The winery with a top line of Rs 250-300 million sold 90,000 cases in FY06; wine sales in FY07 are expected to touch 1,25,000 cases.