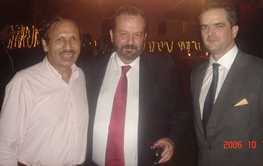 Spain's Ambassador H.E. Rafael Conde (centre) with Indian Wine Academy President Subhash Arora (left) and Santiago Enciso of Arlington Marketing Consultancy, who came with the Valladolid delegation, pause for a photo-op

Spanish Ambassador Rafael Conde has understood very well that Indians, like the people of his country, love the good life. And what can be a better way to promote a country - the economy and the destination - than to showcase its food, wine and hospitality? As Conde's Chilean counterpart, Jorge Heine, once said so memorably, it's easier to talk copper exports over good food and wine.

At the Spanish National Day celebrations on the lawns of the Ambassador's sprawling residence, the theme was Valladolid, the wines were from Valladolid and there was plenty of cod (the favourite bacalao of the Spaniards) to feed an army. Valladolid's Mayor Francisco Javier Leon de la Riva, who has come with a delegation of wine industry representatives, chefs and a group of jolly serenaders from his home city, naturally, was a very happy man.

The Ambassador, it was evident, now has a legion of admirers - more than he can handle. One of them is Guillermo Perez from Emina, the cult wine from Matarromera. "I have travelled to many countries, but I have never come across an ambassador who's at the aircraft door to receive a trade delegation well after midnight," he said. "He guided us through immigration and customs as if we were ministers."

Ambassador Conde knows too well that the wheels of business are moving so fast that they can't suffer bureaucratic obstacles. And diplomacy is all about business in this globalised, bipartisan world.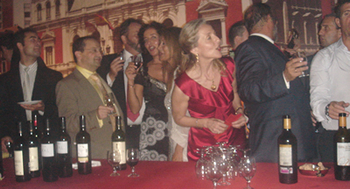 The Ambassador's charming wife made sure the wine and food kept flowing, and the party never stopped
The choice of Valladolid was great news for the city's wine community. After all, it is on Valladolid's map that Ribera del Duero occupies a vantage position - the Indian Wine Academy's President, Subhash Arora, is a great promoter of the region's tempranillo, which, in his opinion, is better than the Riojans for the Indian palate. Cigales is yet another rising star on the Spanish firmament.
And then there's Rueda, whose white varietal, Verdejo, is making waves everywhere. For those of you who've had enough of Sauvignon Blanc, here's the alternative. It's an easy-drinking, refreshing, aromatic wine that almost acts like an air-conditioner on a hot and muggy day, like October 12, the day of the celebrations.
Subhash will have more on the wines served at a tasting at the Maurya the previous day. Till then, what we can say is that the Spanish Ambassador may have finally succeeded in lifting the cloak of mystery around his country's great wine tradition for Delhi's opinion leaders. The next road show to watch will be the Delhi-Mumbai Italian Festival, being put together painstakingly by Giancarlo Lamio and his team at ICE. The festival will have lots of food and wine, but we'll talk about it when the time is right.
| | | |
| --- | --- | --- |
| | | |
| Valladolid's jolly serenaders charmed the ladies with their romantic exuberance and had the guests in splits | Uruguay's Ambassador H.E. William Ehlers was enjoying the evening | South Africa's High Commissioner H. E. Francis Smoloi |