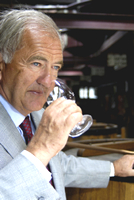 Alfred Tesseron nosing his brilliantly aromatic cognac

I can't figure out why a market as loyal to brown spirits as India hasn't warmed up to the joys of cognac. It may be because we are averse to drinking anything after dinner - our drinking pattern, as we all know very well, involves first stocking up and then wolfing down the dinner that follows at some unearthly hour. The Delhi Wine Club, in the last four years, has sought to reverse this trend by promoting the notion of civilised wine dinners, but unfortunately these don't end with either cognac or grappa because the President, Subhash Arora, doesn't believe in violating his own "7-to-14%" rule for alcohol tolerance.

Our resistance to cognac may be on its way to becoming history because Brindco's Aman Dhall, clearly the country's most creative wine marketer, has opened a new front in his business by adding two of the finest boutique cognacs to his admirable portfolio. When Alfred Tesseron had come to New Delhi last winter to promote Pontet-Canet, a reputed Bordeaux label from Pauillac that is presently riding the wave of popularity (and high prices), he couldn't stop talking about his cognac even as we were admiring his wine. Tesseron, who, as we discovered, has a more historic family association with Cognac than with Bordeaux, was delighted that Robert Parker had just given his Lot No. 29 Exception 100 points.

When I met Alfred's niece, Melanie, a Central St. Martin graduate who now looks after the company's communications strategies, a week back in The Oberoi New Delhi, she promptly produced a clipping from RobertParker.com. Her uncle had given a bottle to France's Ambassador Jean-David Levitte to serve at a dinner at his residence last year. Wines served at the dinner included Bollinger Special Cuvee, Haut Brion Blanc 2001, Lafite Rothschild 1996, Cheval Blanc 1990, Haut Brion 1989 and Chateau d'Yquem 2001. The Lot No. 29 came at the end and Parker was ecstatic: "I'm not an expert on Cognac, but anything this smooth, silky, potent, and aromatic, is truly great stuff. It is about as ethereal Cognac as anyone could ever hope to drink."

Well, we won't get to drink Lot No. 29 unless we catch Aman in a generous mood, but the Lot No. 90 XO Selection and Lot No. 76 XO Tradition, which I drank with Melanie, met the challenge of contending with an exalted peer. My exposure to cognac being limited to mass-market brands like Hennessy (I can't get over how the Chinese have Hennessy with water in the kind of glasses that street-side stalls use to serve tea) and Remy Martin, I was struck by their velvety smoothness, the gorgeous fruity nose and extraordinarily long finish.

BBC's Good Food described Lot No. 76, which is matured in old casks resting in the thirteenth-century cellars of the Tesseron family, as "the greatest of the lesser known cognacs". Wine & Spirit International commented on the great nose, "It immediately establishes its quality on the nose, which exhibits a wealth of caramelized peaches, almonds and Christmas fruit."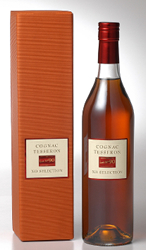 I quizzed Melanie about the uncomplicated packaging of the cognac - in an industry that swears by flashiness, it was unusually understated - and she said: "What's in the bottle is what makes the difference. We are only into haute couture cognacs. We like to position ourselves as different, as unique. We are not mass market."
I then asked her the obvious question about the unusual names of the Tesseron cognacs. She explained to me that her family initially was a major, and much valued, supplier of cognac to the big houses. Till one day, Alfred decided to dip into the vintage cognacs in his family's vast horde of bonbonnes, which is regarded as one of the biggest and the oldest in Cognac . Out of the marriage of blends that he blessed came the Lot No. 53, which commemorates Alfred's birth year. The individual cognacs that went into the blend dated back to 1953, or could be older.
The same principle is followed with the others. The youngest cognac in the Lot No. 90 blend dates back to 1990. The Lot No. 29 has cognacs that had been aging since 1905, when Abel Tesseron established his family business. "Not many of us have the kind of XO collection that we have," Melanie explains. "We begin where others stop. In our blends, the youngest cognac has to be 15 years old."
Predictably, Tesseron is acquiring the reputation of being the cognac of connoisseurs. Their aromatic, smooth and long blends, their accessible style, express the skill behind the blending and the maturing. Very little sugar and no caramel is used in the process. The result of double distillation, Tesseron's cognacs come with a hint of amber - it is because their exposure to new oak is limited to contain the release of tannins - and an admirable bouquet of aromas. The emphasis is less on the looks and more on the nose and palate. "Alfred wanted to make a colourless cognac, but the law doesn't allow it," Melanie informs us.
There's a lot going for the Tesseron cognacs. They may not change the country's cognac market, but they'll set the benchmarks that should help us discern between great and ordinary cognacs.