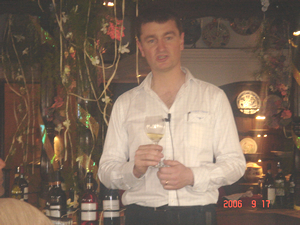 Nick Breuer, senior wine-maker at Jacob's Creek, explains the secret of the taste of the Reserve Chardonnay

What can be a more rewarding way to spend a Sunday afternoon than quaffing good wine in the company of friends? Pernod Ricard Seagram's India decided to brighten up this past Sunday for some of us in New Delhi by hosting a Jacob's Creek lunch at the ITC Maurya Sheraton's rooftop restaurant, West View.

The occasion was the presence of Nick Breuer, senior wine-maker from Jacob's Creek, who's a firm believer in what he calls "non-invasive wine-making". Breuer, who trained as an engineer and chemist, had planned to backpack to India after completing university in the mid-1980s, but a job at the Australian Wine Research Institute prevented him from coming here. Predictably, on Sunday, he looked very happy to be in New Delhi and share his insights into wine-making.

Breuer said job of a wine-maker was not to put his individual stamp on the wine, but to let the fruit express their unique qualities. He also emphasised what I consider the basic tenet of Australian wine-making - wine is meant to be drunk now and not stashed away in a cellar, which explains the Jacob's Creek philosophy of making easy-to-drink wines, which, as Breuer pointed out with a laugh, didn't mean getting drunk.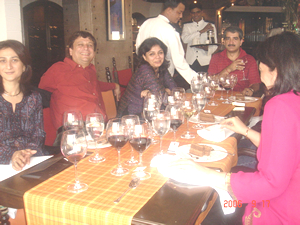 Pernod Ricard Seagram's India marketing boss Sumeet Lamba (head of the table) with some of the jolly guests

In a market like India , it's a sensible strategy to promote upfront wines - few of us have temperature-controlled cellars at home and fewer hotels are ready to invest in cellaring wines meant to be drunk many years later. The Jacob's Creek Reserve Shiraz, which, without doubt, was the star of the afternoon, is just the kind of wine that's meant for instant enjoyment. The sense of satiation, however, lingers on the palate.

Another discovery of the afternoon was the sparkling wine, a creamy blend of Pinot Noir and Chardonnay, which were gently fruit-forward but did not leave a cloyingly sweet aftertaste. It is the kind of aperitif that you'd like to carry to the dining table and keep drinking.

The Jacob's Creek Reserve Chardonnay measured up to our expectations heightened by the sparkler. It's the perfect accompaniment to lightly grilled sea fish, though in this case, the dish -- Kerala reef cod steaks served with Portobello mushrooms and pok choi, fondant potatoes and sorrel sauce -- was disappointing. The pieces were cold, chunky and lifeless. This was a rare West View experience that left us wanting something better.

The wine, though, made up for the weak food offerings, but the Jacob's Creek Chardonnay and Shiraz Rose didn't leave any impression on the palate. It's heartening to see Jacob's Creek is moving up the quality chain with its Reserve range. It should be the benchmark with which we should assess the first Nashik vintage from Pernod Ricard Seagram's India that's scheduled to be released by October-end. The Jacob's Creek Reserve range may be a tough act to follow, but it's a standard that the company should be happy to emulate.