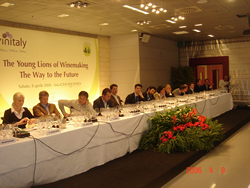 At Vinitaly 2006, Serena Sutcliffe, Master of Wine, and Director of the Wine Department at Sotheby's auction house, guided a tasting of 13 great wines of the world, including Louis Roederer, Gaja, Antinori, Tenuta San Guido, Pingus and Torbreck. This event was a major highlight of the Show celebrating its 40 years.
"This tasting is one of the high points in the history of Vinitaly and the ovation that greeted producers at the end of the event was a sincere, wholehearted response by journalists and buyers to wine-makers who have continually innovated their products," said Giovanni Mantovani, Director General of VeronaFiere, the organisers of Vinitaly.
Sutcliff had personally selected the wines that were to be included in the event, which was conceptualised by her last November, and she brilliantly guided this ground-breaking tasting of the "magnificent thirteen" wines.
The tasting opened with a Champagne hugely popular with rap stars and supermodels: Louis Roederer Cristal 1999. It was followed by Meursault Premier Cru Les Chermes 2000, a grand Chardonnay with impressive mineral notes.
The first red was an astonishing Bordeaux , Chateau Giscours 2000, and it was followed by an equally stunning Burgundy , Clos Saint Denis Grand Cru 1998 from Domaine Dujac, a highly-evocative Pinot Noir.
The next wine was a classic Syrah from Cote Rotie, La Turque 2001 from E. Guigal. Tenuta San Guido, the famous maker of Sassicaia, followed with Guidalberto 2004, a very Mediterranean second label.
Then came Solaia 2001, one of the iconic Super Tuscans made from what was once considered to be an uncoventional blend: Cabernet Sauvignon, Cabernet Franc and Sangiovese. The wine was presented by Albiera Antinori, daughter of Piero Antinori. Piemonte was represented by Barbaresco 2001 crafted by Angelo Gaja, one of the icons of the Italian wine industry. He compared it, with his characteristic gusto as a Marcello Mastroianni wine, to the John Wayne-type of big and robust wines made with Cabernet Sauvignon in Bordeaux and California.
Then came the Umbrian Sagrantino di Montefalco 25 Years 2000 by Marco Caprai, a rare combination of wine, grapes and territory. Spain was represented by Pingus 2001 from Domain de Pingus in Ribero del Duero, made with 100% Tempranillo; Priorat L'Ermita 1998 from Alvaro Palacios was the next. It is a seamless blend of Garnacha, Pais, Carinena and Cabernet Sauvignon grapes.
The only New World wine was Descendant 2004 from Torbreck, a wine some Delhi Wine Club members were able to sample with Bill Marchetti at the West View last month. It is mainly Syrah with a small (and unusual) addition of Viognier to give it some extra complexity. The tasting marathon was concluded with an extraordinary dessert wine made with Gruner Veltliner grapes, Kaferberg Berenauslese 2004, from the Austrian Willi Brundlmayer.
These 13 splendid masterpieces not only represented the best in world oenology, but also highlighted thirteen of the great wine makers of the world who would continue to make excellent vintages for the next 20-25 years, an important criterion Serena had in mind when she selected these 'Young Lions' of teh wine world in conjunction with the organisers.
These are the wine you should buy when you're on a vacation and want to bring back sweet memories.