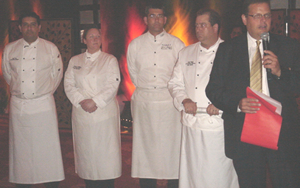 From left: Jorge Perez, Doreen Cumming, Hyatt Regency New Delhi's Executive Chef Marcus Mathyssek, Stuart Walsh and Hyatt's General Manager Roger Lienhard

Stuart Walsh, Jorge Perez and Doreen Cumming are three members of a quartet - the fourth is expecting an addition to her family - of chefs who earned an Indian holiday for winning the top spot at the 2006 Tasting Australia Regional Culinary Competition. Little did they expect it to be a working holiday, but thanks to some wires pulled by the Hyatt Regency head honchos, they spent more time in the kitchens of the chain's Mumbai and Delhi hotels than letting their hair down.

Not that anyone was complaining. The jolly chefs - they include a classical violinist who followed in her father's footsteps to become a chef because she wanted to stay close to her aging parents (Cumming) and an El Salvadoran who reflects Australia's melting pot culture and cuisine (Perez) - were feeling lucky because they were at least getting to go to Agra to view the Taj. (Cumming, whose father was in Darjeeling during World War II, promised to return for a genuine holiday.) The lucky people who got to sample their food were delighted to carry back fond edible memories.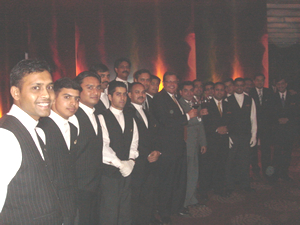 The team that made it an evening to remember with their flawless service
In Delhi , EAM (F&B) Prasanjit Singh's hugely talented team had transformed the Hyatt Ballroom - regulars refused to believe it was the same ballroom they visit for marriage receptions. The lights had been romantically dimmed for the occasion, the backdrop was designed to convey the impression that the ballroom was up in flames, the menu was on tastefully red leather, and the black-and-white-topped tables were laid out in a way that allowed both intimacy and interaction.
It was a gathering of serious gourmets, including Ravi Khanna of the Delhi Wine Club, who can light up any gathering with his warm smile and bear hugs, and there weren't any celebrity distractions. Fashion designer Ravi Bajaj, the finest maker of suits in the city, is a bona fide celebrity (unfortunately, he loves his Macallan more than we love our wines), but then, he's also famous for not courting the cameras. It was a decent gathering where the objects of worship were food and wine.
The wine, appropriately, was Australian - Cullen from Margaret River , the new big thing in Western Australia whose terroir is attracting comparisons with Pomerol. It had to be and not because the chefs were from Down Under.
Hyatt New Delhi's General Manager, Roger Lienhard, is as much Australian as German (he holds two passports), his wife is also Australian (they met at a backyard BBQ at Bill Marchetti's Melbourne home), and he was the executive chef at the Park Hyatt, Perth. Lienhard's Executive Chef, Marcus Mathyssek, is an Austrian, but he, too, has spent more time in Melbourne than anywhere else.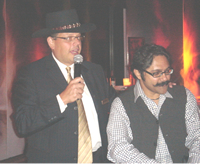 Lienhard sports Sanjay Menon's Crocodile Dundee hat
No wonder, Sanjay Menon of Sonarys, who has just added Cullen to his distinguished portfolio, came armed with his Crocodile Dundee hat and kept menacingly twirling his moustache whenever Indian Wine Academy President Subhash Arora said something nasty about the over-oaked of the Cullen's 2004 Chardonnay. Personally, I favour the buttery unoaked chardonnays from Margaret River, which I personally discovered at Zaika, a perpetually busy, must-visit Indian restaurant on the Sydney Harbour, but the 2004 Chardonnay and the Assiette of Seafood made a wonderful pair.
Cullen's Chairperson and Wine Maker, and the 2000 Qantas/The Wine Magazine Wine Maker of the Year, Vanya Cullen (I couldn't help remembering Pushkin's Uncle Vanya whenever her name was being mentioned), is highly regarded and best-known for her creation - a real labour of love - named after her late mother, who established the biodynamic vineyard with her husband Kevin.
The Cullen Diana Madeline Cabernet Sauvignon Merlot 2003 was rated as 'Exceptional' by the Langdon Classification of Australian Wines. Wrote Langdon: "Vanya Cullen has her Cabernet Merlot into the top echelon of Australian cabernet through determination and superb technical skills. . This estate style is about freshness and complexity, structure and suppleness."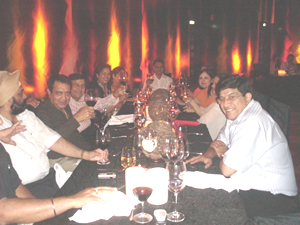 The guests seem to be in high spirits
Diana Madeline is a star, but we were pleasantly surprised by the entry-level Ellen Bussel 2005 White (it is named after the woman who was the first European to settle in Margaret River in 1857 with her husband Alfred), a delightful blend of Semillon, Sauvignon Blanc and 4% Chardonnay, and the 2004 Red, an unusual yet brilliant blend of Malbec and Petit Verdot matured in French oak for seven months. I hope we get these wines at Delhi 's notoriously unpredictable retail vends.
It was one of the most delightful and laidback wine evenings, after the Delhi Wine Club's FIFA World Cup evenings, I have attended in the recent past. When you have good wine in convivial company, you can't imagine how fast time flies and how hard it gets to say good-bye. The guys at the Hyatt New Delhi need to be complimented for making wine dinners happy occasions that are also commercially viable.
The Cullen Wine Dinner Menu at the Hyatt Regency New Delhi
Entrée
Tea smoked salad of Magret duck breast with citrus beetroot jam, parsnip chips and broad beans
[or]
Twice cooked goat cheese soufflé with black truffles
Cullen Sauvignon Blanc Semillon 2005
First Course
Assiette of seafood featuring:
Sausage of scallops and white reef fish with scallop roe dressing
Half shell oysters in bisque under butter puff pastry
Shellfish mosaic terrine set in white tomato liquor
Seared tuna in Sichuan pepper with rice wine vinegar pickled vegetables [or]
Trio of tomato featuring:
Tomato tarte tain
Smoked tomato filled with tomato sorbet
Tomato jelly with brunoise of vegetables on basil pesto
Cullen Chardonnay 2004
Main Course
Loin of lamb farced with basil mousse, herb crusted lamb cutlet, braised lamb shank pie, with petit vegetable mélange and thyme jus [or]
Wild mushroom tortellini served with asparagus spears, olivette of carrot, turned zucchini and cappuccino of mushroom essence
Cullen Diana Madeline Cabernet Sauvignon Merlot 2003
Dessert
Modern Peach Melba