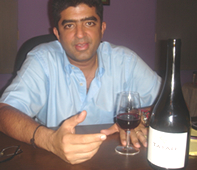 When Naresh Uttamchandani of Sovereign Impex, India's biggest importer of Chilean wines, got his first shipment from Valdivieso in December 2002, his friends laughed at him. "Why are you importing wine? Where's the market?" they asked him.
Back then, Uttamchandani was the fourth player to enter the nascent wine market, after Sansula (now Sonarys), Brindco and Mohan Brothers. But there was a difference - the first three already had a presence in imported beer and spirits, and Uttamchandani was entering the market with a portfolio exclusively of wines from a country that only a handful of Indians had heard or cared about.
Since then, the number of importers, in Uttamchandani's reckoning, has risen to "at least 100," but he's confident that like the once-overheated Sensex (India's stock exchange barometer), the wine market, too, will experience a course correction and "within two or three years, just 20 or 30 serious players will be left in the fray."
What's the background to this rather grim prediction? Uttamchandani says the market for wines is growing at a steady pace, but it's the domestic wines segment that is showing the real forward movement. "The growth in the number of wine importers is not in sync with the market growth," he says. "How much wine is imported? How much of it actually gets consumed? It's all a matter of conjecture." The market for imported wines is both fragmented and difficult, says Uttamchandani. It's essentially a Mumbai-Delhi market; Bangalore is a potential market, but logistically, it is not well-developed (it doesn't have a bonded warehouse, for instance); Goa is growing; Chennai is very difficult because of "the way the excise department functions out there"; and in Kolkata, people don't care about wine. But the biggest hurdles remain the central duties and local taxes. "In most cases, the state excise fee per bottle exceeds its FOB price," says Uttamchandani. "Add the registration charges, which vary from state to state, the licence fees that restaurants have to pay (the amount varies from Rs 4,00,000 to Rs 10,00,000) and the 20% VAT, and you'll figure out what hurdles we're up against. We've to pay Rs 6,00,000 to Rs 8,00,000 a year as registration charges. On top of all this, opening a bonded warehouse is a nightmare."
India's weather conditions also are an issue. When Uttamchandani entered the business, he was importing container loads, but he quickly realised that storage is a big issue in a country where an extreme summer stretches across eight months. A low off-take means large stocks remain idle for months, so it makes more sense to import limited quantities in LCLs.
"India is not yet a container market," says Utttamchandani. "But LCLs mean you end up paying much higher freight, clearing and bonding charges, for we have four to five rollovers a month. You have to handle your wines delicately. White wines, young vintages cannot be exposed to the environment." It's a logistical challenge to market imported wines. There's barely any off-trade business in imported wines. Even foreign tourists, whose numbers have been growing steadily, ask for Indian wines. The BIO wine market's growth potential, as a result, appears to be quite limited.
Uttamchandani's view of the market seems to be shared by India's No. 1 wine importer, Brindco, which is said to be entering the country's wine capital, Nashik (Maharashtra), with a plan to set up a winery with a French collaborator, believed to be Albert Bichot. The importer of Jacob's Creek wines, Pernod Ricard Seagram's India, is preparing to launch its first vintage, made from grapes grown by contract farmers, this September.
Nevertheless, Uttamchandani has grown his portfolio with the inclusion of South African, German and Italian wines, with the stated objective of getting on to the master lists of the Taj and Oberoi groups of hotels. These hotel chains aren't ready to entertain importers with small portfolios, which is why Uttamchandani has cast his net wide. He reports with pride that his portfolio now includes five of the 18 Grandi Marchi (top family-owned wine houses) - Lungarotti (Umbria), Mastrobernardino (Campagnia), Folonari (Tuscany), Pio Cesare (Piemonte) and a fifth house whose identity he doesn't want to disclose yet.
Despite the difficulties, the market for imported wines is definitely not a lost cause. With summer at its peak, and restaurant occupancies being low because of the holiday season, Uttamchandani least expected an order for 100 bottles (48 whites and 52 reds) in June from the Delhi restaurant Swagath, which specialises in the cuisine of Coastal India. Maurya Sheraton, a five-star hotel in Delhi, also surprised him by selling 100 to 120 bottles of Vina Valdivieso's Caballo Loco No. 7 in May. Uttamchandani cites Swagath's instance to point to the direction that the BIO market will take. This popular neighbourhood restaurant, which didn't have a decent bottle of wine to offer barely two years back, now sells 12 nine-litre cases a month. Swagath's list has 17 wine labels from five countries and they are moving fast because the restaurant is in an upmarket neighbourhood and its prices, though the wines are duty-paid, are far lower than the exorbitant rates charged by five-star hotels, which enjoy duty exemption.
India is sending out mixed signals at the moment, but Uttamchandani does not doubt its potential. But there's certainly no room for so many importers. A shakeout appears to be imminent.