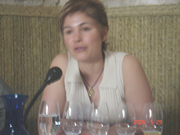 A few years back, the Mumbai-based importer Sanjay Menon of Sansula had hosted a dinner with wines from Bordeaux's Second Growth Chateau Pichon Comtesse de Lalande at New Delhi's Taj Mahal Hotel. The dinner was followed by a Chateau d'Yquem 1984 to celebrate the excellence of the wines that had been served. I had found it hard to take the second sip because I thought it was off. Seeing everyone else savouring the taste and asking for refills, I had to keep quite, my confidence shaken.
This First Growth Chateau of Sauternes is the benchmark for excellent and pure white dessert wines. My disappointing experience had been nagging me. So, when I received an invitation to attend a vertical tasting of Chateau d'Yquem's 1989, 1997, 1999 and 2001 vintages at Vinoble (pronounced vee-no-blay ), the leading fortified and dessert wine show at Jerez in the sherry-making area of Spain, I accepted it immediately.
Every wine show has its high points. It didn't take much for this tasting to be the highest point at Vinoble 2006. Connoisseurs had been talking about it and running around, trying to arrange an invite for many days in advance. The "punctuality recommended" in the invite was perhaps a reason why the house-full was waiting in the queue at least half an hour before show time.
I was to learn later that that the organisers had to hastily arrange a CCTV viewing at a neighbouring venue for 40 people, who showed up in addition to the 60 who'd packed the main venue. The show began with Carlos Salgado, Director of Opus Wine and organiser of the tasting, congratulating those who could make it inside, regretting that a lot of others had to go back disappointed.
Pierre Lurton, Managing Director of the LVMH-owned Chateau d'Yquem, had to rush off to Argentina on a consultancy assignment and it was followed by a trip to Vinexpo at Hong Kong, so the proceedings were handled by his charming cellar master, Sandrine Garbay.
The wines disproved all my apprehensions and were not only a delight for the senses, but also reflected various styles and the effects of various vintages. One does not analyse these wines but just sits back and relaxes and later reminisces on the way various vintages have left an impression. Guided by Sandrine and the perceptions I carried back from the tasting, I prepared the following notes: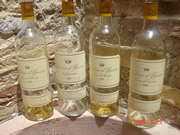 Chateau d'Yquem 1999: A classic wine that the chateau would love to repeat. Light golden colour, brilliant and clean wine, it has aromas of spices and dry fruits. The flavour brilliantly balances sugar, acid and alcohol. This wine had been a surprise package for the chateau because it had already opened on release and was very expressive. Drink now, but it has the potential to age well for 50 years.
Chateau d'Yquem 2001: The dark golden-hued wine, Sadrine said, had the highest concentration of sugar in the history of Yquem. Fortunately, it showed a good acid balance that made it fresh and crisp yet allowed for long-term aging. With flavours of figs and apricots, this wine is just a pure expression of noble rot, though it is slightly closed at the moment. Its taste lingers on in your mouth much after you've slowly swallowed that sip. An age-worthy, serene wine, it needs time to build structure.
Chateau d'Yquem 1997: Another dark golden beauty, it is markedly different because of the warm and dry vintage. A certain amount of humidity and rain during the prolonged harvest season, which resulted in 17 pickings(usually, the number is three or four), allowed for a slow but regular noble rot, giving a nice and big complexity to the wine.
This wine, perhaps, is many vintages rolled into one. Its nose is different from the other vintages with distinct orange notes. The wine's density and slightly higher acidity impresses the mouth. It's slightly masculine, strong, dense and intense on the palate. It was quite closed from 2001 to 2006, Sadrine told us, and is difficult to appreciate at the moment.
Chateau d'Yquem 1989: This dark amber-hued wine expresses a mature vintage. It has begun to taste its best now. Spicy and marmalade intense aromas are abundant. The noble rot expresses itself very well and the wine explodes in the mouth like fireworks. Sugar takes the back stage behind the structure and elegance. It almost doesn't taste like a sweet wine at all.
Coming back to my tasting of d'Yquem 1984 in New Delhi, Sanjay Menon did admit to me in private that the bottle had been ordered from the Taj on the spur of moment. It may have been stored unattended and unsupervised (read no temperature control!) and I wasn't wrong for having been turned off.
When I was discussing the experience with Sandrine, she said "the 1984 has been, at best, a difficult and poor vintage" and added that "improper storage would bruise the wine significantly." All the wines tasted will improve for the next 50 to 100 years. You might want to buy a half-bottle from Berry Bros. in London for US$365 (2001), US$105 (1999), US$385 (1997) or US$140 (1989). Shopping around in London will get you savings of 15-20%.
Drink it now, or leave it as a legacy for your children or grand-children (in that case, though, I'd strongly recommend proper storage). As Sandrine put it, "There is sculpture in our wines. Only time liberates it."
But as I write this article at least a week after the curtains came down on Vinoble 2006, the taste lingers on