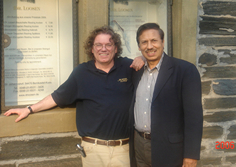 When you meet the shaggy haired Ernst Loosen wearing his big-rimmed glasses for the first time, you imagine him to be a college professor . or an evangelist. To me, he looked like the conductor of the Berlin Philharmonic Orchestra when I met him at his estate on my way back from Spain, where I'd participated in special tastings at the Grandes de La Rioja 2006.
The 49-year-young Ernst Loosen, popularly known as just Ernie (his last name is usually mispronounced, because 'low-zun' is what it should be), is a bit of all these. He is the winemaker and owner of Weingut (Wine Estate) Dr Loosen, located in Bernkastel, a village in Middle Mosel known for one of the best Rieslings not only in Germany but perhaps in the world.
If it were not for the illness of his father in 1988 and the hesitation of other members of his family to take on the responsibility of running their 200-year-old estate, he would've pursued archaeology and perhaps become a professor. In 1988, he was rank outsider; today, he is so dedicated to Mosel Rieslings that he would make even a non-believer thirst for a bottle of his Kabinett Riesling after getting an inspirational insight into making of the intensely perfumed, fruity, light and crisp wine.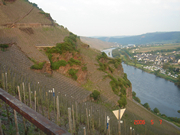 I could visualize him standing in the middle of his Grand Cru vineyards on 45-degree slopes, facing the Mosel river, with a baton in his hands, orchestrating the 80-year-old vines to deliver the best possible fruit for his premium Kabinett, Spaetlese, Auslese, Beerenauslese, TbA and Eiswein.
Most top wine producers in the world now understand that good wine originates from good vineyards. Ernie believes "a great wine always starts in your head." He said: "You must visualise an ideal to achieve your goal. To me a great wine must have concentration with finesse and complexity, it must have character and charisma and it must age well." That is why when he took over, he visited several quality wine producers in Austria, Burgundy (he loves Burgundy wines!), Alsace and the US to find out how they were making great wines. Awards and accolades followed afterwards.
I remember attending a guided tasting of German Rieslings at Vinexpo, orchestrated by Ernie, a few years back. He sounded quite apologetic about the fall in quality of German Rieslings from their pinnacle a hundred years ago, as if he were personally responsible for the downfall. On the contrary, a few visionaries like him have helped resurrect the varietal to a level it has once again become a much sought after grape and countries like Australia, Chile, and New Zealand are adopting it too.
When I met Marlies Grumbach, his distributor for South Asia at IFE India in December 2005, I'd expressed my desire to meet him and here I was, meeting the living Legend of Mosel at his home.
Napoleon's Legacy
The earlier part of our meeting was focused on the Prussian classification map of 1868 which defined all his six major vineyards as Grand Cru. Fragmentation of vineyards through inheritance laws was not the only legacy left by Napoleon who ruled this region before he met his Waterloo. He classified the vineyards into Grand Cru and Premier Cru on lines of the practice followed in Burgundy. Of course, we know about the inheritance laws enforced by Napoleon, resulting in the hyper-parcelisation of land. Loosen's 15 hectares are divided into 250 parcels, the smallest measuring 3 sq. m.
Taking me around the Wehlener, Urziger, Bernkastler Lay, Graacher Himmelreich and Erdner Praelat vineyards, he showed me the vines that seen, on an average, 60 years. Some vines at the Wehlener Wuertzgarten are 120 years old. Loosen explained: "The slate-heavy soil in Mosel ensured we were not hit by Phylloxera that consumed most European vineyards in the late 19th century. More than 98% of our vines are ungrafted. Even when we replace a dead vine, we replace it with the graft of an old vine. This gives us lower yields like other old vines, but we get complexity in our wines."
"All our labels, which include Sonnenuhr, have a sundial. Only the south-facing slopes had sundials and these are the best slopes to get the maximum sun," he said. The sun is very important in this northerly region, where the temperatures are low and acidity high. "We use only the bottom third of our Grand Cru vineyards for our estate wines. Rest of the grapes go into making the young and refreshing Dr L with the racy and elegant style of a classic Mosel Riesling." Did he buy grapes from the outside? I asked. "We have a contract with farmers but all those grapes go into our non-estate wines," he said.
Ernie's is a very well-known name in the US, UK and everywhere Riesling is produced or appreciated. Decanter named him 'Man of the Year' in 2005, a recognition that had been awarded previously to the likes of Angelo Gaja, Piero Antinori, Robert Mondavi and Jean-Michael Cazes.
He's the first German producer to have won this recognition in the 21-year history of the awards. But he was at his modest best when he accepted the award. "This is a prize for the Renaissance of Riesling. I am only the face."
The Riesling Renaissance
The Renaissance started about 30 years ago when the bulk, sweet and mediocre Riesling from the lower plains of Nahe and Rhinehessen had become the norm for this varietal. Ernie had the right infrastructure - vineyards at great locations and old vines thriving in slopes of different characters. Because of the lack of interest of his father, who was a prominent local politician, the vineyards had been in a state of neglect. But Ernie took upon himself to revive the estate.
As my friend Joel Payne, the well-known American wine writer based in Cologne, who publishes the German Wine Guide from Gault Millau, told me at Grandes de La Rioja, "He's certainly one of the best wine-makers of Mosel region. His wines have complexity, character and aging potential which not many others have." He should know! Ernie was declared Germany's Winemaker of the Year 2001 by Gault Millau.
Ernie is extremely progressive in his thinking. Recognising the problem of corking, he has switched to Stelvin screwcaps for the fresh and fruity Dr L. "Pure, delicate flavours of wines like these are ruined by even a smallest hint of cork taint," he said. "So we have decided to move away from the regular cork for these young and fresh wines. Of course, we are experimenting with other material for our estate-grown wines and will change only after we're sure that long-term aging will be possible with the new material."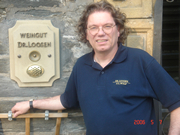 Ernie is not a doctor, medical or otherwise, as many people mistakenly think him to be. In a country crowded with 'Dr' estates, his father and now wife Eva is the Dr Loosen of the family. A Ph.D. in taxation law, she handles the accounts, audits, finances and taxes for the six companies owned by Ernie. His empire includes an American import company formed a couple of years ago to promote their wines. "We worked through US importers but they always wanted to sell whatever was sold the easy way and did not promote our products judiciously," he said. "Now that we have established the business, we're happy and shall also consider marketing other products."
Another winery, a 50:50 joint venture with Ch Ste Michelle in Washington State to produce Riesling, is rocking, with the flagship wine Eroica winning the best Riesling Award for the past five vintages. "People thought we shall be producing another Mosel Riesling. I strongly believe that any wine should be truly expressive of its terroir and region. We were sure we wanted to have a wine that was a Washingtonian wine, not a German Riesling. The annual sales of 25,000 cases and the awards this wine has won are an indicator of the acceptance of our wines," he added. He also believes there is no other variety as expressive of its terroir as Riesling. "Mosel produces fruit with the highest acidity, so we need to give it a bit of sweetness to balance the wine," he explained. "So we stop the fermentation after two-thirds has been achieved, thus resulting in a slightly sweet wine with 7-8% alcohol." He also acquired a wine estate in 1996 in Pfalz, J. L. Wolf, to produce dry Rieslings and other varietals like Gewuerztraminer and Pinot Grigio.
Perfect Match for Indian Cuisine
Ernie is a professor as well. He is a frequent traveller to London and Sydney to conduct classes on Riesling for Master of Wine candidates. He loves eating and cooking Indian food. He believes Rieslings are the best wines for Indian cuisine because of the slight presence of sweetness adequately balanced by acidity. "The low alcohol also does not increase the heat of spicy food. There are several Indian restaurants around London where our wines are very popular," he said.
Ernie advises his followers to drink his wines either young or after 10 years of aging. I enjoyed tasting his 2005 vintage, Dr. L being very crisp, limey and fresh with mineral notes though short on the end - just the kind of wine you could finish a couple of bottles of while chatting about it. Dr Loosen Wehlener Sonnenuhr had the aromas of roses and flavour of ripe apples. Erdner Treppchen (the word means 'steps', cut into the awesome slopes to help workers climb to the top of the vineyard) Spaetlese was from the red clay vineyards, contributing to a racy and minerally wine. ("For some reasons the Americans call it wet stone flavour," he added smilingly). Urziger Wuertzgarten Auslese was getting into the heavy aging wine territory. It was also quite spicy due to the terroir. The Praelat vineyard wines and some of the other higher-end wines, like the BA and TbA, were of course the top end. They held out the promise of developing into an elegant, complex beauty 20- 40 years down the line.
For the dinner in the evening, Ernie had brought a 1988 Wehlener Sonnenuhr (1988 was the year he'd taken over the company). The dark golden beauty had all the components in place and was a great combination even for the wiener schnitzel, the traditional Austrian veal cutlets. The golden shades of the second wine, a 1969 Gold Capsule Erdner Praelat, were even darker (Rieslings gain colour on aging), extremely complex and elegant but vibrant in character, dancing on the palate and not yet past even its midlife.
A bit too powerful and sweet for starters, it matched the main dish and also made me eat more of the white chocolates as the balanced acidity of the wine was a good match for the sweet chocolate.
Ernie is an avid traveller and loves to visit his customers often. "My friends in Mosel think I am crazy to take trouble to go to countries like Israel and Iceland to sell my wines," he said. I suppose they'll think he is crazier if he adds India on his list. We, however, shall eagerly await his journey and have our name added to the list of 43 countries where Dr. Loosen wines are already being enjoyed.