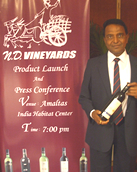 Presenting the wines, Founder Chairman Ashok Gaekwad, who has been one of the biggest eating grapes grower and exporters in the Nashik region was very optimistic of the Indian wine market as also their wines, which he believes are the best quality wines in the market.
Galaxy, Chenin Blanc, Sauvignon Block and Cabernet Sauvignon are four wines out of their portfolio which have been selected for the Delhi market. Priced between Rs. 340-490 the wines are ready to take on Indage and Sula to whom the company is contracted to supply a major quantity of grapes and wine till 2012.
With 300 acres of vines busy growing wine grapes; rest of 400 acres are still focussed on eating grapes, Gaekwad expects 9m litres wine from next year's crush. Seemingly too high, it poses no problem for ND as 5m ltrs will be earmarked for Sula .
ND wines will be available in retail shops. Says Manik Rao Patil, Director Marketing,' we hope to capture a share of the hotels and restaurants too from the next financial year as current year's commitments have already been made by these organisations.
Galaxy is aimed towards low end budget conscious market.
Subhash Arora
November 16, 2007