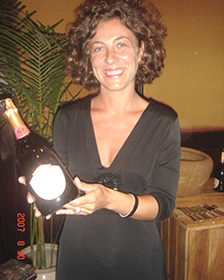 Every 15 seconds a CD is opened in France. The 6 million bottle company may be a David compared to the 53 million bottle selling Goliath Moet Chandon but even today 60% of its production is sold in France.
'The reason perhaps lies in the fact that this 140 year old Champagne House was under the rule of LVMH from 1978 to 2003, who popularised it in France,' says the young, bubbly and vivacious Stephanie Phederphil, International Sales Director of the €3.7 billion turnover company.
'It is a very convivial brand. Our Cellar master Laurent Fédou emphasises roundness, easy to drink wine and looks for elegance.' The bubbly used to be served at Tsar Nicolas II of Russia in the 1890s and is served at many horse races in UK, underlying the company philosophy, now being owned by the privately held group of Alain Thienot.'
The wine has quite a respectable reputation and is very popular in the international market where it is positioned favourably and close to Moet Hennessy, Laurent Perrier, Taittinger, Bollinger and Veuve Clicquot Ponsardin.
The importers, Fine Wines N More partnered by a young lady, Dharti Desai who shuttles between the Desi Dharti and the Yank Land and is very Direct in her Marketing profession , and the sincere and serious Sumedh Mandla who started his wine selling career four years ago as the partner of Brandwagon. The company is all set to add CD to the DP, MC, MDP, LP, VCP and such commonly used lingo of Champagne.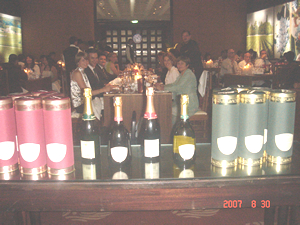 The Classic Cuvee is made from 60 Crus from 300 vineyards. One can taste the savoury, fruity Pinot Noir (40%) in this Champagne. Pinot Meunier has an equal portion with Chardonnay carrying the rest of the proportion. The citrus aromas are carried through the citrus flavour which has a touch of peaches and green apples. What is different in the wine though is the lively acidity without harshness. Many types of champagne have very high acidity that can be deliciously refreshing in small sizes, but the acid can be hard on the digestive system. Indians are particularly not fond of this fresh crispness . The classic CD is softer and more gentle, and an ideal an aperitif though it will go well with fish dishes which would go even better with the Classic Rosé that followed. (Rating

)
Fuller bodied with a touch of Pinot tannins and a beautiful salmon pink colour which may not find favour with many as an attractive, marks this Rose a favourite match with fish and chicken made in red sauces. It is not as refreshingly crisp as the white. (Rating

)
If you are in a mood to splurge to celebrate a special occasion or you convert your money into Euros and Pounds before spending, the Grand Cuvee is an excellent way of squeezing the best out of your dollar. Less acidic, with a citrus whiff that explodes into your face and suddenly leaves you wondering where all the flowers went, it has more body, great mouthfeel with millions of those tiny bubbles dancing on your palate, which you can still visualise after that sip has gone down. (Rating

)
The best was reserved for the last. Again, the Grand Cuvee Rose NV was a medium body (not bone) dry wine that had a beautiful colour, balanced acidity, very good structure and persistent after taste. A more concentrated wine with coupled flavours that can handle a range of foods, especially sea foods like crabs, squid, lobster and of course fish. (Rating

)
Someone asked me in the evening at the bubbly dinner hosted by Hyatt Regency where the official spoken language was French, despite the affable GM Roger Dienhard's Swiss/German leanings. My answer to which one I liked the most was best, I think was pretty honest. If I had to drink free champagne I would go for the Copper colour and poetically expressive GC Rose. But if I had to pay for it, I won't mind settling for the Classic.
Justifying my reason, I selected this Rose with taster's menu at the newly opened China Kitchen where I had to go for a degustation. The grandeur of the place and the ecstatic delicious dishes notwithstanding, the GC Brut Rose, stood its ground pared with crab, salmon and fish dishes. Even the gentle and polite fried rice did not have to flinch while going down with this beauty. Real add value for the food, this versatile pink bubbly was.