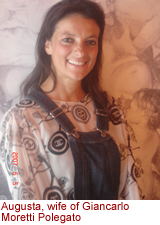 During our visit to Villa Sandi last month, Giancarlo Moretti Polegato, the owner of Villa Sandi was not physically present at the winery. Instead, we were received by his beautiful wife Augusta, who had been to India last year. But Giancarlo called from the US to welcome our group and apologized for not being there personally to welcome us.
It transpires that he was in the US to, among other things; tie up with Robert Mondavi's elder son Michael Mondavi who s distributing fine wines from Italy, USA and other countries, through his Napa based company, Folio Fine Wine Partners.
The seventeenth Century Villa Sandi has been featured by delWine in earlier issue and is a must for a visit by travelers to this region. The villa with underground caves where thousands of bottles rest for secondary fermentation, to make the sparkling wine is well known for making Prosecco sparklers and bubblies using 'Champenoise' method.
Apart from the DOC Prosecco it makes several Bordeaux type reds, some of which are award winning wines and are good value for money wines, in Colli Asolani. It has lower-ended wine spectrum pretty much covered too with varietals including Rose and reds like Merlot etc. The well known consultant Riccardo Coterella is also associated with the company.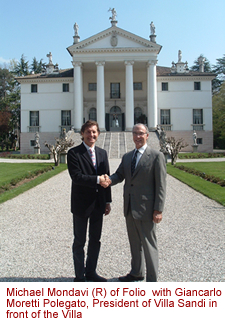 'Our joint venture could lead to other future common projects, in Italy or in California,' Giancarlo Moretti Polegato, President of Villa Sandi said, according to the company sources.
Mondavi, who was the MD of the erstwhile Robert Mondavi Winery before it was sold off to Constellation Brands due to financial troubles, has been distributing wines, including Frescobaldi with whom they had tie ups for making Italian wines. Villa Sandi will have the advantage of using the distribution network of the company for its products.
During the International Wine and Health Convention at Napa which I attended earlier this year, Michael who was the keynote speaker had announced that he would be adding several new fine wines to his portfolio, including Italian wine.
Villa Sandi is in touch with some importers in India and is expected to be present soon in this market.
Subhash Arora