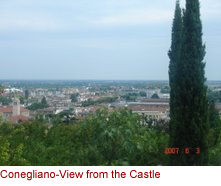 Visit to Venice can be converted to a beautiful wine holiday if you add 4-7 days soaking in the beauty of the Prosecco wine making region, starting from Conegliano, about 50 kms north of Venice . The 27-km stretch from here to Valdobbiadene offers a scenic ride and an opportunity to visit several vineyards.
Conegliano is an old town filled with mini palaces. It is famous for its Renaissance painter Giambattista Cima and the Castle which is beautiful to look at from outside. Canon d'Oro is a beautiful hotel where we stayed and can recommend it highly for its location, beauty, facilities and the old world charm.
Carpené Malvolti: After spending a day or two and soaking in the charm of this small town, unofficial capital of the Proseccoland, you start your visit of the wineries. But one cannot leave without visiting this oldest winery in the heart of town. Antonio Carpené, who had studied in Paris , founded the winery with the financial help from Angelo Malvolti in 1868. Together they tried to convert the local prosecco grapes into champagne by the bottle fermentation method ( those days you could call it one).
Although they successfully brought this region of Veneto into sparkling wine production zone, they realised that the freshness and vibrancy could not be maintained by double fermenting the wine made from this grape, in the bottle. The Charmat method, of tank fermentation or auto clave as is known locally was introduced.
Carpené also started the first school of enology in 1974. It has grown to a full fledged university and is a landmark in the city which the locals are proud of. Malvolti opted out of the partnership after the First World War. Carpené may be considered the first Prosecco family of Conegliano.
Due to efforts of Lia Teo, their export consultant, the company is entering India , with the approval of their Cuvee Brut for seven of Taj Hotels. The company also produces some grappa and 7,14 and 21 year- old brandy.
It was interesting to meet their export manager Constanza Lorenzet and their winemaker who explained to me that not only are the autoclaves cooled inside, the room in which the tanks are situated are also kept between 0-4 ° C to keep the wine fresh and zingy.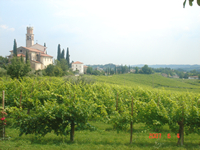 Bellenda Winery - Moving north towards Vittorio Veneto, is the beautiful estate run by Umberto Cosmo whose wife Cinzia Canzian runs another small winery, Le Vigne di Alice and also a B &B with the same name. Located on a small hillock, one sees beautifully manicured vineyards of Prosecco grapes stretching across and finally merging with other vineyards.
Explains Umberto, Prosecco is a vigorous plant, that needs pruning. Due to frequent hail storms in July, it is carried out in July. He also explains that Prosecco is a light grape and if the yield is increased, it produces even lighter wine. The 35 h/A estate produces the lower side of crops normal yield of 110-130 quintals per h/A.
Luigi, the winemaker explains that Guyot will not give the best of Prosecco grape and Sylvo- a type of double Guyot is employed for the grape.
A beautiful old church next to the property adds extra charm to the property. Well worth a stay of a couple of days at the Relais (B&B) within the winery and vineyard compound where you would be feted with snacks and wine from the winery every evening.
Bisol- Driving on the Strada del Prosecco one passes a small town Rolle where the 12 h/A estate of Bisol is using Bio- dynamic practices to produce wines. Vineyards surrounding the B*B apartment complex provide a breath taking view, reminiscent of a beautiful hill station in India . The visit to the winery close by would apprise you that the lower yield of 90 quintals per h/A helps give it good structure.
One of the better known wineries is planning a 100 h/A of Prosecco plantation by 2010. If you visit after 2010, you may also be able to visit the new copper and glass winery being designed by a young famous architect from Italy .
Gian Luca Bisol, eldest of the cousins, running the family winery would tell you that Sonarys had tied up with them for import into India but the plans did not fructify and now negotiations are at a final stage with someone from Delhi who plans to serve it in restaurants. Bubblies from Bisol are definitely better structured and are more elegant.
Val d'Oca: If you believe in a big winery where technology is supreme, this is the winery to visit. If you are looking for a product that will sell well in Retail, this is the company to deal with. It is a big co-op winery with low end wines, producing 7 million bottles, that has already made some attempts to conquer the Indian market. Says Lorenzo Rispoli, the export manager, 'Several hotels and restaurants tasted our wine and were interested in listing them.' It may well be able to compete with Cavas in India because of competitive pricing.
La Colture: After visiting the huge winery, it was time to visit a small boutique winery producing decent quality wine with prices that were quite reasonable. It belongs to the Passionate brothers Cesare e Renato Ruggeri f amily about wine making. Ask them to show you the Beautiful Relais, Prime Gemme, they own near Conegliano where they have a wine bar and can guarantee a comfortable and relaxing healthy holiday close to a newly opened spa-cum gym that also has a swimming pool. Worth a stay, making it, a possible base for making extended visits to the over 150 wine produces bottling the DOC Prosecco.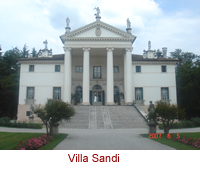 Villa Sandi- Here is a winery known as much for its centuries old beautiful villa as its good quality wines. It is a 'rich' and beautiful winery to visit with an impressive underground cave for double fermented wines. It is reminiscent of the never ending underground cellars of Champagne . The extended vineyards spread around the property are accessible through golf carts. Has a couple of interesting reds. The owner's wife, Augusta Moretti Polegato, has been to India and is very keen to establish business relationship with India which she loves.
Mionetto: Prosecco producing people are generally very proud of their culture, history and traditions, and of course their Prosecco. One of the most passionate persons you will find in the whole region is Sergio Mionetto, winemaker grandson of the founder Mionetto who founded it in 1887.
An antiquated yet modern winery near downtown Valdobbiadene is maintaining traditions too. Where else would you find women sealing the Frizzante with threads instead of foils? Sergio, loves to talk of his wine and the process he uses, and is hanging on to the traditions, even if cosmetically. The technology has made most producers would love to continue with traditions.
Prosecco is no Champagne but does provide an easy drinking, easy-on-the-wallet alternative to it. Drink it Brut (dry), Extra Dry (off-dry), or Dry (think dessert). If you are in a mood to splurge, consider even Cartizze, a special appellation in San Stefano, Valdobbiadene. Of course, if you are in a party mood, you may even make a cocktail like Bellini, Rossini or Mimosa
But you can bet that a brief one week sojourn in this beautiful wine region, 50-kms north of Venice will add to your memories of Venice and will make you want a glass of the aromatic, fruity, crisp and fresh bubbly, named after its main grape..Prosecco.
Subhash Arora
June 26, 2007
Some of the other wineries you could visit:
Valdo Spumanti- Valdobbiadene ; imported in India through Continental Sales
Toffoli Vincenzo- Refrontolo
La Tordera- Vidor
Drusian Francesco- Bigolino, Valdobbiadene
Col Vetoraz- San Stefano, Valdobbiadene
Canella- Very popular, Leaders of making Bellini in the bottle
Andreola Orsola: Superior quality wines
Perlage- Farra de Soligo: Biodynamic winery
Riccardo - imported by Hema Connoisseurs