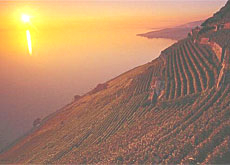 Next time you plan to visit the beautiful vineyards of Bordeaux, Mosel, Tuscany or Stellenbosch, think again. Think Lavaux Vineyard Terraces of Switzerland, the latest addition to the UNESCO World Heritage sites. Stretching for about 30km along the south-facing northern shores of Lake Geneva to the eastern outskirts of Lausanne, they cover the lower slopes of the mountain side between the villages and the lake.
The go-ahead by Unesco gives the 800-year-old terraced wine region the same status as the Great Wall of China and the Taj Mahal. Lavaux won the World Heritage status on the strength of its ancient vineyards, spectacular lakeside setting and alpine panorama across the lake.
The 830-hectare terraced area is devoted to the production of some of Switzerland's finest wines, including eight wines with the AOC quality label. Among them are Dézaley, Calamin, Epesses and St Saphorin.
The region benefits from a temperate climate, but the southern-facing terraces and ancient stone walls give the area a Mediterranean feel. The main wine grape variety grown is the Chasselas.
Although there is some evidence that vines were grown in the areas in Roman times, the present vine terraces can be traced back to the 11th century, when Benedictine and Cistercian Monasteries controlled the area.
The villages, small towns and intensively planted vines reflect the changing system of production and patronage over ten centuries. Extensive remains of houses, mills, fortified towers, and much of the landscape reflect the way wine production evolved over that time.
The cultural landscape of the Lavaux vineyard demonstrates in a highly visible way its evolution and development over close to a thousand years, through the preserved landscape and buildings, and also the continuation and adaptation of longstanding cultural traditions, specific to its locality.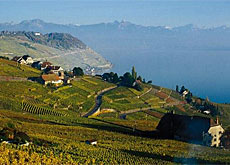 It is an outstanding example of a centuries-long interaction between people and their environment developed to optimize local resources so as to produce a highly valued wine that has always been important to the local economy. Local communities have been strongly supportive of protection measures to resist the fast-growing urban settlements that could endanger the area.
The World Heritage Convention, adopted by Unesco in 1972, provides for the identification, protection and conservation of natural and cultural sites of outstanding value. More than 800 such sites can be found across the world, including 628 cultural, 160 natural and 24 mixed properties in 137 countries.
Delhi's Red Fort was also included in the list on Thursday. Edifices like Taj mahal, Fatehpur Sikri, Ajanta and Elora Caves, Churches of Goa, Qutab Minar, Humayun's Tomb, Taj Fort, Khajuraho Group of Monuments and many more are already a part of the heritage.
For complete list visit http://whc.unesco.org
Meeting for its 31st session in the southern New Zealand city of Christchurch, the committee reviewed the state of conservation at the 830 sites on Unesco's World Heritage List.
Source: http://whc.unesco.org